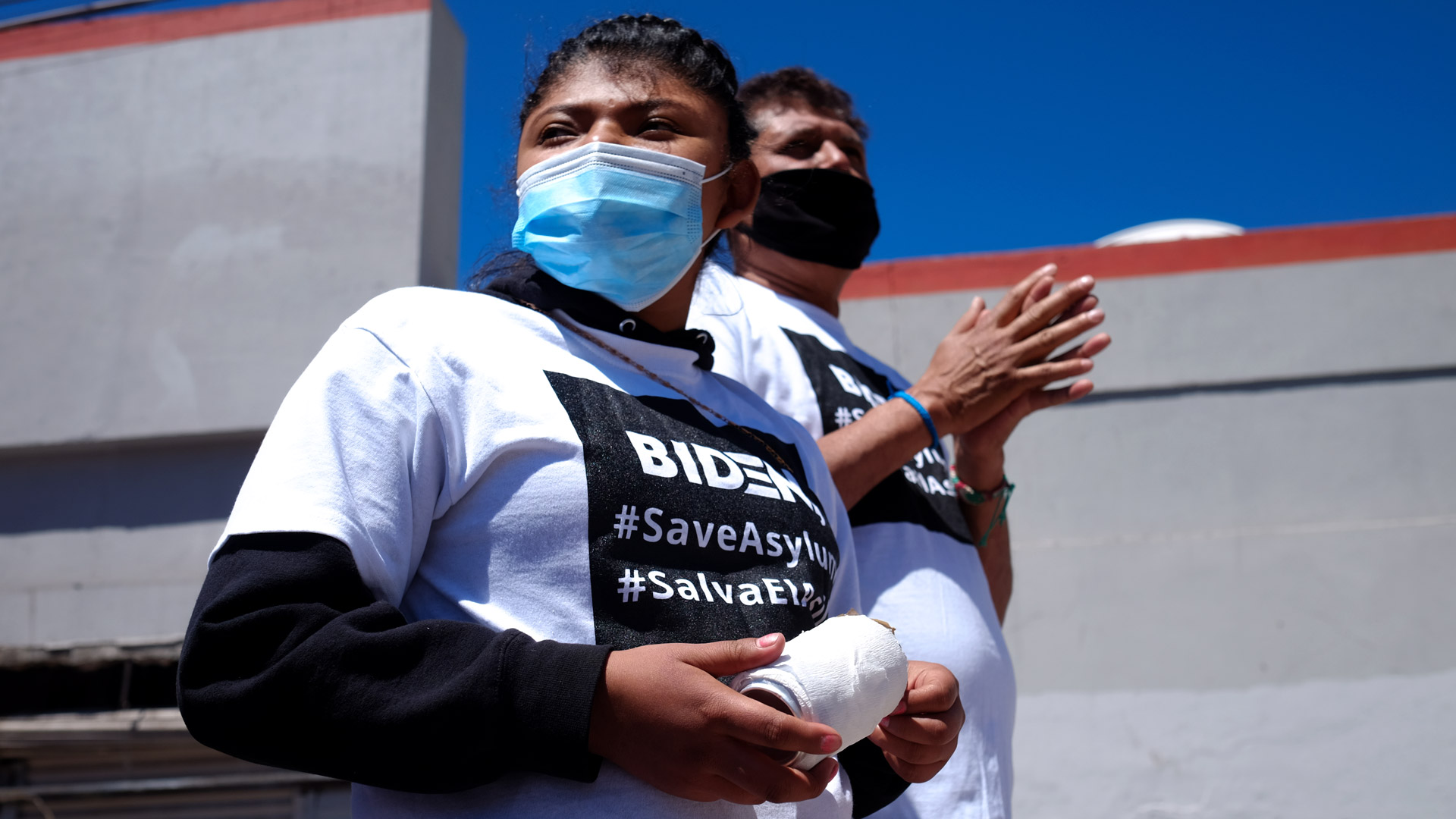 Dozens of migrants walked through downtown Nogales asking President Joe Biden to restore the asylum system and begin processing.
Alisa Reznick/AZPM
A memo released Tuesday by the U.S. Department of Homeland Security has officially ended the Migrant Protection Protocols, or MPP, a Trump administration policy that forced tens of thousands of asylum seekers to await their U.S. immigration hearings in Mexican border towns.
DHS announced a review and temporary pause of MPP, also known as Remain in Mexico, in February and began processing some migrants with active cases. This week's memo permanently ends the program. Joanna Williams with the Nogales-based advocacy group Kino Border Initiative said that's welcome news, because it eliminates the possibility of the new administration starting it again.
"[In February] they announced that for now they were suspending new arrivals or for now they were processing people who had been returned under MPP, but they were still reserving the authority as a department to re-implement the program," she said.
But Williams said more migrants are still being left out.
"There's been a whole group of people returned under MPP who have been excluded from the asylum process because they missed a court hearing in the U.S.," she said. "Maybe because they were kidnapped or they couldn't find shelter or couldn't get transportation, or they didn't know about the date, there's a lot of different reasons."
A count by the advocacy group Human Rights First shows more than 1500 cases of murder, kidnappings and other violent assaults on migrants enrolled in MPP across the border over the last two years.
Williams said those factors can make it impossible for asylum seekers to have their day in court and, after they fail to make the date, they are removed from the asylum process altogether. Austin Kocher, an assistant research professor at Syracuse University, has been compiling data on the MPP program as part of the university's Transactional Records Access Clearinghouse database. He said almost 42,000 people had their MPP cases closed since the program's inception in 2019.
"The vast majority of them were rejected, only a very small fraction really had an actual court date, much less obtain asylum," he said. "There's currently no mechanism whatsoever for those 42,000 people to really have their real day in court at this point."
Williams said organizations like hers hoped the new memo would address those cases, but so far, they're still in limbo.

Just over 70,000 migrants were enrolled in MPP across the border. Williams said while this news won't impact them directly, she hopes it's the start of other policy changes that will.