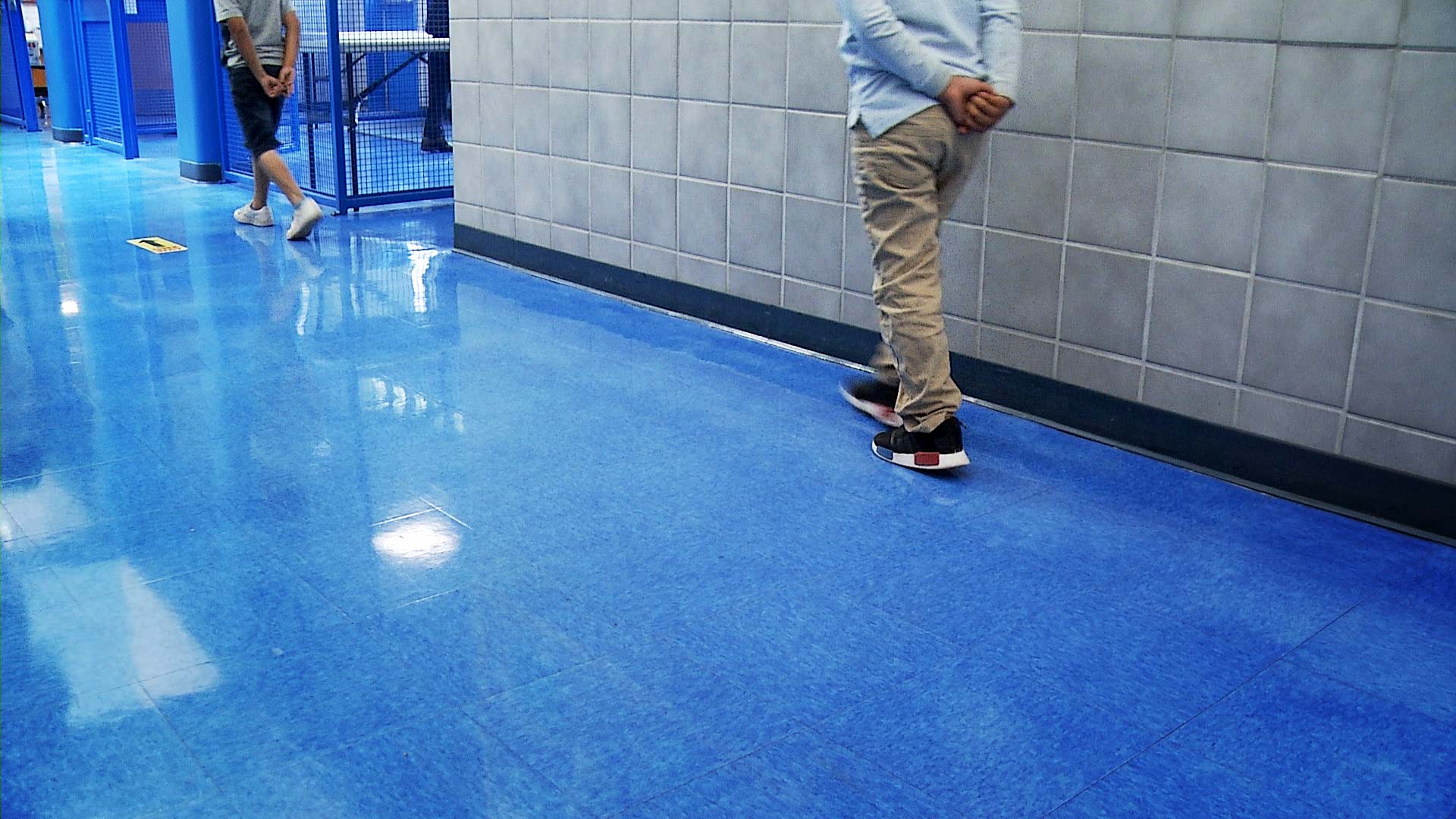 Students at Los Amigos Elementary in the Sunnyside Unified School District walk in a hallway at a distanced pace. March 2021.
AZPM Staff
Gov. Doug Ducey's March 15 deadline for reopening schools is nearly here. Districts across southern Arizona, even those that have partially reopened already, are making arrangements to welcome back their student bodies.
While Ducey experienced some pushback from education officials when he gave schools only two weeks before the reopening deadline, most districts in the Tucson area had either begun a hybrid model for learning or were planning to bring students back very soon.
The Sunnyside Unified School District, which re-entered hybrid learning at the start of this month, will re-open its elementary schools for in-person learning five days a week. Previously, students only had two days a week with in-person learning. Tanque Verde Unified School District is planning a similar change.
Southern Arizona's largest district, TUSD, has been in remote learning for about a year. Superintendent Gabriel Trujillo said that in preparation for its reopening after spring break, the district ordered 50,000 N95 masks and HEPA units for each classroom.
While there is no official limit on class sizes, Trujillo said that the majority of schools will have a 50/50 split between on-campus students and online students.
---
Tucson school districts prepare to expand in-person learning
Arizona 360
After schools initially sent students home last March after the pandemic was declared, some have remained virtual since or offered limited in-person instruction.
Gov. Doug Ducey's executive order changes that and requires them to reopen by March 15. The extent that schools do so depends on the level of transmission in their counties.
Tony Paniagua spoke to superintendents from the Sunnyside and Tanque Verde school districts to learn how they're making it work.
---
TUSD expecting 50/50 split when schools reopen
AZPM
The Tucson Unified School District is preparing to reopen its campuses March 22. It's expecting a 50/50 split in remote learning versus in-person instruction.
Superintendent Gabriel Trujillo said that 42% of students have chosen the in-person learning option for their grade level, while 50% have chosen to remain remote. Parents who do not respond will have their children enrolled in remote learning as the default.
The district is also preparing mitigation efforts to keep COVID-19 transmission in schools as low as possible, Trujillo said.
---
TUSD Superintendent on district's COVID mitigation plan
Arizona 360
At the Tucson Unified School District, southern Arizona's largest, the vast majority of its roughly 40,000 students have continued to learn from home. That was already set to change even before the governor's order.
TUSD announced in February it would bring students back starting March 24. Ducey's order bumped up that timeline by a few days to the 22 when the district returns from spring break.
Superintendent Gabriel Trujillo discussed how his staff are preparing and what safety precautions are in place.
---
State Sen. Boyer discusses his support for reopening schools
Arizona 360
At the State Capitol, supporters of the governor's push to reopen schools include Republican Sen. Paul Boyer. Boyer serves as chairman of the Education Committee and outside of the Legislature he teaches at a high school.
Lorraine Rivera spoke to Boyer about what he sees as the challenges facing educators and students.
---
AP Exclusive: Schools boss quit after porn found on computer
AP
FLAGSTAFF — A longtime educator whose career included high-profile jobs on the Navajo Nation resigned from his latest post as an Arizona county schools superintendent after officials discovered pornographic images on his work-issued computer.
Tommy Lewis Jr. resigned as the Coconino County superintendent of schools in late January, citing personal reasons. But records obtained by The Associated Press show he was under investigation for potential criminal activity.
The investigation in Arizona ended recently with no charges against him. Law enforcement officials say none of the material discovered involved the exploitation of children.
The county's Information Technology Department also found Lewis tried to access explicit or pornographic websites more than 100 times since early December.
---
UA readying for in-person graduation
AZPM
The University of Arizona is moving forward with plans to hold in-person graduation ceremonies in May.
The graduation ceremonies will take place at Arizona Stadium between May 11-18 and include about 1,000 students at each event.
Guests will not be allowed at the events, but all of the graduation ceremonies will be live-streamed.
The ceremonies are still in the planning stage and could be adjusted based on the public health numbers. Officials set up a website for people to get the latest information.
---
Arizona Dreamers hopeful for change as new in-state bill lands in the House
AZPM
The Arizona House will consider a bill that could pave the way to give all Arizona high school graduates access to in-state tuition, regardless of immigration status.
Roughly 2000 people graduating from Arizona high schools each year are undocumented, according to a poll by the Migration Policy Institute in 2019.
Accessing some of post-graduation opportunities is more complicated for undocumented people because of a law approved by Arizona voters more than a decade ago called Proposition 300, a far-reaching ballot initiative that blocked non-citizens from receiving publicly-funded services like child care assistance, adult education — and in-state tuition.
---
UA Basketball Coach gets support from university president
AZPM
University of Arizona President Robert Robbins unequivocally backed men's basketball coach Sean Miller on Monday.
"We're eager to move forward and get the final chapter of this now, almost four-year sage over. But Coach Miller is our coach," said Robbins during his weekly news conference.
On Friday, the university released the Notice of Allegations it received from the NCAA last fall, which includes five Level I violations, considered the most serious offenses by the governing body for college sports.
---
AZ's public universities plan for in-person fall semester
Arizona Republic
All three of Arizona's public universities are planning to hold the majority of their classes in person this fall, the Arizona Republic reports.
The continued vaccine rollout along with improvements in COVID-19 metrics make this a viable possibility for the schools.
---
Arizona Board of Regents approves Cruz as new NAU president
AP
PHOENIX — The Arizona Board of Regents voted Wednesday to approve the appointment of Dr. José Luis Cruz as Northern Arizona University's new president.
Cruz had been the executive vice chancellor and university provost of The City University of New York. He accepted the NAU job on Feb. 18.
Cruz already has visited the Flagstaff campus and cited plans to develop programs and build initiatives that improve the university's access, success and community engagement. Cruz says he decided to leave his position in New York to become NAU's 17th president because he wanted to return to a more community-integrated university.
He replaces Rita Cheng, who announced in September that she would not seek a contract extension after serving as NAU's president since 2014.
---
House votes down bill giving AG right to sue over tuition
AP
PHOENIX — The Arizona House has rejected a measure that would have allowed Attorney General Mark Brnovich to revive a lawsuit he filed against the board overseeing the state's universities over what he calls overly high tuition.
Thursday's vote on the measure by Republican Rep. Jacqueline Parker of Mesa failed after one Republican joined all Democrats in opposing the measure.
The bill was needed after the Arizona Supreme Court ruled in November that Brnovich had no right to sue.