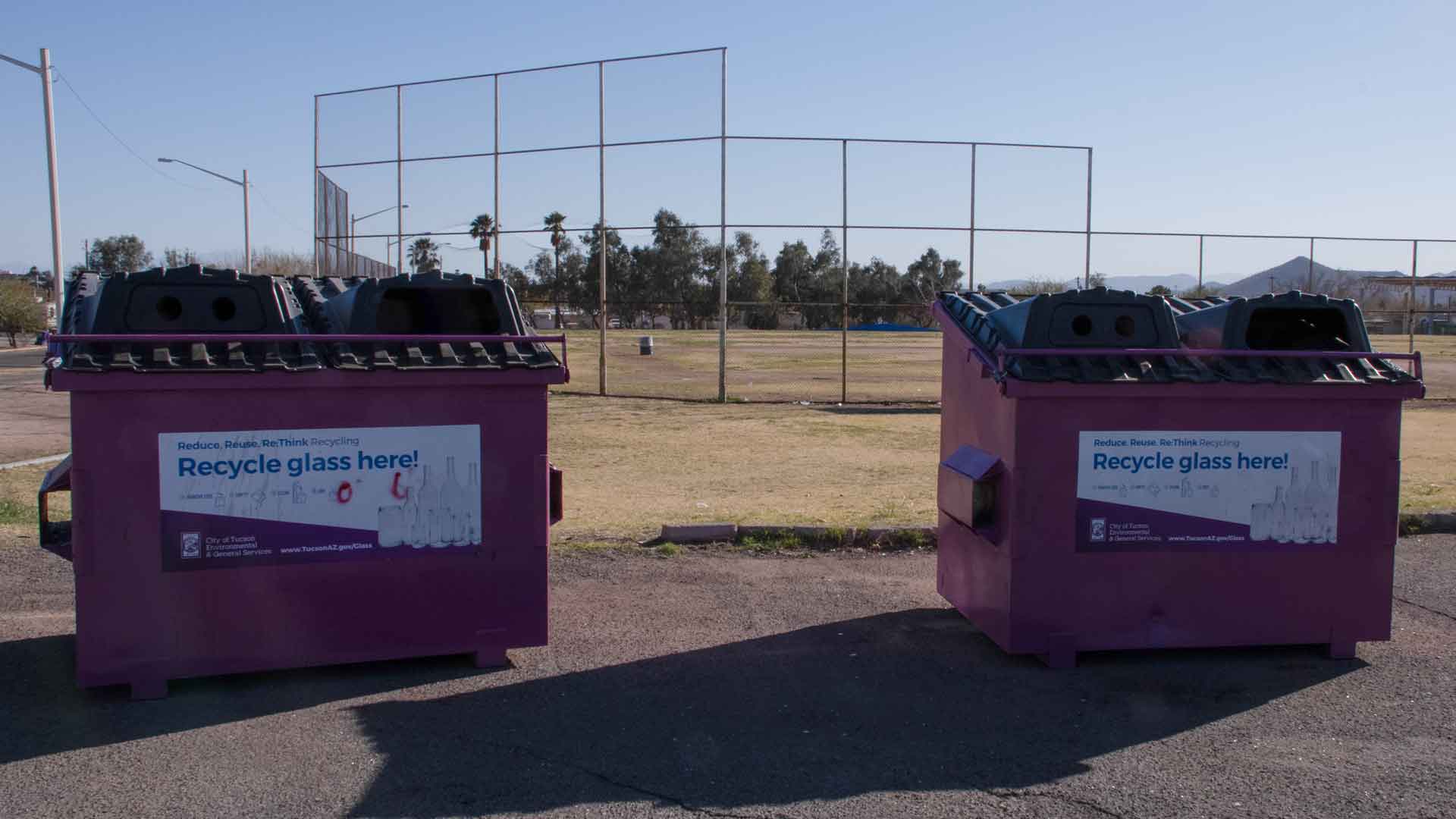 The City of Tucson now requires glass for recycling to be placed in bins, not curbside containers.
Christopher Conover/AZPM
As of Feb. 1, the City of Tucson stopped curbside pick up of recycled glass, but recycling of the material continues.
Until the change, the glass Tucsonans were putting into their curbside bins was trucked to a national glass recycling company, Strategic Materials, in Phoenix. The crushed glass that the company sells to its customers stays in the region and returns to Arizona grocery store shelves quickly.
"If you buy some of the mainstream beer off the shelf and you put it in your recycling bin, it will be recycled in Arizona, manufactured into a new bottle and back on an Arizona shelf in less than 30 days," said Laura Hennemann, Vice President of Marketing, Strategic Materials.
Glass recycling also helps reduce CO2 emissions, according to Hennemann, because it takes less energy to melt the crushed, recycled glass when making new containers.

Bottles and jars are not the only use for the glass that is recycled at the company's facility in Phoenix.
"Our secondary large market is fiberglass insulation and then we've got some other markets where the glass could potentially go just to avoid landfill," said Hennemann.
The food and beverage industry is hungry for recycled glass because more and more products are using glass containers.
"The kombuchas, the teas, the juices, the energy drinks things of that nature. A lot of those companies, organic companies if they have an organic product they are more likely to put that in glass, things of that nature," said Scott DeFife, President, Glass Packaging Institute.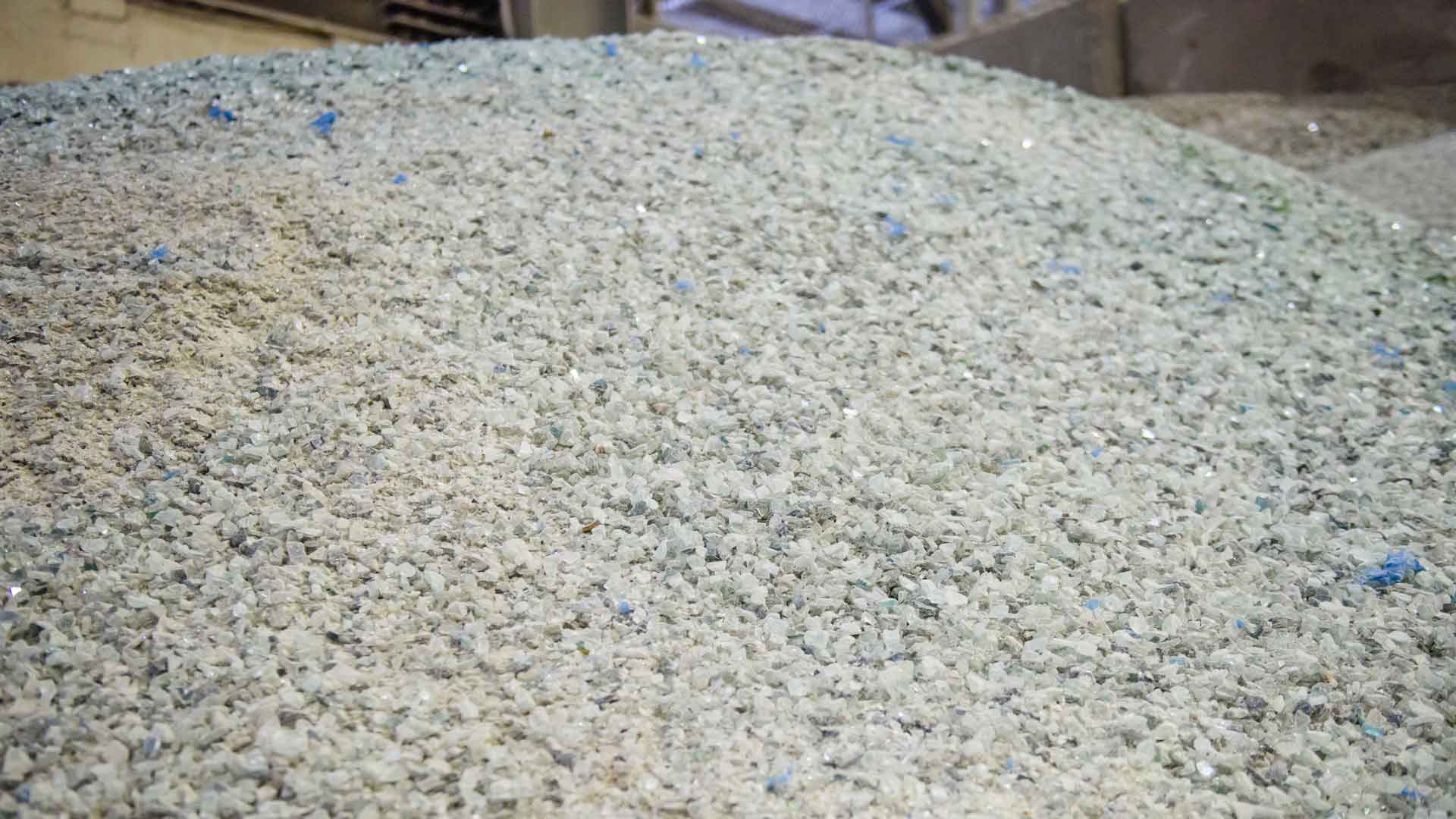 Crushed glass at the Phoenix recycling facility owned by Strategic Materials.
Strategic Materials/Niall David Photography
But even with that increasing demand, DeFife said economics has always played a role in local government decisions about recycling glass because it is heavy and therefore expensive to move around.
"Most cities recycling contracts are at some point in the contract based on tonnage, based on weight, so if you have a really higher priced recycling contract and a lower priced landfill contract and you're in a budget crunch, I need to move tons from my high-cost recycling contract to my low-cost landfill contract as a quick way to save money and meet budget," said DeFife.
Tucson's glass is not going to the landfill, but economics did drive the city's decision to stop picking up the product with other curbside recyclables.
"It's been costing the city a considerable amount of money, pick it up, take it out, separate it at the materials recycle facility, and then ship it off. There is no local market for glass at this point and that's been going on for several years now," said Tucson City Council member Steve Kozachik.
The city is trying to create its own local market for the used glass that does not involve a recycling contract with an outside company.
"We're using it to cut concrete with, we're using it to fill sandbags with, we're using it to fill ruts in alleys when monsoon actually happens in the city and we get that need so lots of different uses," said Kozachik.
He said the glass, which is crushed locally, will also be used for sidewalk repair and can be mixed into asphalt.
Keeping the used glass in town could be the first change to recycling in Tucson.
"This is just one step, the glass is the first commodity, its heavy its costly so, we're starting with that and we're going to turn back on this in fact we are looking forward as to how many commodities we can put into this whole process," Kozachik said.
When things like plastic or paper will stay in Tucson and be used in news ways, Kozachik couldn't say.