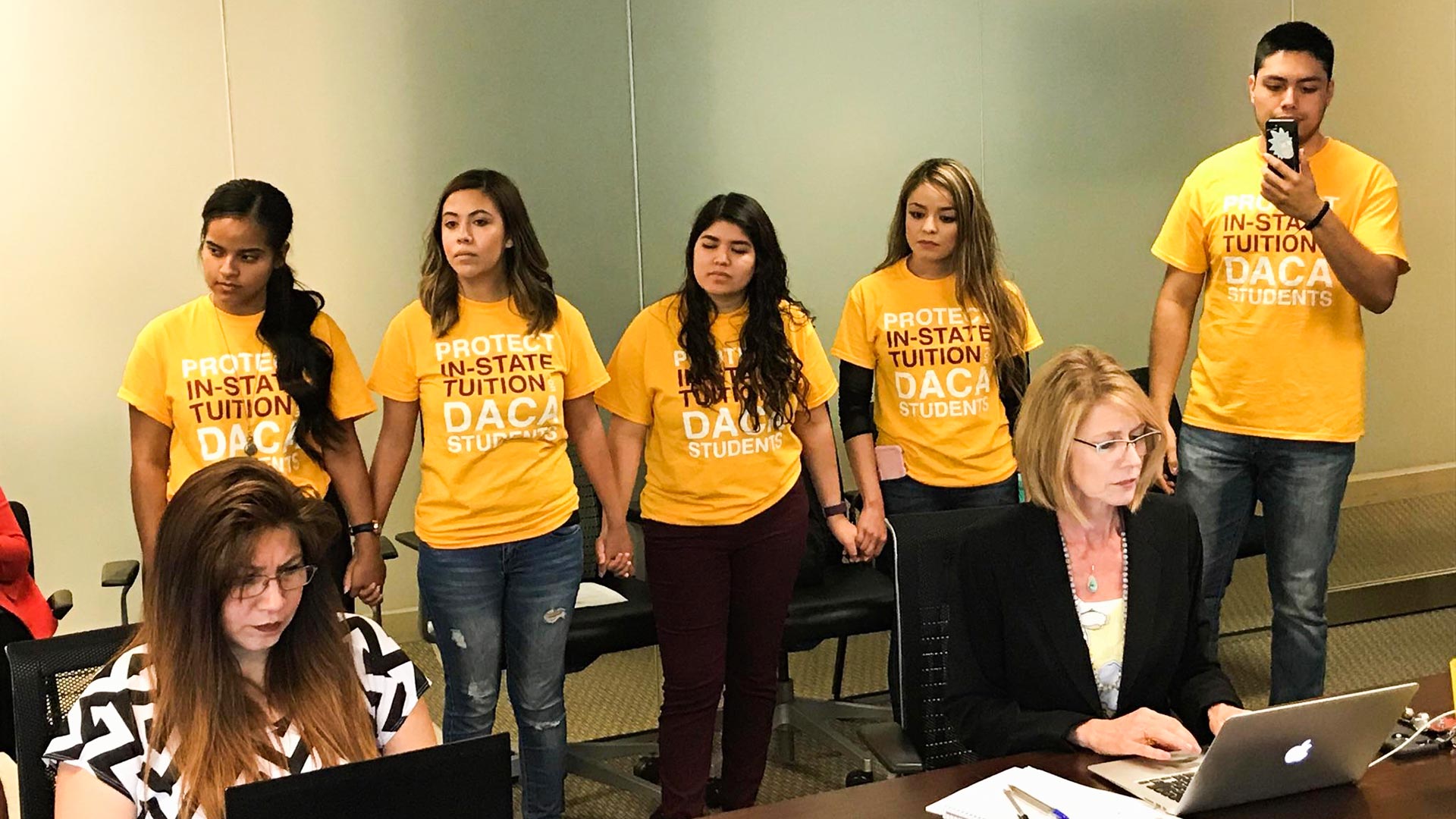 A group stands in support of in-state tuition eligibility for Arizona students with DACA status at a June 29, 2017, Arizona Board of Regents meeting.
Vanessa Barchfield/AZPM
The Arizona Senate will consider a bill that would give in-state tuition to all students who graduated from an Arizona high school and have lived in the state for at least two years, regardless of immigration status.
Senate Concurrent Resolution 1044 was approved in the Arizona Senate Education Committee Tuesday with a 6-3 vote. If passed, it would ask voters next year to reverse a portion of Proposition 300, another voter-approved law passed more than a decade ago that blocked undocumented people from accessing in-state tuition and financial aid. The ban later included recipients of the Obama administration's Deferred Action for Childhood Arrivals program, or DACA.
Reyna Montoya, who leads the Mesa-based immigrant and education advocacy group Aliento, was in high school when the proposition passed in 2006. She's experienced its impacts firsthand as one of about 24,000 DACA recipients in Arizona, and as a teacher to other undocumented students.
"So it's been very very hard not only for myself having to figure out scholarships that were private and a way for me to go to college, and then as a high school teacher, having to see my students cry and lose hope," she said. "It's a very personal issue for me, for not only being impacted by it, but seeing how it prevents and robs opportunities for students who have been doing so much to make Arizona a better place."
Whether to allow DACA recipients in-state tuition is a question that has bounced around Arizona courts for years. After the program was enacted federally in 2012, the Arizona Board of Regents and some community college boards ruled recipients were entitled to pay the same rates as other in-state students. That changed when a state Court of Appeals ruling against the policy was upheld in Arizona's Supreme Court. Today, DACA recipients pay 150% of in-state tuition, a rate advocates argue still makes paying for school impossible for many students.
In a statement, Aliento said the new Senate bill would impact some 2,000 undocumented people who graduate from Arizona high schools every year.
After passing the committee, the bill will now head to the full Senate for a vote. Though it passed Tuesday's session, some lawmakers argued the bill didn't go far enough to curb the far-reaching impacts of Proposition 300. Similar bills have been proposed in the past and failed. But Montoya said she's hopeful this measure will be successful, particularly because it puts the choice back in front of voters for the first time in years.

"It allows voters to vote, and it's been over a decade since this has been voted on," she said. "We're really hopeful that it gets through the finish line and to see students have the opportunity to not only support themselves in their educational dreams, but also their families, who have sacrificed so much for them to be here."