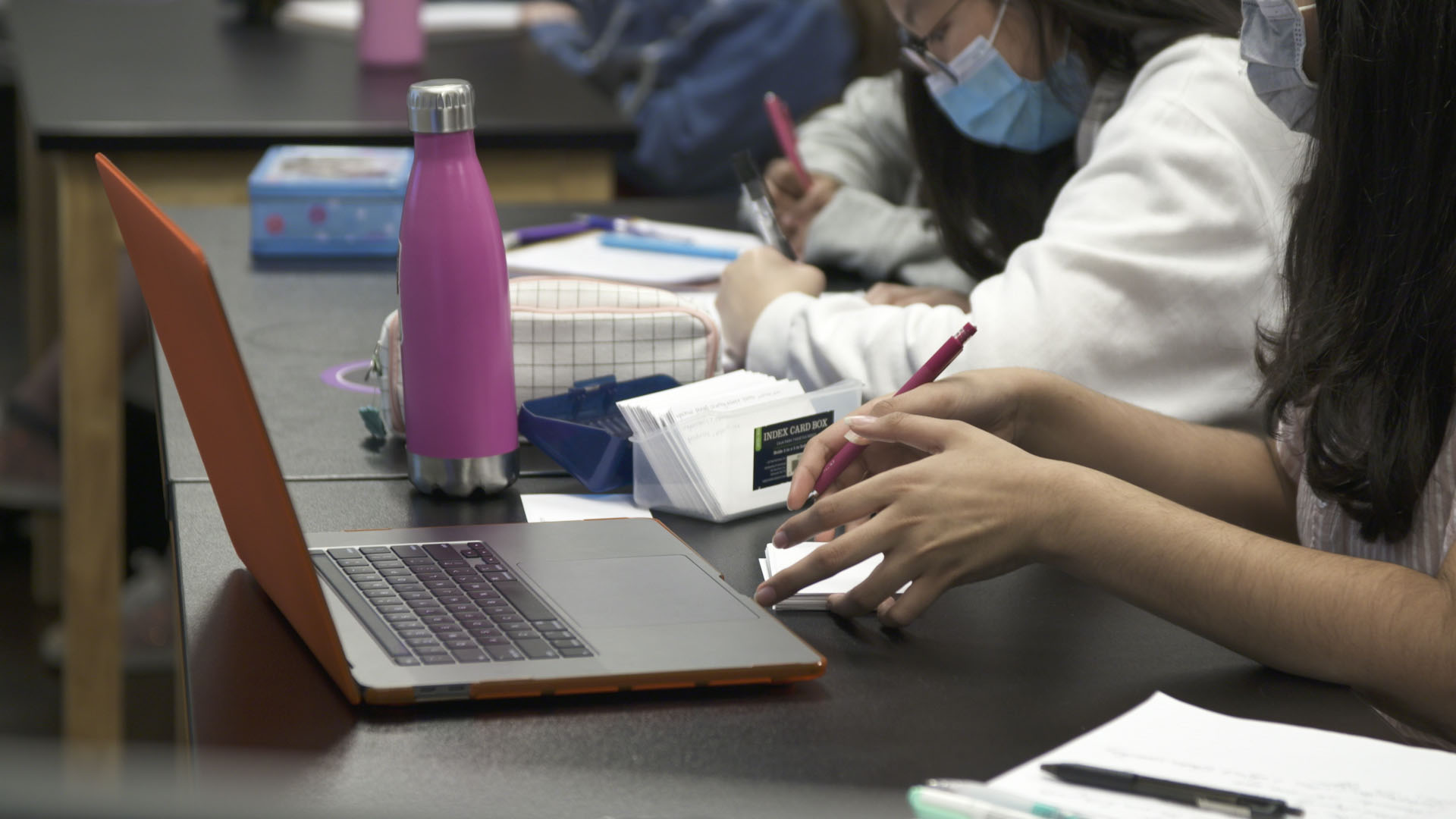 Children at school during the COVID-19 pandemic.
AZPM
Multiple school districts in southern Arizona plan on bringing students back to campus in the coming months, as parents call for in-person learning options and COVID-19 metrics improve.
This week, southern Arizona's largest school district, Tucson Unified, announced students could return to campuses starting March 24. TUSD stands out among Tucson school districts for so far remaining in remote instruction throughout the 2020-2021 school year.
Other districts, like Sunnyside and Amphitheater, began hybrid instruction last semester, but reverted to remote learning during Arizona's winter COVID spike. Now Sunnyside plans to return to a hybrid learning model March 1. Amphitheater will resume hybrid instruction Feb. 15.
As of Feb. 11, the state health department still recommends all counties remain in remote learning.
But in Pima County, one of the three metrics the state uses to gauge the safety of reopening schools passed the threshold to start hybrid learning. Pima County's COVID-19 progress report also shows improvement in areas of healthcare system availability and COVID tracking and prevention. Transmission in the county remains high.
Ultimately the decision to resume in-person learning is up to individual school districts, who consider parents' opinions. A TUSD parent survey found support for hybrid or full time in-person learning options, particularly among parents of high schoolers.
---
TUSD officially reopening March 24
AZPM
Tucson Unified School District superintendent Gabriel Trujillo officially announced Friday that the district will welcome students back to campus starting March 24.
All students can remain in fully remote learning if their family wishes.
Students have different in-person enrollment options based on their grades. Parents of elementary students who want their children back in the classroom can enroll them in full time, in-person classes. Middle and high schoolers have the option to enroll in hybrid classes.
TUSD employees will return to campus the first day after spring break, March 22.
---
Child COVID cases starting to be studied
AZPM
One of the unsolved mysteries about COVID-19 is why it has a lesser impact on children, even kids with asthma.
University of Arizona pediatric researcher Fernando Martinez says children in general are at lower risk for COVID-19, but why the disease does not affect those with asthma is especially interesting.
Martinez warns children should still take the same precautions against COVID-19 because they can still carry and spread the disease.
---
Once approved, should children receive the COVID-19 vaccine?
Arizona 360
Of the vaccines available in the United States, Pfizer's is approved for people ages 16 and up. Moderna is approved for those 18 and up. Clinical trials are underway to test the vaccine on children as young as 12.
We discussed the process and some common questions about childhood vaccines with Dr. Wassim Ballan, who specializes in pediatric infectious disease at Phoenix Children's.
Watch the full segment here.
---
Underfunding online students could cost local schools millions
Arizona Daily Star
If state lawmakers don't fully fund online students, Tucson-area schools could lose out on $30 million in funding, the Arizona Daily Star reports. Currently, online students are funded 5% less than in-person students.
Schools are also at risk of losing funding due to enrollment decreases.
---
Clothing drive collects garments for TUSD kids
Arizona Daily Star
The Educational Enrichment Foundation and TUSD Family Resource centers are hosting a clothing drive to collect socks and underwear for TUSD students, the Arizona Daily Star reports.
A news release for the drive highlighted the thousands of district students living below the poverty line.
---
Judge refuses to block Arizona's new education tax
AP
PHOENIX — A judge is refusing to temporarily block a new voter-approved tax on high-earning Arizonans designed to boost school funding.
The Tuesday ruling from Maricopa County Superior Court Judge John Hannah Jr. says the Republican lawmakers and others who sued have not shown they are likely to win their argument that the new law is unconstitutional. The challengers include the Republican leaders of the Arizona Legislature.
The judge rejected three separate constitutional challenges brought by opponents of Proposition 208. He rejected another constitutional challenge last month.
The case could now head to a full trial, but that could take years.
---
UA readies for more in-person classes
AZPM
The University of Arizona expects to move to Phase 2 for classes beginning Feb. 22.
Phase 2 allows classes of fewer than 50 people to meet in-person so long as all students and teachers wear masks and social distancing is observed in the classroom.
The university will move to Phase 2 if COVID-19 cases continue to fall in Pima County and Arizona, according to university officials.
UA President Robert Robbins said he hopes by the time the fall semester begins in August, classes can be largely in-person.
---
No positive COVID-19 tests at UA
AZPM
On Feb. 10, the University of Arizona reported no positive COVID-19 tests out of the 1791 tests it administered to students, faculty, and staff that day.
That marked the first time since August, when the university began reporting its daily test results, that there were more than 300 tests and no positive results.
In recent weeks, the university began requiring all students living on campus to be tested twice a week while students coming to campus along with faculty and staff working on campus were required to test once a week.
---
UA vaccine site to be expanded
AZPM
The COVID-19 vaccination clinic on the University of Arizona campus will be converted into a state-run mass vaccination site late next week, with the potential to vaccinate six times as many people as it does now.
But it's unclear whether the change will mean more vaccinations for Pima County residents, or just a more efficient system to administer them.
The university, the state, and Pima County announced the change this Wednesday morning. UA president Robert Robbins says the site currently sees about 1,000 people over six hours every day.
If the UA site reaches 6,000 vaccinations per day, it would match the state vaccination site at State Farm Stadium in Glendale.
---
Arizona and Northern Arizona reach 10-year scheduling deal
AP
Arizona and Northern Arizona have agreed to a 10-year scheduling partnership across nine sports, including football and basketball. The agreement is designed to strengthen the in-state partnership between the schools and provide increased scheduling consistency.
The deal includes men's and women's cross country, tennis, swimming and diving, and track and field. The women's golf, soccer and volleyball teams also are part of the agreement.
The scheduling series will include home-and-home games whenever possible and a potential season-opening game between the men's basketball programs at Arizona's McKale Center each year.
---
Deadline For Immigrants To Apply For College Scholarship Nears
Fronteras Desk
The deadline for so-called "DREAMers" and certain other immigrants to apply for a college scholarship to study at a local university is just two weeks away. The head of the organization that reviews applications says there is still enough time to get one done.
Feb. 25 is the deadline to apply for a scholarship that can be used this fall to study at Arizona State, Grand Canyon or Benedictine universities. The application has been made as simple as possible, says Candy Marshall, president of TheDream.US, the group that provides the scholarship.
---
Fresh funding aims to revitalize Indigenous oral history
AP
A major effort is getting underway at several universities, tribal museums and libraries to digitize the oral histories of thousands of Native Americans.
The recordings were collected a half century ago as part of a project initiated by the late philanthropist Doris Duke.
The Doris Duke Charitable Foundation has awarded more than $1.6 million to help with the translation and transcription of the recordings so they can be accessible to Native communities, students and the wider public. Plans also call for expanding the collections with contemporary voices.
The recordings come from a pivotal time in U.S. history when the civil rights movement spurred greater visibility of minority populations, including Native Americans.