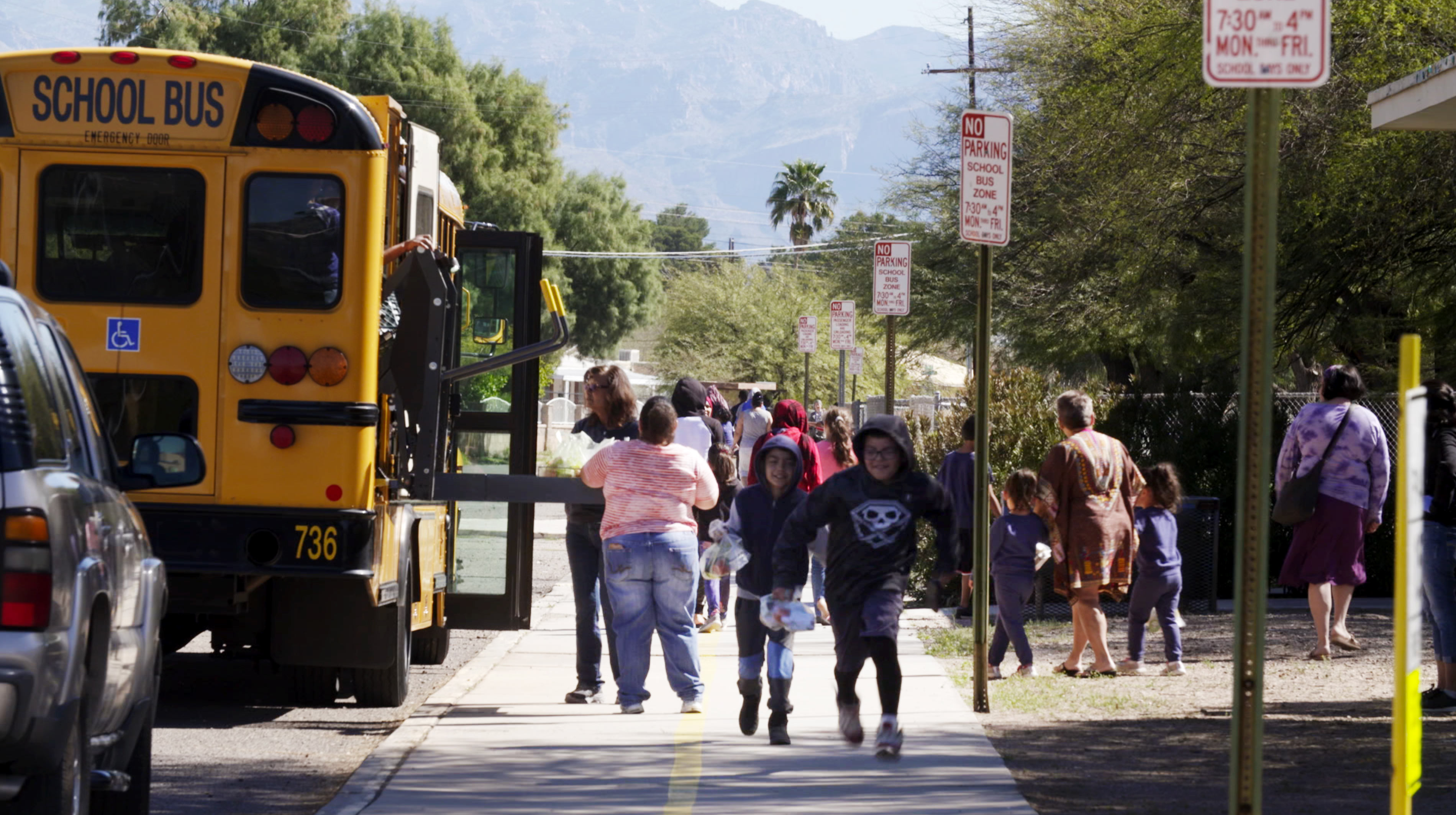 Students and families receive packaged meals from Tucson Unified School District workers who are distributing meals along the district's bus routes during closures associated with the COVID-19 pandemic.
Gage Judd/AZPM Staff
Tucson Unified School District superintendent Gabriel Trujillo officially announced Friday that the district will welcome students back to campus starting March 24.
All students can remain in fully remote learning if their family wishes.
Students have different in-person enrollment options based on their grades. Parents of elementary students who want their children back in the classroom can enroll them in full time, in-person classes.
In a video message to families, Trujillo said that some elementary students may have to change teachers or schedules in the fourth quarter.
"This is a necessary inconvenience to be able to offer you what you have said very loudly is your number one preference: getting students back on campus five days a week for full school days," Trujillo said in the video.
Middle and high schoolers have the option to enroll in hybrid classes, which would have them come to campus four mornings a week for half-days, with the rest of the school day completed independently, online. Remote students have a reversed schedule, with morning spent completing independent work and teacher-led lessons in the afternoon. Wednesdays will be completely online to give staff time to clean campuses.
TUSD employees will return to campus the first day after spring break, March 22. Due to their hybrid schedule, middle and high schoolers will not return to campuses until March 25.
In a separate video message for employees, Trujillo told staff that safety will be a top priority and urged them to get vaccinated.
"I want to assure you that we're going to do everything possible to maintain the health and safety of you, our employees and our students, at all times," Trujillo said in the video.
Trujillo said that schools will continue with mitigation efforts like mask wearing and enhanced cleaning schedules. The district also ordered large quantities of personal protective equipment.
He also announced that by the reopening, schools will have COVID-19 rapid tests available on campus.
Parents can choose their enrollment options online by Feb. 28.