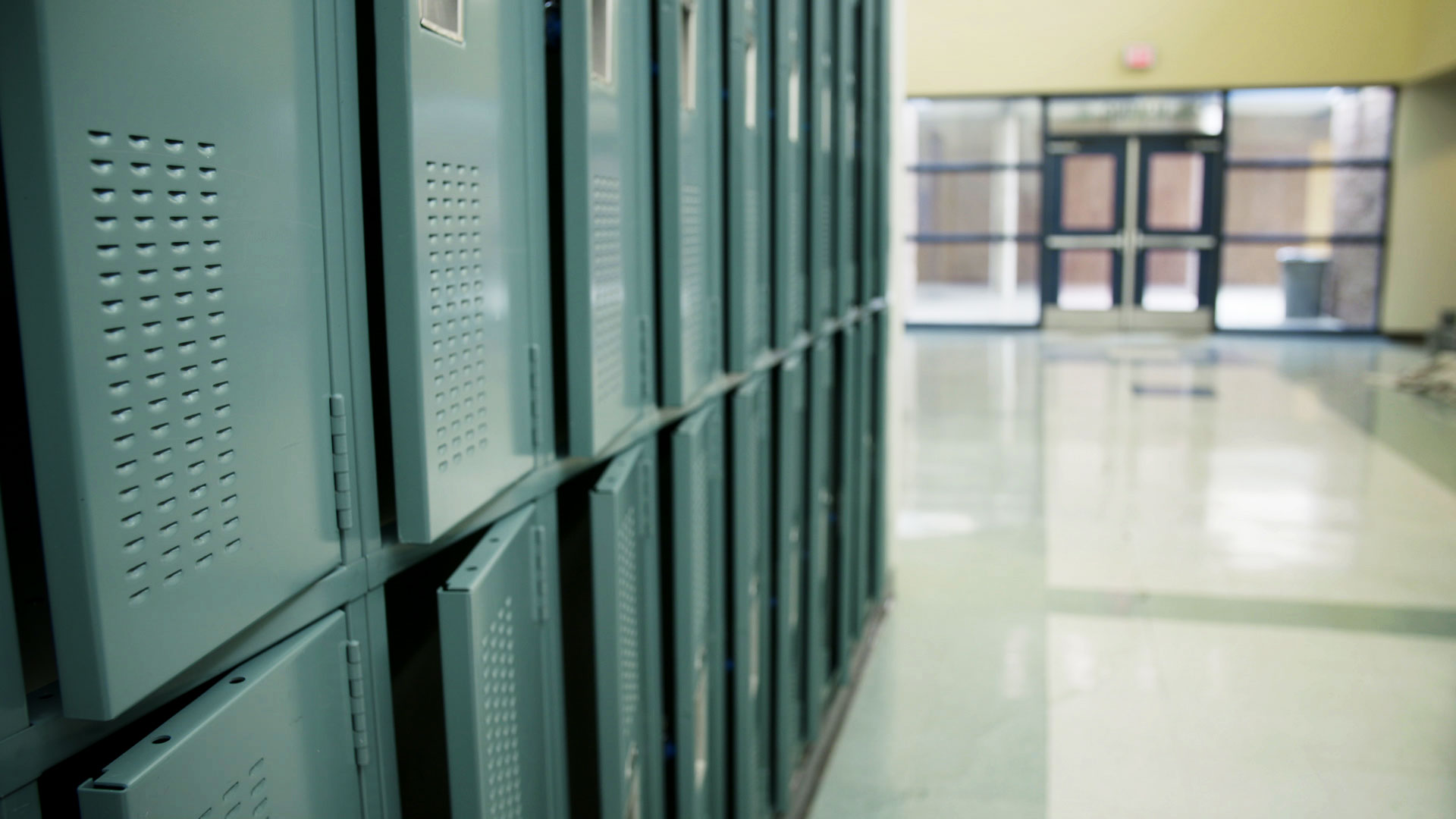 File image of a row of lockers in a school.
AZPM Staff
During her State of Education speech this week, superintendent of public instruction Kathy Hoffman focused on education funding.
Hoffman said one issue is that students in remote learning are not funded at the same rate as in-person students. Though COVID-19 metrics in Arizona have improved in recent weeks, the state health department still recommends all counties remain in remote learning.
She called upon Arizona's lawmakers to pull from the state's rainy day fund to give more financial resources to schools and said that Gov. Doug Ducey's proposed school grant program does not go far enough.
Meanwhile, educators in Pima County and around the state have continued to receive vaccinations.
About one-third of Tucson's educators have received their first vaccine shot so far, according to the Arizona Daily Star.
Tucson Unified School District superintendent Gabriel Trujillo emphasized the importance of giving teachers and staff time and opportunities to get the vaccine before reopening schools. The district intends to fully reopen in August, with a more-limited reopening likely in the spring 2021 semester.
---
State's top educator wants steady funding for education
AZPM
Arizona's public schools are suffering the effects of the COVID-19 pandemic and unsteady funding, according to state Superintendent of Public Instruction Kathy Hoffman.
In her annual State of Education speech, Hoffman took aim at those in state government who deny there is enough money to fully fund distance learning.
In his State of the State speech, Governor Doug Ducey said he doesn't want to pay for empty classroom seats. In his budget, Ducey proposed a grant program to help school districts recover the money they lost due to students who are using distance learning instead of being in the classroom.
---
Priorities laid out by Supt. Hoffman in State of Education address
Arizona 360
Arizona Superintendent Kathy Hoffman's annual State of Education address focused largely on the pandemic's impact on public education. She told members of the State Senate Education Committee that students are at the center of the crisis and called on lawmakers to deliver more funding to schools.
We discussed Hoffman's hopes for this legislative session and factors that continue to keep students out of the classroom with Arizona Daily Star education reporter Danyelle Khmara.
---
TUSD prioritizes employee vaccinations to get schools open and running
AZPM
The Tucson Unified School District is making plans to offer in-class learning this semester, with a full reopening in August. There is no official start date yet.
Superintendent Gabriel Trujillo said that providing teachers and staff with access to the vaccine is crucial for school reopenings.
With mitigation efforts, the rate of transmission in classrooms is relatively low, according to the Centers for Disease Control and Prevention.
"TUSD doesn't have a 'student contracting COVID-19' challenge. We have 'the adult employees contracting COVID-19' challenge out in the community that has been very, very problematic for us," Trujillo said.
Six TUSD employees have died from COVID-19 this semester, including four deaths just last week. Trujillo said none of those employees were working on campus at the time. The district is planning a memorial service for Tuesday's governing board meeting.
---
Four TUSD employees die from COVID-19 in one week
KGUN
Tucson Unified School District officials confirmed that four district employees died due to COVID-19 last week, KGUN reports.
This semester, six TUSD employees total have died from the virus. The district is planning a memorial service for its Feb. 9 governing board meeting.
---
Divided Senate OKs expanded tax funds for private schools
AP
PHOENIX — Republicans in the Arizona Senate have approved a proposal greatly increasing the size of a program tax money to pay for private school tuition for foster children and students with disabilities.
The Senate approved the proposal on a 16-14 party-line vote. It now goes to the House for consideration.
GOP Sen. David Livingston's Senate Bill 1041 would expand the cap on the smallest of the four tax credits used to provide scholarships. It would take the cap from $5 million to $20 million over three years.
---
Advocates push wide-ranging new Arizona school voucher bill
AP
PHOENIX — Advocates of using public money for private education are pushing a wide-ranging new school voucher program that would vastly expand Arizona's current system.
The move comes just two years after state voters overwhelmingly rejected a universal voucher system.
The new proposal from Glendale Republican Sen. Paul Boyer would make all children attending schools with a high percentage of low-income families or who qualify for free or reduced-price lunches eligible for a voucher.
Public school advocates are trying to rally opposition to the plan, saying it is a clear rejection of the will of the voters when they rejected Proposition 305 in 2018 by a nearly 2-1 margin.
---
Proposed AZ Senate bill focuses on student mental health
Arizona's Family
A proposed Senate bill in the Arizona Legislature would emphasize the importance of student mental health, Arizona's Family reports.
SB 1376 would mandate that schools include mental health in their curriculum, just like physical health. The bill leaves room for schools to interpret what that would look like.
---
End of pandemic can't come soon enough for 2 Arizona towns
AP
PHOENIX — Some Arizona educators are hoping the arrival of vaccinations against COVID-19 marks the beginning of the end for the pandemic. That scenario can't come soon enough for the residents of Hayden and Winkelman.
The small neighboring eastern Arizona towns have been pummeled by the coronavirus. The school district's enrollment is now around 300 students, down from 520 a few decades ago.
The Arizona Republic reports that the towns' residents have lost their neighbors since the pandemic began and teachers and school staff getting vaccinated say everyone knows someone who died.
---
UA has developed a smartphone based COVID-19 test
AZPM
University of Arizona researchers have created a new way to detect COVID-19 in saliva samples, by re-engineering a 2019 norovirus testing method that uses smartphones.
The process starts with a participant gargling a saline solution, like in the UA swish and gargle test. The liquid is then mixed with antibodies with fluorescent beads that adhere to COVID-19 pathogens. A small sample is placed in the rigged columns of a wax microfluidic paper then observed as it moves.
As the antibodies find the COVID-19 pathogens, they form clumps that can be photographed and later counted.
According to a press release, results can be ready in 10 minutes.
---
GCU sues to be recognized as nonprofit
Arizona Republic
Grand Canyon University sued the Department of Education after trying to be recognized as a nonprofit university, the Arizona Republic reports.
The university objects to the department's decision to categorize it as a for-profit university, which comes with certain rules. In the suit, GCU said it previously attempted to reach a resolution out of court.
---
Bruschi returns to Arizona as senior football advisor
AP
Tedy Bruschi is returning to Arizona football. The school announced Brusci will serve as a senior advisor to new coach Jedd Fisch.
Bruschi was a two-time consensus All-American and the Pac-12 Defensive player of the year during his four-year stint in Tucson from 1992-95. He went on to play 13 NFL seasons with the New England Patriots, winning three Super Bowls before retiring in 2009.
Bruschi served as a lead analyst at ESPN after his retirement.