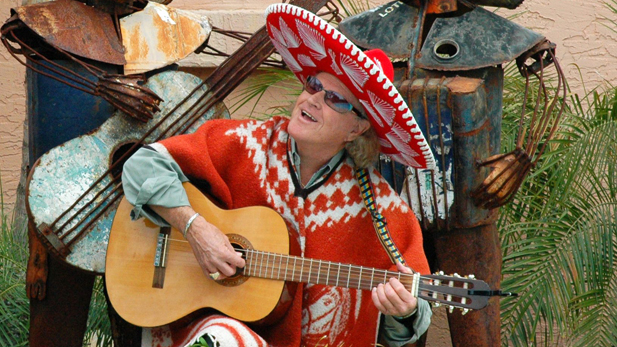 Former folk star Dolan Ellis has served as Arizona's official balladeer since 1966.

Bonnie Brock
Dolan Ellis was born a Kansas farmboy, but these days, you can't tell.
As Arizona's official state balladeer since 1966, Ellis has spent nearly half a century living, breathing and singing Arizona.
He's written close to 300 songs about his adopted home state and the Southwest, and he's logged more than a million miles on the road to share them with anyone who'll listen.
But his greatest passion is for a gray-blue house in a narrow green gorge in the Huachuca Mountains—a place where some very old music is finding new life.
Hear Dolan Ellis perform "Who's Gonna Run the Truck Stop in Tuba City When I'm Gone":
--
Long before he'd seen the Huachucas, Ellis was dreaming of them. Growing up on a 640-acre farm just south of Baldwin City, Kansas, Ellis roamed the fields and woods and let his mind wander.
It often found its way to the desert landscapes in the Westerns Ellis watched at the theater in town, and to the cowboys who sang in them.
"I saw people like Roy Rogers and Gene Autry riding their horses through the saguaro cactus ... and I think that had an imprint on me as a child," he says. "I always wanted to come to Arizona and be a cowboy and stand for good things in life."
But by the time Ellis entered fourth or fifth grade, his family left the farm and moved to Topeka. There, Ellis faced ridicule from his city-bred classmates and desperately missed his life on the farm.
"It's tough on a child," he says. "Children can be rude and cruel, and I just didn't have those skills city kids did."
What he did have were musical skills. He'd sung all his life, written his first song in third grade, and learned about music and rhythm from an older brother who was a Dixieland jazz musician.
In high school, he taught himself ukulele and guitar, but never considered it more than a hobby until he took a train to Arizona.
--
Ellis was interested in television. He'd studied TV journalism and learned stage construction and lighting—"I didn't have the confidence to think I could occupy center stage," he says—in Kansas and fielded job offers from TV stations all over the country.
But when an opportunity arose with Phoenix's Channel 10, he jumped at the chance to move to the state of his dreams.
Word soon spread at Channel 10 that the new cameraman could sing and play. Ellis found himself getting invited to entertain during parties, and then to play gigs.
Within a year, he'd quit his job to play for a local coffeehouse; a year after that, he was invited to join the New Christy Minstrels, a folk music group, as a founding member.
"I've always liked to be a part of beginnings," says Ellis. "We recorded an album, and it just exploded."
In 1962, the band toured the country and played 39 weeks on the The Andy Williams Show. By 1963, they'd won a Grammy and their records were going gold—and Ellis was thinking about going home.
"I really missed living in Arizona, just being around the Sonoran Desert and its special light," he says. "All of my friends thought I was absolutely crazy."
Ellis quit the band anyway, and came back to his beloved desert. In 1966, then Arizona Gov. Sam Goddard appointed him the state balladeer, a kind of "singing poet laureate," as Ellis describes it. It was the first such appointment in the U.S.
Ellis has served as Arizona's official balladeer ever since, under 12 different governors and through almost five decades. His love for the state has never waned.
But his concern for its musical heritage has grown. That concern began in 1986, with a trip to the Scottsdale Public Library.
"There was an inch-and-a-half-wide section on Arizona folklore," he recalls. "Cowboy songs, mining songs—I couldn't find them there."
Ellis offered to raise money for the Arizona Historical Society to preserve the state's musical folklore, but when that fell through, he decided to do it himself.
In the early 1990s, he purchased 15 acres in a hidden corner of Ramsey Canyon, a green sliver along the Upper San Pedro River Basin that's as rich in wildlife as it is in history.
This, he decided, would be the Arizona Folklore Preserve.
"We needed to get people out of the city and into the right mode to hear songs of the earth, which is what folk music is," Ellis says.
A 1920s ranch house served as a theater where Ellis and other folk musicians performed and archived songs about Arizona. The idea was to bring the old songs to life and share them with audiences who had likely never heard them.
In 2000, Ellis teamed up with the University of Arizona South to expand the facility and build a new state-of-the-art theater.
Ellis remains the artist in residence at the Folklore Preserve, where he continues to perform at least one weekend a month, and where he will celebrate his 77th birthday on March 25th.
For the lifelong singing cowboy, there'll be no better way to mark the occasion than with a ballad.
"You do one thing at a time in life, and when you look back at the pile, you think, 'Good Lord, how did I do all that stuff?'" Ellis says. "But being the state balladeer is what has meant the most to me."
Hear Dolan Ellis perform the cowboy song "Ghost Riders (in the Sky)":
Dolan Ellis will perform at the Arizona Folklore Preserve March 24-25, 2012, at 2 p.m. (doors open at 1 p.m.). Tickets cost $15 for adults and $6 for children under 17. Reservations are recommended and can be made here.