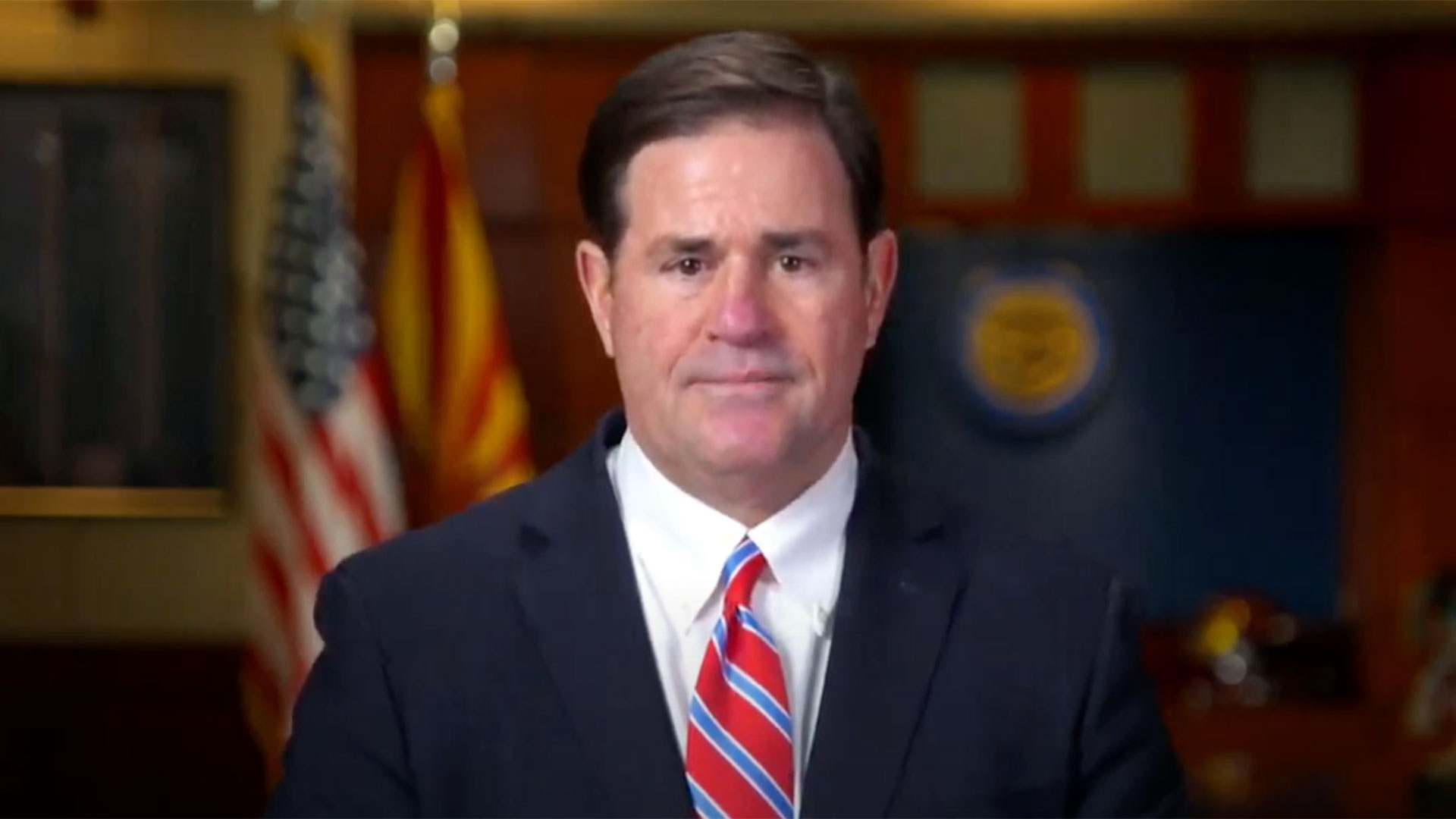 Gov. Doug Ducey delivers the annual State of the State address online due to COVID-19. Jan. 11, 2021
AZ Governor's Office/YouTube
This year's Arizona state of the state address took place in the shadows of two dramatically troubling events - the resurgence and continued record growth of COVID-19 infections and deaths in Arizona and last week's assault on the U.S. Capitol by people bent on forcing Congress to overturn the results of the presidential election.
Before addressing the pandemic, on Monday Gov. Doug Ducey took a few moments to address the assault on the Capitol which he referred to as "sickening."
"In the United States of America, violence and vandalism have no place in the people's House," he said. "Perpetrators should be prosecuted to the full extent of the law. Let us resolve that it never happens again."
He did not address the role played by Arizonans in trying to overturn the election results, but without offering specifics, committed the state to leading the way towards healing.
"Arizona will do its part to bind up the nation's wounds," he said. "Here, we will conduct ourselves with integrity, and respect for each other and for the United States Constitution."
The governor then turned to the coronavirus pandemic. He did not mention Arizona's renewed status as the top state in the nation with the worst COVID-19 infection rate, but he acknowledged that the danger was great.
"The pandemic remains the most significant threat we face," he said. "The risk is still serious, and so is the pressure on our hospitals and medical personnel." Arizona hospitals have been operating above normal capacity for weeks, and hospital administrators have repeatedly asked the governor to implement more restrictions to slow the spread of coronavirus.
Ducey has come under criticism for not providing more stringent statewide restrictions in response to the recent surge. He defended his decision not to mandate new restrictions or issue a lockdown, saying Arizonans' basic needs and responsibilities did not stop with the pandemic.

"People still have bills to pay, children in need of schooling, businesses to run and employees who depend on them," he said. "If we're really all in this together, then we have to appreciate that for many families "lockdown" doesn't spell inconvenience; it spells catastrophe; zero income, inability to make a payment, eviction, foreclosure, and real personal anguish."
The governor also said the pandemic had done severe damage to the state's ability to educate its youth. He called for a serious discussion about focusing resources on turning things around.
"There's been severe learning loss. Kids have missed out on so much. So let's put our resources on getting them caught up. Before COVID, we had an achievement gap in our schools," he said. "And it's only gotten worse. It's a problem detailed in a report just last week from one of the state's leading business organizations – with data showing the gap in student achievement often falls squarely down economic and racial lines."
But even before the pandemic, Arizona rated near the bottom nationwide in key educational indices and standards. Educators say getting caught back up already needed a significant influx of resources; now given the further damage the pandemic has caused, that need is dramatically greater.
Ducey did not address where the new resources for education would come from. In fact, in talking about his agenda for the legislative session, he focused on lowering taxes, saying the state can meet all its obligations without any tax increase.
The goal, he said, was to keep Arizona sound economically and "to make Arizona the best place in America to live, work, and do business – by letting Arizonans keep more of their hard-earned money. And having come this far, as other states chase away opportunity with their new taxes, why on earth would we ever want to follow their failed and depressing example?"