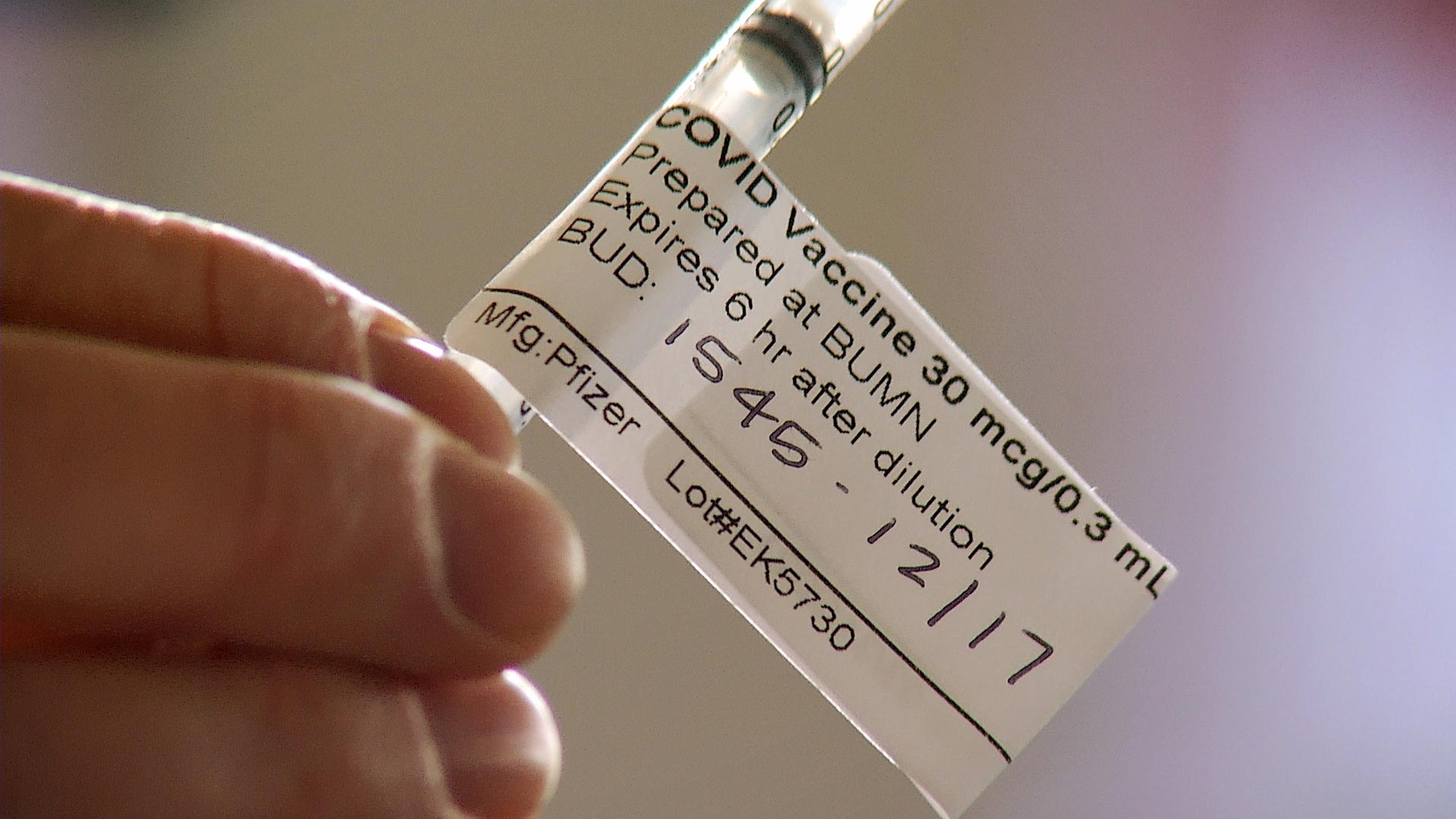 A health care worker holds a dose of the Pfizer-BioNTech COVID-19 vaccine during a vaccination event at Banner - University Medicine North on Dec. 17, 2020.
Tony DiRusso/AZPM Staff
Pima County health officials are racing to vaccinate people as fast as possible amid a continued COVID-19 surge that has once again placed Arizona in the top spot for infections nationwide.
In an update published Tuesday by the Arizona Department of Health Services, Pima County led the state in terms of the rate of vaccinations per 100,000 people. In a press conference, county health officials said they were pleased to see that but stressed there is still a very long road ahead to vaccinate a sufficient percentage of county residents.
"We continue in an accelerated phase of transmission... and hospitals remain in a difficult situation," Pima County Health Director Theresa Cullen said. She said as of this morning, there were only 3% of ICU beds available and at least 95 patients were backed up in emergency rooms waiting for beds, about 60 of whom were COVID-19 positive.
Cullen and Francisco Garcia, Pima County's chief medical officer, said they are setting ambitious targets for vaccinations, with the hope of moving into Phase 1B as soon as the end of next week. Because of the large number of people in that group, which includes education and childcare workers, adults 75 and older, and essential service workers, health officials expect it will take through the end of March before the county can move to Phase 1C. They hope to vaccinate the remaining groups, excluding children, by early summer. Neither the Pfizer nor the Moderna vaccine have yet been approved for children.
As of this week, the county has received about 65,000 doses of vaccine, and has already put about 20,000 doses into arms.
In response to questions about how the general public will register for the vaccine, Cullen and Garcia said they're currently using the state registration form but expect they'll develop additional tools moving forward. They stressed that things are evolving quickly.
So far, most vaccine distribution is happening through the "open pods" at Tucson Medical Center and Banner hospitals, but there are additional distribution sites to target healthcare workers. The county will also begin standing up other mass vaccination sites in the coming weeks.
Despite the gravity of the current COVID-19 caseload, Cullen said so far Pima County hospitals are not implementing triage standards of care, which prioritize those with better chances of survival. All hospitals in the state were required to develop surge capacity plans in spring 2020, and most have activated them. Still, she said there have been days with zero ICU bed capacity in Pima County.
Asked if local hospitals have a breaking point, Cullen said, "I am sure there is a breaking point. I don't know what it is."
Garcia said the county has seen some positive results stemming from the public health advisory and curfew implemented in December. He said through contact tracing they've seen evidence of people changing behaviors, with drops in numbers of those going to bars or attending larger gatherings. He said it's still too early to tell how significant of an impact those mitigation efforts may have.
Both said they do not expect additional COVID-19 mitigation measures coming at the state level.