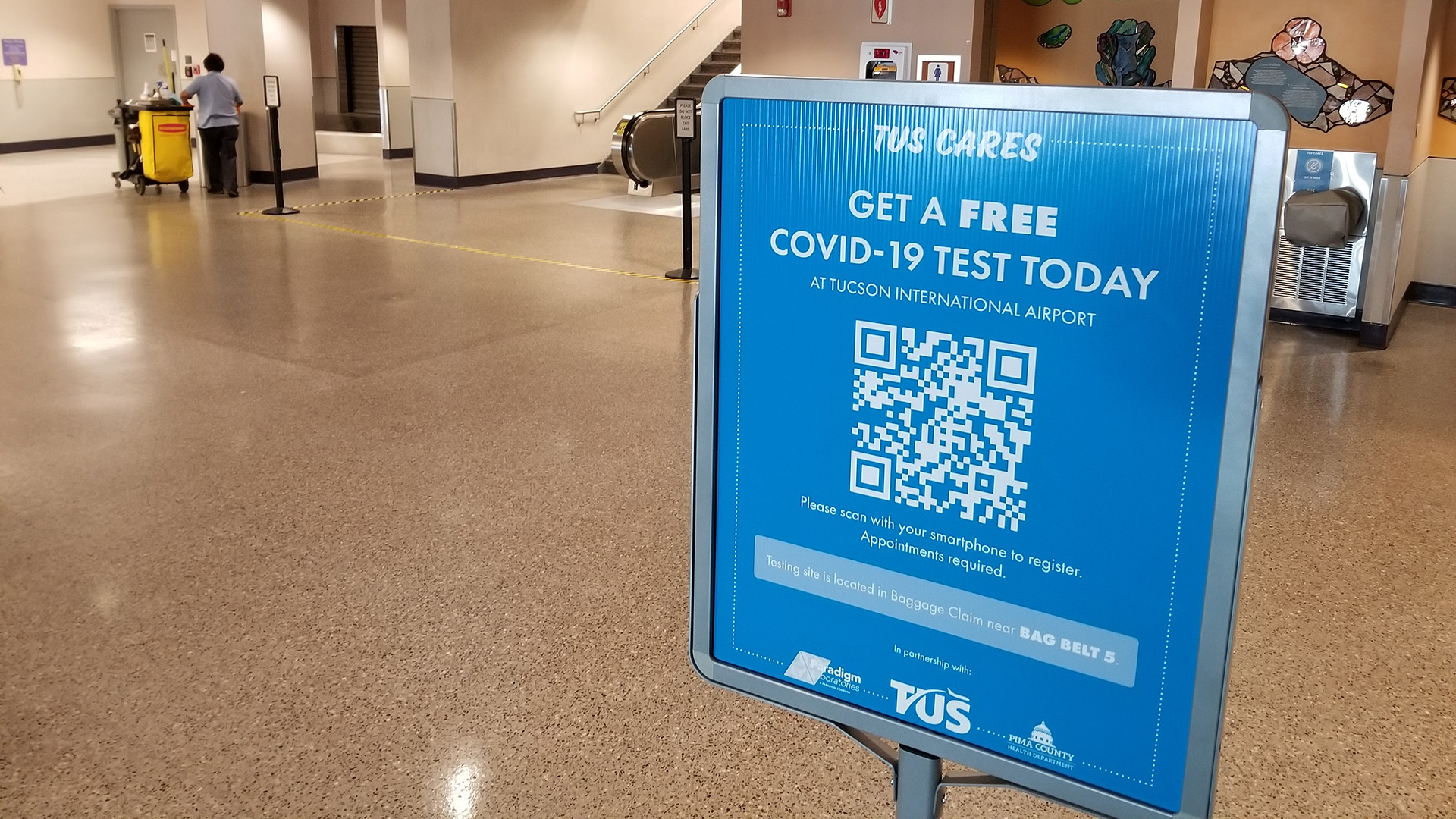 Sign directing people to the free COVID-19 testing site in the Tucson International Airport during the 2020 holiday season.
Courtesy of the Tucson Airport Authority
The Tucson International Airport will be offering daily free COVID-19 testing starting Friday.
In order to get one of the PCR nasal swab tests, TIA Chief Operating Officer Bruce Goetz said people need to pre-register. Those with smartphones can quickly scan a QR code posted on signs throughout the terminal advertising the free COVID-19 testing site by bag belt 5.
"I think everybody would like to know, 'Are they healthy?' And this provides a really convenient option for people landing here — just while they're down at baggage claim getting their bag to walk right over to where the free testing station is and get that PCR nasal swab test done," Goetz said.
He said after patients take the test, they can expect their results online in 24-48 hours.
"It's used by everyone here at the airport. There's passengers down there. There's employees getting in line," Goetz said. "I'm one of a lot of airport staff who are frequent testers down there. I just find it quick and convenient."
Some community members who have no intention of flying that day have paid the airport parking fees in order to take advantage of the site, he said.
A limited testing site is currently open from 11 a.m. to 6 p.m. Friday through Monday during the airport's busiest hours. Since it opened on Nov. 20, an average of more than 200 people use it each testing day, according to the Tucson Airport Authority.
Now it'll have appointments available every day till Jan. 11. At that point, Goetz said the site may revert back to the Friday through Monday schedule.
"We do see industry blurbs about other airports offering testing. I think one of the things that's really unique for us is this is free," Goetz said.
The testing site is a partnership between the Tucson Airport Authority, Pima County Health Department and Paradigm Laboratories.

"Having this service available to travelers coming into our community will allow them to make smart decisions about their plans after they arrive," said Pima County Health Department Director Dr. Theresa Cullen said in a press release when the site opened in November. "While people should not travel while they are sick, this site will provide early results for those coming into our community who may have symptoms or may be worried about their exposure to others."