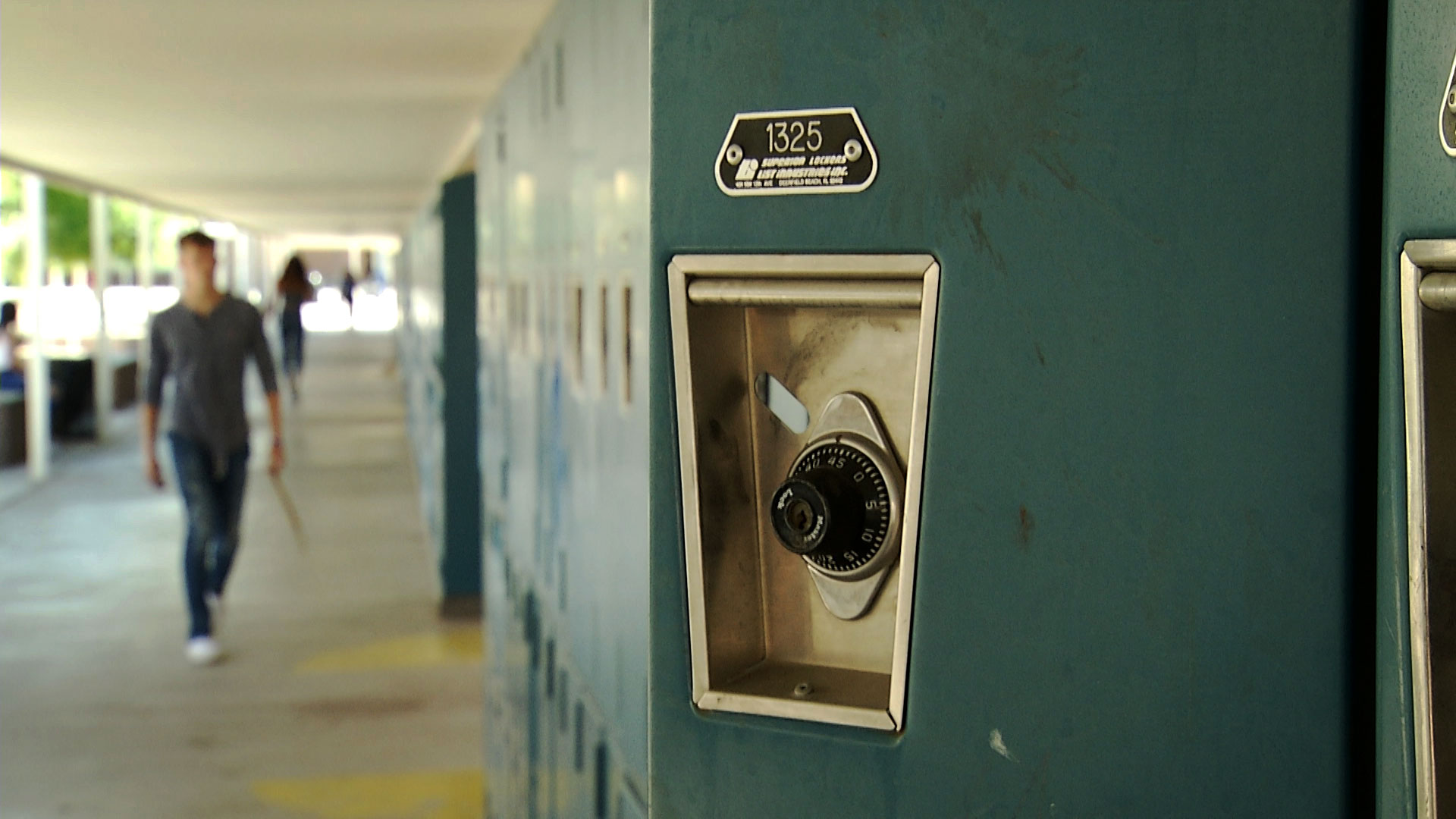 A locker door is visible in the foreground as a student walks in the distance at Marana High School in September 2019.
AZPM Staff
Education funding, long a topic of discussion and debate, is once again up in the air in Arizona.
This week, school districts received letters informing them that the grants they were expecting to cover enrollment losses would not be for as much money as many hoped. According to the Associated Press, the Tucson Unified School District will receive about $15.5 million in grant money. It was expecting $20 million.
As district officials have said, that grant money only takes into account enrollment losses up to the 40th day of school and does not cover students lost after that. For TUSD that day was Oct. 5.
TUSD superintendent Gabriel Trujillo previously announced that the loss in funding expected due to a decline in enrolled students will likely lead to structural changes in the district, as it attempts to financially stabilize. TUSD Governing Board president Kristel Foster told the Associated Press that the district may have to freeze teacher salaries due to budget cuts.
Meanwhile, two lawsuits were filed this week against Proposition 208, also known as the Invest in Ed measure. The ballot measure, which passed in November, aims to improve funding for public schools and raise teacher and staff salaries by adding a tax surcharge on wealthy Arizonans.
Both lawsuits argue that the measure violates the state constitution by superseding the Legislature's ability to set taxes and determine how revenue will be spent. Prop 208 is not the first ballot measure to set tax policy and whether the argument against it will prevail remains to be seen.
In higher education news, the University of Arizona officially acquired the for-profit, online college, Ashford University. With it came Ashford's 35,000 already-enrolled students.
The acquisition is a part of the university's goal to make a UA Global Campus for online education. First, the UA must address Ashford's longtime issues of low retention and graduation rates.
---
Invest in Ed is headed to court, again
AZPM
A ballot measure to tax the wealthy to fund education that passed in November is facing new legal challenges.
Two separate lawsuits brought Monday argue Proposition 208 — the so-called Invest in Ed measure — is unconstitutional. At issue is whether the measure's 3.5 percent surcharge takes away the Legislature's ability to set tax policy.
The measure received 51.8% of the vote on the November ballot, which means starting next year, the surcharge will apply to income over $250,000 for individual filers and $500,000 for joint filers. Revenue collected by the measure is required to go into a special fund for public school districts and charter schools for the purposes of raising employee salaries and improving teacher retention and training opportunities.
---
Arizona governor shorts some schools on promised grants
AP
PHOENIX — Some Arizona school districts may require budget cuts after a grant program promised by Gov. Doug Ducey in June underdelivered. Ducey's office had stated the $370 million grants would "guarantee" schools receive funding at a rate based roughly on enrollment. But applications sent in November stated that the grant would instead be "up to" the formula amount.
Tucson's school district received $4.5 million less than it expected. Chandler's school district received about $1.5 million less than expected.
A Ducey spokesperson said the June grant was based on expected enrollment data at the time and that it was just a portion of the roughly $950 million in additional funding schools were allotted.
---
Department of Education releases tool to track learning models at local districts
KJZZ
The Arizona Department of Education debuted an online tool to track what learning model schools and districts across the state are currently in.
The tracker relies on self-reported data from local education leaders and charter school officials, KJZZ reported.
During the pandemic, some districts have changed their learning models multiple times. Sunnyside Unified School District entered a hybrid system during October and November, but returned to a distance learning model after Thanksgiving Break. Tucson Unified School District initially announced it would begin hybrid learning, but later rolled back that plan until COVID-19 transmission in Pima County is under control.
---
Sahuarita school district ends in-person learning at high schools
Arizona Daily Star
Sahuarita Unified School District ended in-person learning in its high schools Friday due to COVID-19 cases on campus, the Arizona Daily Star reported. These cases lead to issues with maintaining staff amidst quarantine orders and too many absences.
District high schools will continue the year online. Classes end Dec. 17. District officials are looking to have in-person classes resume in January at the start of the second semester.
---
UA acquires for-profit Ashford University, launches new online 'campus'
AZPM
The University of Arizona has acquired an online, for-profit university with a controversial history, leaving some in the university community wondering what the deal means for the UA's reputation.
The UA acquired Ashford University's 35,000 students Tuesday in a bid to create a new independent nonprofit entity dubbed UA Global Campus to compete in the online education space. Ashford has a controversial history, and its parent company will continue to operate the online university as a contractor.
The Western Association of Schools and Colleges approved the deal last week, but that approval comes with conditions. The UA has 90 days to figure out how it will address Ashford's low student graduation and retention rates.
---
UA cases steady, ASU cases increase among staff
Arizona Republic
After a spike in September, positive COVID-19 cases at the University of Arizona have remained relatively stable, even while cases in Pima County continue to rise, the Arizona Republic reports. The university ended in-person classes after the Thanksgiving Break, as planned.
At Arizona State University, COVID-19 cases are rising among staff members. Northern Arizona University has not released new case data since Nov. 20. Grand Canyon University, a private Christian college in Phoenix, saw its positive cases decline after a case spike around Halloween.
---
Navajo school, students fight to overcome amid COVID-19
AP
PINON — On the Navajo Nation, a high school senior spends six hours most days doing homework in a car next to a school bus turned Wi-Fi hotspot. It's the only way to get assignments to teachers.
COVID-19 has brought one of the greatest challenges yet to these young people. Across the Navajo reservation, victims of COVD-19 include parents and grandparents, sole guardians and providers, mentors and teachers. Without them, some students have lost their way or, quite literally, fallen off the map.
---
Pop-up school for US asylum seekers thrives despite pandemic
AP
MATAMOROS, Mexico — It started as a kind of pop-up school on a sidewalk to teach reading, writing and math to Central American children living in a camp of U.S. asylum seekers stuck in Mexico. Like countless other schools during the coronavirus pandemic, the so-called sidewalk school has had to go virtual.
But instead of being hampered by the change, it has blossomed. Now some 20 teachers who are seeking asylum themselves give Zoom classes to Central American children in not only the camp, but at various shelters elsewhere in Mexico.
Thousands of Central American families have been living in tents or at Mexican shelters since a Trump administration policy forced asylum seekers to wait south of the border as their cases proceed.