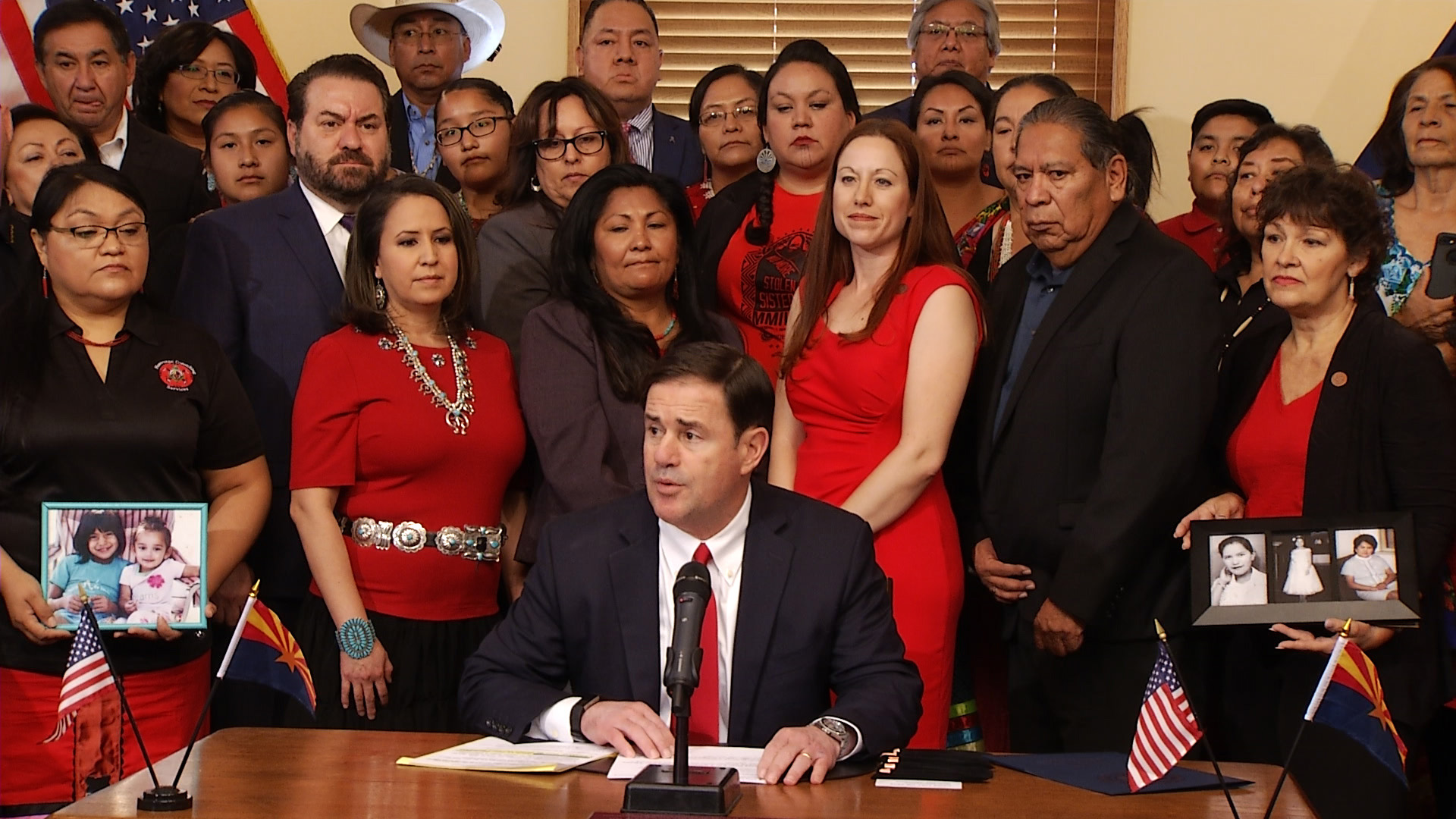 Gov. Doug Ducey holds up HB 2570, a law that will require the state to collect data on missing and murdered Indigenous women and girls, at the ceremonial signing Aug. 13, 2019.
AZPM
The final report from an Arizona legislative study committee on missing and murdered Indigenous women and girls lays out a path for lawmakers, law enforcement agencies and those serving the victims of these crimes to better understand the extent of the crisis across Arizona.
When Arizona Rep. Jennifer Jermaine introduced the bill in early 2019 the latest data reported Arizona had 54 MMIWG cases in urban areas from 1943 to 2018. Across the United States, there were 5,712 known cases in that time frame, but only 116 were in the Department of Justice's database. That lack of data spurred a grassroots movement that propelled the passage of the law that created Arizona's study committee and now a list of legislative, data and law enforcement recommendations. The committee continues to reiterate that their recommendations are just the beginning.
"There's still this lack of education and understanding that missing and murdered Indigenous women and girls is a real thing," said April Ignacio, who is Tohono O'odham and sat on the data subcommittee. "It's the reality that we live in here in Arizona as Native women."
There are 78 recommendations in the report, but one that stands out to Ignacio is to require a representative from one of the 20 land-based tribes in Arizona to sit on the Arizona Criminal Justice Commission.
"If we can ensure that there are Native Americans a part of all agendas, we ensure that there is Native representation in these committees, commissions, state boards who have an understanding of real issues on our tribal nations here in Arizona," said Ignacio.
With representation, agencies could make informed and culturally sensitive decisions when serving Indigenous populations, she said.
One of the suggestions to improve data collection is to record the race and tribal affiliations of victims and offenders in missing persons or murder cases.
Ignacio said she doesn't think law enforcement agencies, be they tribal or state, understand that tracking a person's tribal affiliations makes a difference when it comes to identifying them.
The committee requested data from law enforcement agencies across the state, but Ignacio said some police departments, specifically in Maricopa County, refused to send the committee their data. She said others cited the pandemic as the reason they couldn't comply with the data request.
"This is just the beginning. This is going to scratch the surface of what needs to be done in Arizona, and then the real work will come after the report," said Ignacio.
Ignacio said now she expects the legislators on the committee to hold the law enforcement agencies that wouldn't participate accountable.
Arizona State University's Research on Violent Victimization Lab also contributed a report that dived into the barriers within law enforcement agencies and crime tracking databases that handicap efforts to address violence against Indigenous peoples.