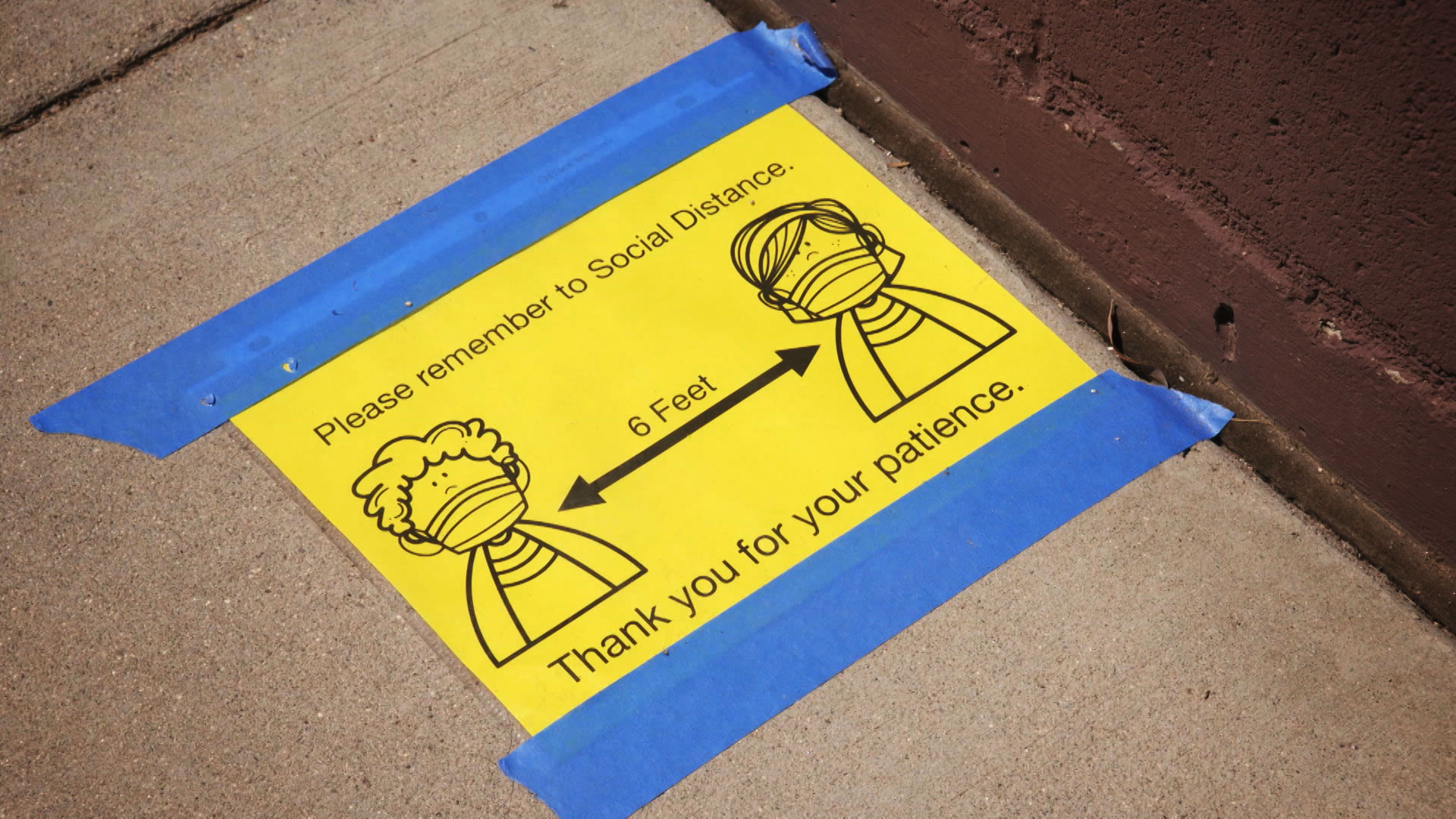 A flyer taped to the ground at Mesquite Elementary in Vail reminds students to maintain social distancing. August 2020.
Robert Lindberg/AZPM Staff
As schools in Pima County and across Arizona move forward with plans for hybrid learning, monitoring COVID-19 cases becomes vital.
In Pima County, health officials are working with school districts to keep track of cases. So far, Pima County schools have avoided any large outbreaks, Pima County Health Department Director Dr. Theresa Cullen told Arizona 360.
This week, schools in Pinal County and the Phoenix area closed due to COVID-19 concerns. Statewide, average daily coronavirus case numbers have increased in recent weeks, according to the Associated Press.
Meanwhile, voices for and against education funding initiative Proposition 208 continue working to sway voters as early voting in Arizona is underway. The measure, also known as the Invest in Education Act, has both passionate proponents and opponents.
If passed, Prop. 208 would raise money for public education by adding a 3.5% tax surcharge on wealthy Arizonans, including single people making over $250,000 a year and households making over $500,000 a year. The money would go to hiring teachers and support personnel and increasing their salaries, as well as developing programs to improve teacher training and retention. Polls suggest Prop. 208 is popular with registered voters.
As the holiday season approaches, University of Arizona faces the possibility of large numbers of students traveling. Though recent student case counts have been lower than those during the spike in mid-September, officials remain vigilant.
In a preemptive move to avoid a spring semester spike, UA officials announced this week that there would be no spring break this school year. Instead, students will have reading days sprinkled throughout the semester.
Universities, just like towns and states, must make judgments based on local public health metrics. That means this school year, already one for the history books, looks different for students at various colleges.
As a part of a project exploring this school year on different college campus, a two UA journalism students contributed writing and photography to the New York Times to share what the school year has been like here in Tucson.
---
As schools reopen campuses, what's the risk in Pima County?
Arizona 360
As more schools welcome students back into the classroom, the threat of COVID-19 still looms. Arizona 360 discussed current trends in Pima County with Dr. Theresa Cullen, director of the Pima County Health Department. Cullen also explained how the county is working with school districts to track and trace positive cases of the disease.
For insight into how COVID-19 affects children, Arizona 360got insight from Dr. Chan Lowe, division chief of pediatrics at Banner-University Medicine.
---
Virus cases at Arizona school send hundreds into quarantine
AP
PHOENIX — Gov. Doug Ducey says schools should maintain options for parents whether they prefer in-person or online instruction for their children. Ducey spoke Thursday after touring a Phoenix charter school with U.S. Education Secretary Betsy DeVos.
A southern Arizona high school has closed temporarily after at least three people tested positive for the coronavirus. The Pinal County Public Health Department ordered the closure because of the number of people who are now required to quarantine.
Officials at Combs High School in San Tan Valley say about 450 students and 20 staff members were told to quarantine while the larger school district investigates what is considered an outbreak.
---
Tax on wealthy to fund Arizona schools spurs election fight
AP
PHOENIX — Public schools in Arizona that have weathered a decade of funding cuts with only partial restoration could see a big infusion of cash if a ballot measure backed by teachers and advocacy groups passes in November. But opponents in the business community say Proposition 208 will hurt the economy and only bring partial relief.
The Invest in Education Act would impose a 3.5% tax surcharge on income above $250,000 for an individual or above $500,000 for couples. Proponents say it could raise about $940 million a year for schools. The money would go to teacher and support staff raises, vocational education and teacher training.
---

Read more coverage of national, Arizona, and local elections at our 2020 elections portal,
Your Vote 2020
.
---
Prop. 208 proponent and opponent face off in debate
Arizona Republic
One of the authors of education-funding initiative Proposition 208 faced off against a former schools superintendent and noted opponent of the measure in a debate that highlighted the impacts Prop. 208 would have on schools and the economy.
Proponent David Lujan argued that the money raised by the measure would help address Arizona's teacher shortage, while opponent Jaime Molera said that measure lacked oversight.
Arizona republic reporter Richard Ruelas moderated the debate Tuesday night.
---
Gov. Ducey criticizes Prop. 208 while visiting DeVos
Arizona Republic
Gov. Doug Ducey denounced Proposition 208, a ballot measure to increase public education funding by adding a tax surcharge on the wealthiest Arizonans, during a visit Thursday with U.S Education Secretary Betsy DeVos.
Ducey, who has long resisted any sort of tax increase, said that the measure would make Arizona unfavorably similar to Vermont or New York, while scaring away potential businesses, the Arizona Republic reports.
---
UA officials worried about holidays
AZPM
In recent weeks, the number of cases of COVID-19 on the campus of the University of Arizona have been dropping, but university officials are still concerned.
They are worried that complacency will lead to another increase in numbers. They are especially worried about some upcoming holidays.
"We're all aware that Halloween is on a weekend this year. We're working hard to prevent an uptick in positive cases," said Robert Robbins, University of Arizona president.
Classes return to online only after Thanksgiving, but university officials will still require all students to let them know where they plan to travel for the holiday.
---
UA cancels spring break
Arizona Republic
University of Arizona officials announced in an email Wednesday a plan to cancel spring break for the 2020-2021 school year. It will be replaced with a series of reading days spread out during the spring semester.
The cancellation of spring break is due to concerns UA officials have about COVID-19 transmission, the Arizona Republic reports.