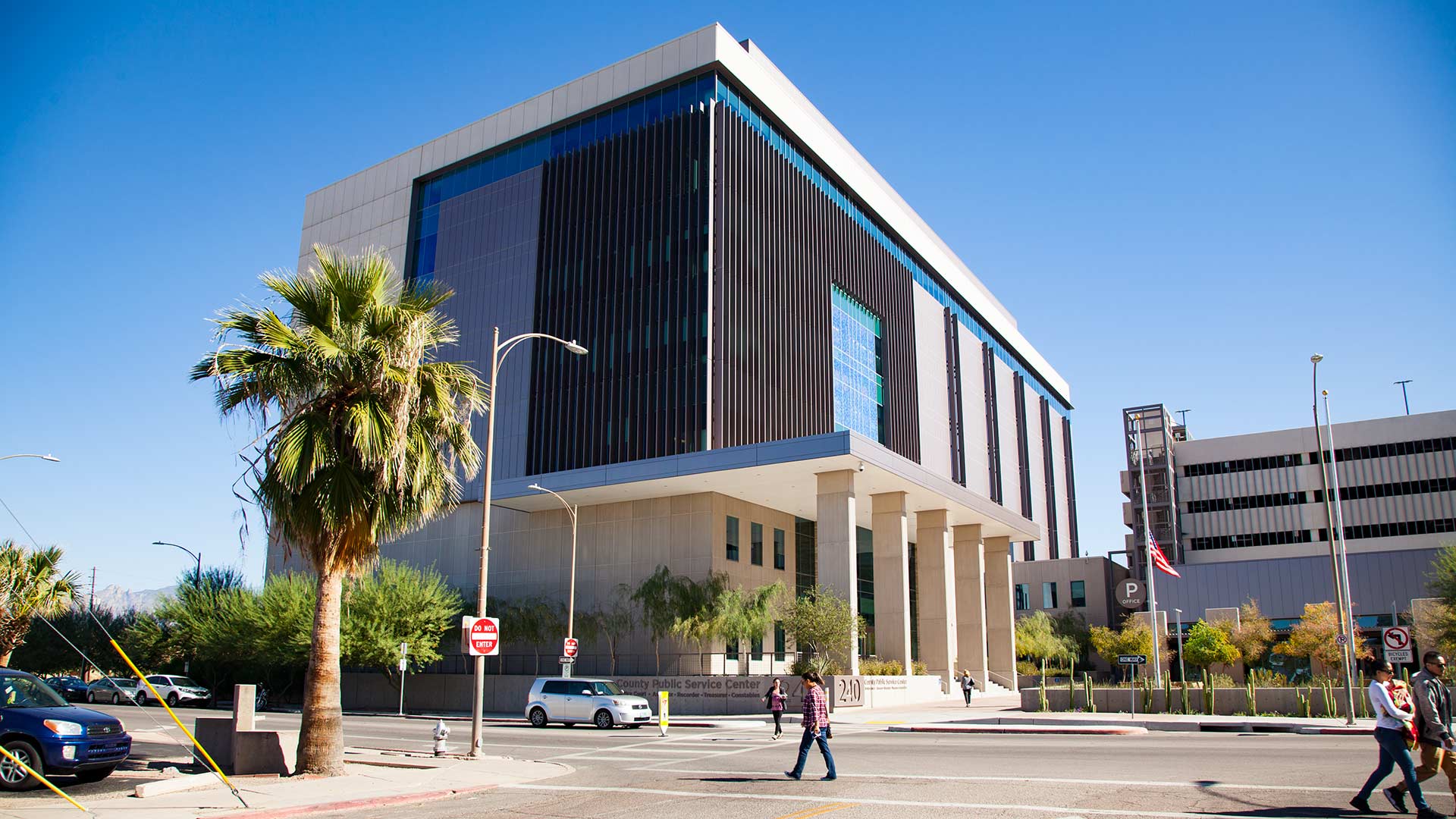 The Pima County Public Service Center is home to the county recorder.
Nick O'Gara, AZPM
Para información en Español, visite el sitio de la Oficina de la Secretaria de Estado de Arizona.
UPDATE: The information in this story has been updated as the voter registration deadline changed.
Arizona voter registration applications to vote in the 2020 general elections must be received by Oct. 15.
That date is the second change to the deadline in the month leading up to the election. The original passed at 11:59 p.m. Oct. 5, but a court ruling extended it until 5 p.m. Friday Oct. 23. After an agreement between the secretary of state and voter advocacy groups, and appeals court finalized the Oct. 15 deadline.
A federal judge ruled in favor of extending the deadline from its original date of Oct. 5. The state said it would not appeal the decision, but the Republican National Committee and the National Republican Senatorial Committee did file appeals with the U.S. Ninth Circuit.
In an Oct. 7 emailed statement to AZPM, the Pima County Recorder's Office said about the ruling: "This extension is not final and is still under litigation. We encourage all eligible Arizonans who have not registered to do so as soon as possible."
If you are a United States citizen at least 18 years old on Election Day, Nov. 3, you have a few options to register. Officials are urging people to not wait until the last minute.
Not sure if you're registered or your info is current?
You can check online. Visit the Arizona Secretary of State's office website and enter your information, including the driver's license or ID number associated with your registration.
You can also check your registration on the Pima County Recorder's Office website.
How and where can I register?
Online, you can register to vote through Service Arizona. You'll need an Arizona driver's license or ID card, and the information you enter must match that information (be sure to enter the information carefully and accurately). You'll answer some questions about eligibility, including whether you have been convicted of a felony and/or your civil rights have been restored.
This year you can register even if you don't have a standard address.
If you want to get a mail ballot in every election, you can also sign up for the permanent early voting list as you register. Or if you just want a mail ballot for this election, follow the instructions here. The deadline to request a mail ballot is Oct. 23 at 5 p.m.
By mail, you can print an online form and mail it to your county recorder's office.
You can also register in person. The Pima County Recorder's Office held extended hours at its main location (240 N. Stone Ave.) and east-side office (6920 E. Broadway Blvd., Suite D) from 8 a.m. to 10 p.m. on the original voter deadline of Oct. 5.
If you don't have MVD-issued ID, you can use other forms of proof of citizenship. Find the list at the Secretary of State's Office.
A media release from the Recorder's Office read: "If you wish to vote on all state and local issues, you must present evidence of citizenship using an Arizona driver's license, birth certificate, or U.S. Passport. Digital or paper copies of the birth certificate or passport are also acceptable. If you do not present evidence of citizenship, you will only be permitted to vote for candidates for federal offices."
How do I update my voter registration?
If you'd like to update your voter registration, whether it be a change in address, name or party affiliation, you can also do it online through Service Arizona.
For more information, contact your county recorder's office.
F. Ann Rodriguez
Pima County Recorder
240 N Stone Ave, Tucson, Arizona 85701
Phone - 520-724-4330
Email - recorder@recorder.pima.gov

Read more coverage of national, Arizona, and local elections at our 2020 elections portal,
Your Vote 2020
.