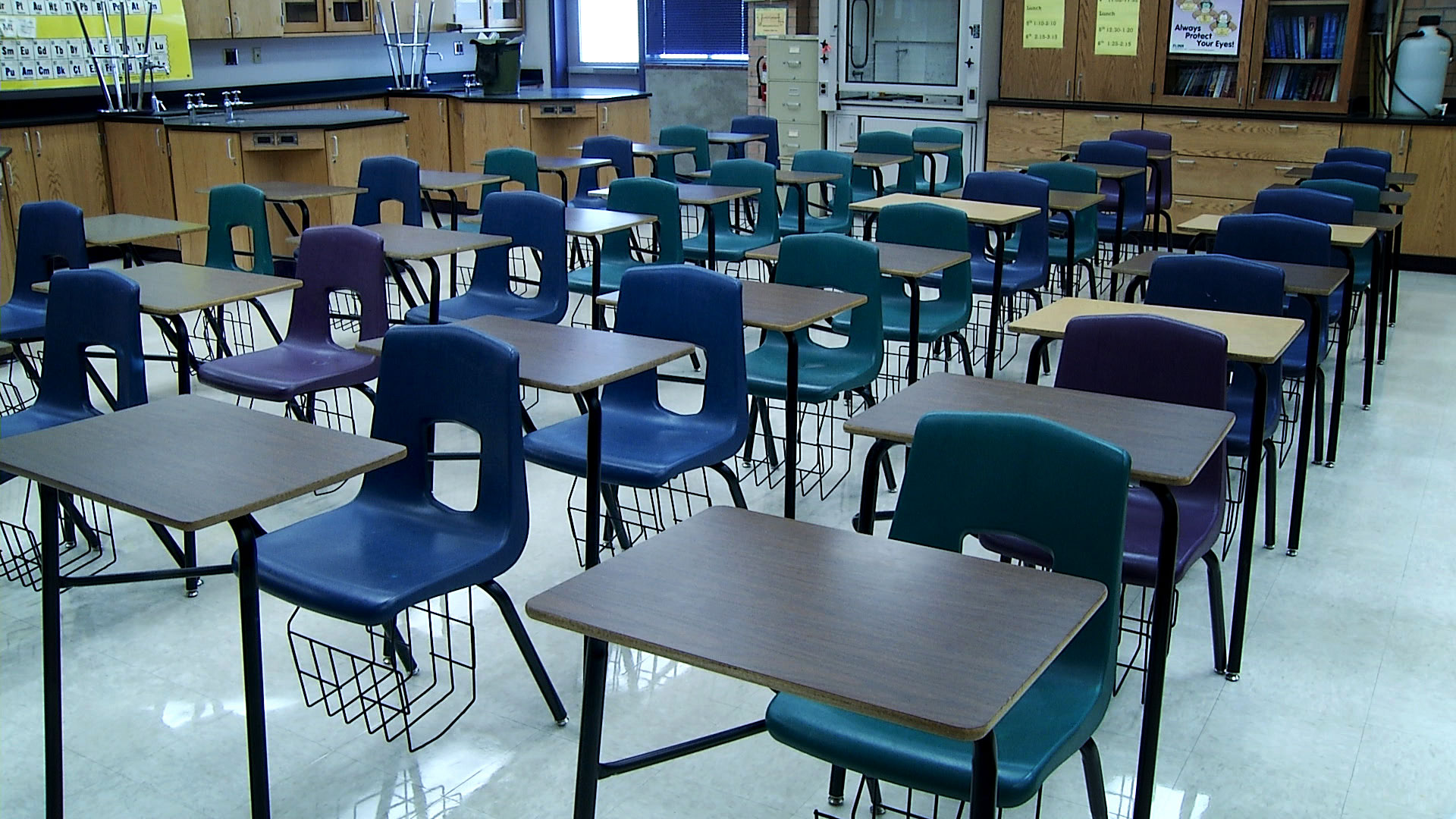 File image of an empty classroom at Sabino High School in Tucson.
AZPM Staff
Pima County has met the three criteria for reopening classes for hybrid learning, according to the Arizona Department of Health Services. This does not mean that schools in Pima County will immediately reopen for the majority of students, as local health officials have urged caution.
Last week, only four counties in Arizona met the criteria. As of Sept. 3, all but five counties meet the benchmarks to open up for at least hybrid classes.
While in-person classes might pose a public health risk, online classes mean that families take on more of the burden of finding a way to keep kids virtually connected to their schools.
Meanwhile, the University of Arizona — which officials said prevented a potential COVID-19 outbreak last week by monitoring wastewater — saw a spike in cases this week. It is not alone in this, as Arizona State University has also seen cases rise.
At the UA, a majority of the COVID-19 cases are from students living off campus, according to university President Robert Robbins. The university has brought in private security guards to break up large groups and enforce mask wearing. This decision is not without controversy.
As colleges reckon with the fact that they cannot monitor the behavior of all their students at once, especially those who live off campus, some have turned to students to police their peers' behavior. That decision is one which factors in public health, personal loss, the high cost of college, the desire for a social life and the potential distrust of law enforcement. The New York Times spoke with several students about their thoughts on "snitching."
---
Arizona schools mull in-person class with COVID-19 declines
AP
PHOENIX — Most counties in Arizona, including Maricopa, have been cleared to transition their schools to some form of in-person learning.
The state Department of Health Services announced Thursday that eight counties now meet the benchmarks required to do a hybrid of remote and in-person instruction if they choose to. Meanwhile, Greenlee and La Paz counties, which are more rural, got the green light to switch to full-time, in-person classes.
State Superintendent of Public Instruction Kathy Hoffman, however, is urging caution as school districts consider whether to make the switch. Hoffman says COVID-19 can spread so quickly as it did this summer in Arizona.
---
Pima County meets criteria for hybrid learning, health officials ask for more time
Arizona Daily Star
This week, Pima County met all three criteria set by the Arizona Department of Health Services to begin reopening schools for hybrid learning. However, local health officials warn that it still may not be totally safe to send kids back to school.
Pima County monitors other public health conditions, like hospital capacity, which officials say are not yet good enough for reopening schools.
The decision on when to reopen is up to individual districts.
---
Amphi Foundation funds Wi-Fi for students
AZPM
Two cable internet providers are teaming up with the Amphi Foundation to provide free internet to hundreds of low-income students. The foundation is contributing $35,000 toward Cox or Comcast broadband service for an estimated 500 families in the district.
Amphi Foundation Executive Director Leah Noreng says the free service will run for six months, and possibly longer. Noreng says Cox and Comcast each have their own qualifications for getting the offer, but generally any family that qualifies for free or reduced-price lunches at school also qualifies for the free internet program. After the free period runs out, she says families can continue the service for $10 a month.
Amphi families in need of program details or assistance getting connected may contact Beth Lake with Amphitheater Public Schools at 696-5211 or blake@amphi.com.
---
Some Tucson charter and private schools reopen
Arizona Daily Star
While the quality of local public health conditions remains a debate, some Tucson charter and private schools have resumed in-person classes. Safety guidelines differ from school to school. Some people have raised concerns about large class sizes and ignoring mask requirements.
---
Refugee families face unique struggles with online school
AP
PHOENIX — Staying connected during the coronavirus pandemic has been trying for parents and students at a Phoenix school for refugees who speak more than a dozen languages. A teaching assistant got creative by creating group chats on a messaging app in Swahili and some of the other six languages he knows.
The struggles connecting with refugee families from 18 countries during the pandemic come amid a larger challenge for Valencia Newcomer School. The student body shrank after the Trump administration set a historically low annual cap of 18,000 to be resettled nationwide. What Valencia will look like in the future partly depends on the November election.
---
University of Arizona sees COVID-19 spike
AZPM
More than 200 cases of COVID-19 were confirmed on the campus of the University of Arizona this week. The university has a positive test rate of 8.3%, according to UA President Robert Robbins.
Thursday was the third day with a large increase in cases.
"I worry every day. This is what we do all day, every day, is talk about this. I am incredibly concerned about this," said Robbins.
Most of the cases, according to Robbins, are asymptomatic and come from students living off campus. The isolation dorm run by the university currently has 54 students in it, the rest of the positive cases are self-quarantining off campus.
---
UA stepping up COVID-19 enforcement
AZPM
More than 100 cases of COVID-19 are now confirmed on the University of Arizona campus. Those numbers are bringing changes to the university.
Private security guards will begin to patrol the campus to break up large gatherings and enforce mask-wearing requirements.
"Obviously, we don't want to use our armed police officers to breakup those kinds of gatherings," said University of Arizona President Robert Robbins.
Members of CAJUA, a group of faculty, graduate, and professional students that opposes the university's plan for classes, tweeted that the campus is becoming "more and more militarized every day."
---
New UA appointment tasked with Native American student achievement
AZPM
University of Arizona President Robert Robbins announced Wednesday he has appointed Nathan Levi Esquerra, a former tribal leader with experience in economic development, to supervise efforts to increase Native American students' success.
The new position, senior vice president for Native American advancement and tribal engagement, will be responsible for incorporating tribal interests into programs and research across the university. It's a big job that will need to confront longstanding issues within the university, said Felisia Tagaban, a Diné, Tlingit, Filipino graduate student adviser for Native SOAR, an Indigenous mentorship and advocacy group at the university.
She said though she's glad Esquerra adds another Native voice to senior university leadership, the UA tends to unrealistically rely on one person to serve a whole population.
---
PAC-12 to test athletes daily
AZPM
The athletic conference that includes the University of Arizona has signed a deal to test college athletes for the coronavirus every day. It's one step toward the potential return of college sports.
The Pac-12 plans to take a nasal swab from every student athlete as they show up for practice, and run a rapid antigen test to make sure they're negative for COVID-19 before being allowed in close contact with others.
The University of Washington's head of sports medicine, Dr. Kim Harmon, says rapid, frequent testing could clear the way for collegiate athletics to resume, even though the pandemic is not over.
---
Arizona State shifts housing plans amid COVID-19 case rise
AP
TEMPE — Arizona State University has announced that some students living on campus will be moved because of an increase in confirmed COVID-19 cases.
University officials said there are 5,000 spaces available in the residence halls to begin shifting students' housing arrangements. It is unclear how many students would be moved or when the moves would take place.
The announcement came after the university reported that 775 students and 28 faculty members tested positive for COVID-19 as of Monday, shortly after in-person classes started Aug. 20. The university has since taken additional precautions to limit the spread of COVID-19, including increased security and enforcement.
---
ASU professor forced students to break COVID-19 restrictions
AP
PHOENIX — An Arizona State University professor who forced his students to sit in the first two rows of his classroom, violating the school's coronavirus guidelines, will allow students to choose their own seats in the future after the incident was posted about on social media. The university's assistant vice president for media relations, Jay Thorne, acknowledged the incident and said the university spoke to Professor Thomas Seager about complying with the school's restrictions.
The allegations were initially posted on Reddit. Seager declined to comment and referred The Associated Press to Thorne.
The Arizona Republic reports ASU had 775 confirmed cases of the coronavirus among its student body as of Monday.
---
Colleges using COVID dorms, quarantines to keep virus at bay
AP
STORRS, Conn. — With the coronavirus spreading through colleges at alarming rates, universities are scrambling to find places to isolate the thousands of students who have caught COVID-19 or been exposed to it.
Some schools are designating COVID-19 dorms, others are sending infected students home and some schools have decided to scrap or postpone in-person learning until they can figure out how to keep infection rates at acceptable levels.
Dr. Joseph Gerald, a public health expert at the University of Arizona, said the idea of identifying cases, contact tracing and quarantining is the right approach. He said it's just going to be hard to do in dorms and other places where students congregate.