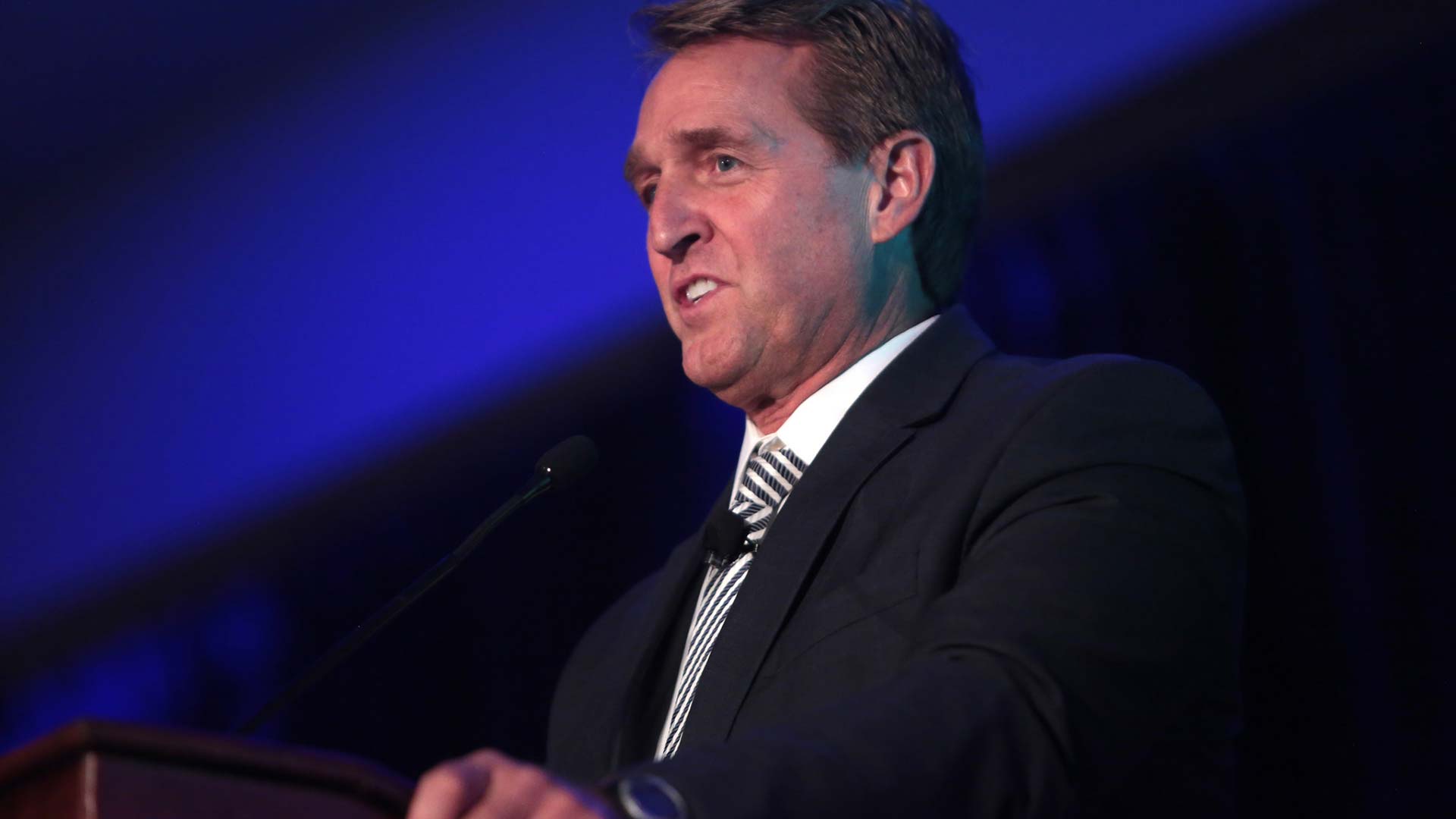 Then-U.S. Sen. Jeff Flake speaking in Phoenix, 2016.
Gage Skidmore (CC 2.0)
Former U.S. Senator Jeff Flake posted a 15-minute video on Twitter Monday laying out the reasons he is endorsing Joe Biden for President.
Flake, a conservative Republican who has been openly critical of President Donald Trump since 2016, decided not to run for reelection two years ago because he said the political environment had become too toxic.
It was the honor of my life to represent my state, Arizona – in the United States House and Senate for eighteen years as a conservative. I'm here to talk about the future – both of my party, but more importantly, the future of our country: https://t.co/pxBUFqj9jA

— Jeff Flake (@JeffFlake) August 24, 2020
"It is the genius of our founders that the Constitution forces compromise. Governing is hard, democracy is hard, decency should not be that hard but apparently it is. You know what is easy? Name calling, demagogy, the politics of vengeance is easy. Dehumanization requires very little talent," said Flake.
It was not just Trump's personality that Flake took issue with, but also what his questioning of the outcome of the election if he loses in November.
"What kind of American leader undermines confidence in the elections in his own country? It's part of his strategy to hold power. This is extraordinarily dangerous to a free society and it stands to inflict lasting damage to our democracy," said Flake.
Flake's endorsement of Biden came on the opening day of the Republican National Convention and not long after Trump was officially nominated as on the Republican ticket.
But the question is, how much sway does Flake have in the Republican party? Does his endorsement mean anything? Mike Noble, the head pollster with OH Predictive Insights, said a poll in October 2018 showed that only 20 percent of Republicans in the state had a favorable view of Flake.
"Now he's been out of office now for several years now. On our last polling it showed that among Democrats, Republicans, and independents he was below water with all of them when it comes to his favorability and he's essentially a man without a political party," said Noble.
The Republican Party of Arizona issued a statement after Flake's endorsement. They said Flake is in "no man's land" and "With nowhere left to turn and call home, Flake has finally decided to formalize his alliance with the most extreme, far-left Democrat presidential ticket in modern U.S. history."
Noble said he doesn't think the Trump campaign has much to worry about when it comes to Jeff Flake, former Arizona Representative Jim Kolbe, or other former members of Congress endorsing Biden.
"This is going to make a decent amount of headlines, however, when it comes to an actual impact on the race I think it will be negligible if nonexistent," Noble said.
Not everyone agrees that Flake's comments will make no difference.
"I think if it was just Flake, like it was just Romney it was easier to discount but what we are seeing now is an unfolding of a series of Republicans who are known for being squarely conservative within what we considered the party four years ago. And they seem to be saying it's not that they're changing their views on public policy per se, but they have hesitation and major concern about the ways that policies are being enacted or retracted in the U.S. right now," said Kate Kenski, PhD, political communications professor at the University of Arizona.
In his speech, Flake tried to appeal to the conservative side of the Republican party. He said Trump's behavior is not conservative.
"Indifference to the truth or to the careful stewardship of the institutions of American liberty is not conservative. Disregard for the separation of powers, the centerpiece of our Constitutional system, is not conservative. Governing by Tweet is not conservative, it's not even governing. And to the refrain, 'well, it's all about the Supreme Court,' I say the fall back on Supreme Court appointments as the last remnant by which we define a once vibrant conservative movement should offer little solace to conservatives," said Flake.
In 2016, Flake said he would not vote for Trump, instead casting his ballot for a third-party candidate. This year more Republicans are joining the anti-Trump movement.
"The importance here is that we have the Lincoln Project being more visible than previous election campaigns where maybe a candidate would get someone from the other side to speak up but this is a concerted effort. On top of that, we then have Republicans speaking at the Democratic National Convention and this is yet another layer," said Kenski.
The most recent presidential poll in Arizona had Biden leading Trump by five points. But that was before Trump and Vice President Pence both made campaign trips to the state. It also came before either party convention when both traditionally candidates get a bounce in the polls.