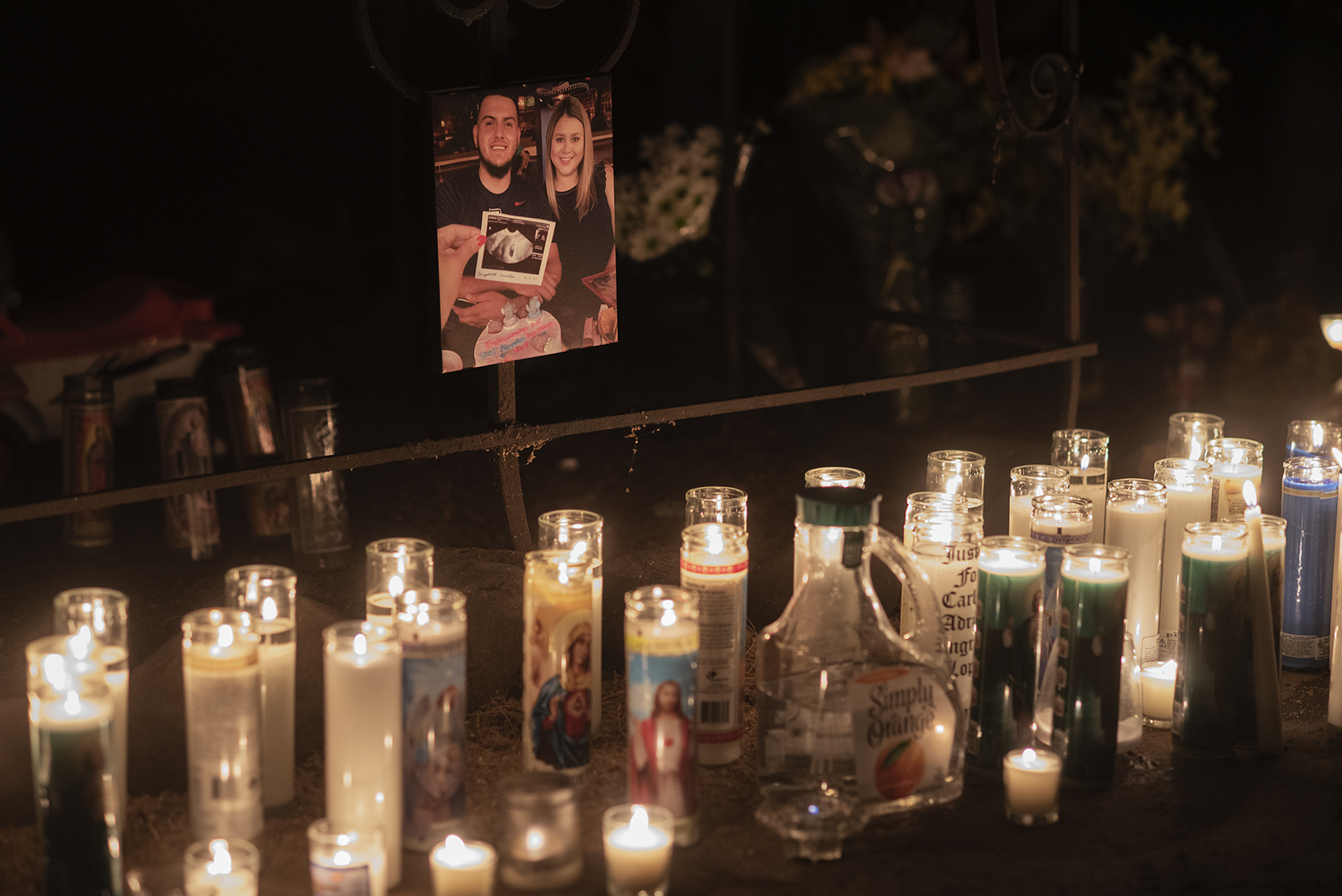 VIEW LARGER Candles encircle an image of Ingram-Lopez with his fiancé at the El Tiridito shrine.

Alisa Reznick / AZPM
The family of a man who died in Tucson Police Department custody in April filed a wrongful death notice of claim Tuesday against the city and other claims against the three former officers who were dispatched to the scene.
Carlos Adrián Ingram-Lopez died in police custody April 21 after three officers responded to a call from Ingram-Lopez's grandmother. Her 27-year-old grandson died after being restrained on his stomach for 12 minutes by the police. The Pima County Medical Examiner said he had a cardiac arrest and a large amount of cocaine in his system, but the cause of death was undetermined. After the news became public in June, Tucson Police Department Chief Chris Magnus offered to resign. He said the officers involved did not respond to Ingram-Lopez's behavior as they were trained.
Ted Schmidt of Schmidt, Sethi & Akmajian is one of the lawyers representing the daughter of Ingram-Lopez, Sophie Ingram, in these claims. He said they're seeking a total of $19 million in damages.
"The wrongful death claim against the city is a claim to compensate a 2-year-old girl for the loss of her father for the rest of her life," said Schmidt. "What's that worth?"
Schmidt said they looked at other cases of police brutality that resulted in deaths and saw what past juries awarded in order to come to these demands. The notice demands $10 million from the city of Tucson and $3 million from each of the officers — Samuel Routledge, Ryan Starbuck and Jonathan Jackson.
Schmidt said the claims filed against these men allege they violated Ingram-Lopez's civil rights, and they are liable for punitive damages. The officers resigned before the Tucson Police Department said it would fire them.
"A jury isn't asked to just award money to compensate Sophie for the loss of her father. They're asked to award an amount of money that properly punishes these men for the terrible thing they did," Schmidt said.
The city and officers have 60 days to settle the claims. Schmidt said this is an opportunity for city leaders to put action behind their recent condemnations of police brutality.
"Are they going walk the walk, or just talk the talk?" Schmidt said. "I think our public officials are going to say we need to make this right."
Claim Carlos Adrián Ingram-Lopez

View at Google Docs
|

Download File