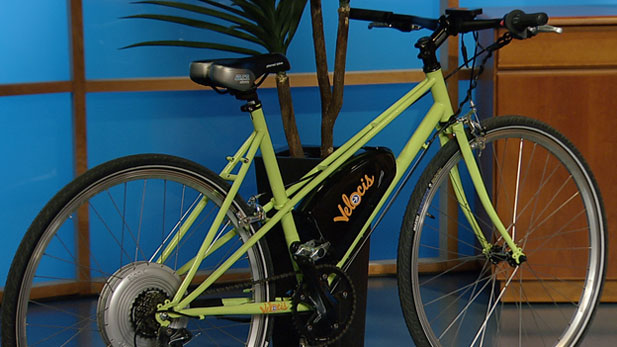 The Velocis bicycle developed by UA student Taylor Hedberg and his classmates as part of an entrepreneurial class.

AZPM
Going bicycling and going to college are a perfect match, and that has led a University of Arizona student to start an electric bicycle business.
Supported by the McGuire Entrepreneurship Program, offered through the Eller College of Management, Taylor Hedberg co-founded Velocis Bikes to build a customizable and sustainable electric bicycle.
"Originally we were planning on creating a new bike share program on the University of Arizona," Hedberg told Arizona Illustrated.
After having trouble finding the perfect electric vehicle, Hedberg's group decided to change focus and build a new type of electric bike.
"We were like 'wait a minute' ... we're an entrepreneurship program. They're teaching us about innovation. What if we just go and try and make those bikes ourselves? he says."
Now, almost a year after the program began, Hedberg and another group member are renting and building bikes for others looking for an easier, greener form of transportation.
Their business is an example of what comes from among the 90 students accepted to the entrepreneurship program annually, says program Professor Matthew Mars.
"We also view the entrepreneurship curriculum as an opportunity to encourage students to consider not only creating monetary value but also creating opportunities for creating social change," Mars says.
"I think the most important thing for prospective students to consider is: What are their passions, what is it about the world they would like to change, what opportunities do they see, whether its in the market or their communities, and being excited about the opportunity to create innovative solutions," Mars says.
CH + Taylor Hedberg & TBA to talk about Velocis, a company that builds custom electric sustainable bikes, started by graduate students at the UofA after winning the McGuire Entrepreneur Program last fall (VIDEO: AZPM)