Cases 152,944 | Deaths 3,063 | Diagnostic tests 822,713.
On Thursday, July 23, Arizona reported 2,335 new cases of COVID-19. The state als reported 89 new deaths due to the virus, pushing the total death toll beyond 3,000.
---
State to set data-driven benchmarks for school reopenings
AZPM
Arizona schools will follow benchmarks based on state health data when determining when to reopen for full in-person learning, Gov. Doug Ducey announced during a press conference Thursday. The decision on when to fully reopen school for traditional classroom learning will be up local district leaders.
According to a press release from the governor's office, the benchmarks will be released by Aug. 7. Some school districts in Pima County are currently set to begin the school year remodel before that date.
"Teaching and learning will happen no matter what the next school year will look like in your community," Arizona superintendent of public instruction Kathy Hoffman said at the press conference, where she voiced her support of the plan.
Schools must operate free, on-site learning spaces for families who need a place for their student to go during the school day by Aug, 17.
Under this plan, schools will still be expected to deliver 180 days of instruction. However, both in-class and distance learning can satisfy that requirement. The reopening plan also allows schools to craft their own policies regarding face coverings.
Ducey also announced that $370 million worth of CARES Act funding will be distributed to Arizona schools.
Educators in Arizona have been calling for state guidance and decisions on school reopenings to rely on scientific data.
---
UA Expands antibody test
AZPM
Thousands of Arizonans who work in education, child care and other fields can now get a COVID-19 antibody test from the University of Arizona. A small portion of those people will also be part of a long-term immunity study.
The free antibody test, originally targeted toward first responders and health care professionals, is now available to people in fifteen areas of work involving potential exposure to the virus. Those include educators, child care workers, agriculture, grocery and food service workers, hospitality employees, solid waste collection workers, transportation services workers, and members of the National Guard.
People who sign up for the test can also opt into a year-long immunity study through the UA's College of Public Health.
---
University of Arizona officially announces in-person classes
AZPM
University of Arizona President Robert Robbins made official what he has hinted at for weeks, the university will have in-person classes for the fall semester beginning Aug. 24. Not all classes, though, will be taught in-person.
"In-person, flex in-person, live online, and our 'I-courses.' Students are choosing class schedules that best meet their needs. Currently more than 50% of our classes have some in-person component to them," Robbins explained during a briefing Thursday.
University officials said the downward trend in various COVID-19 indicators allowed them to make the decision to allow in-person classes for the fall semester. Robbins said many students and faculty members have told him they want to come back to campus. But he does acknowledge not everyone feels that way.
---
House passes defense spending bill banning new uranium mines around Grand Canyon
AZPM
Uranium has a deadly legacy in the Grand Canyon region, and that's one reason the U.S. House of Representatives passed a defense spending bill that includes a permanent ban on new uranium mines in the area.
The House passed the National Defense Authorization Act Tuesday with an amendment: the Grand Canyon Centennial Protection Act. The amendment would permanently ban any new uranium mines on approximately 1 million acres of public land near the Grand Canyon, according to a press release from the Grand Canyon Trust. There currently is a 20-year ban on new mining that's set to expire in 2032, but the Trump administration has tried to lift it.
---
Navajo Nation Remains Cautious About Reopening
Fronteras Desk
Even though the number of new coronavirus cases continues to decline on the Navajo Nation, its president has decided it's too soon to reopen. On a recent Facebook live town hall, Navajo President Jonathan Nez pointed to a map of the U.S that showed the Navajo Nation in yellow and the surrounding states in red.
"We're monitoring these states all around us," Nez said. "Now is not the time to come home if you are in these red states. We can't let down, we gotta keep doing what we're doing."
That means at least two more weekend curfews. Nez said he's concerned about tribal members traveling off the reservation for water,which is sometimes scarce due to drought.
He challenged Navajos to get the number of new cases below 50 a day for two weeks. Then he said they can begin to gradually reopen tribal parks and lakes.
---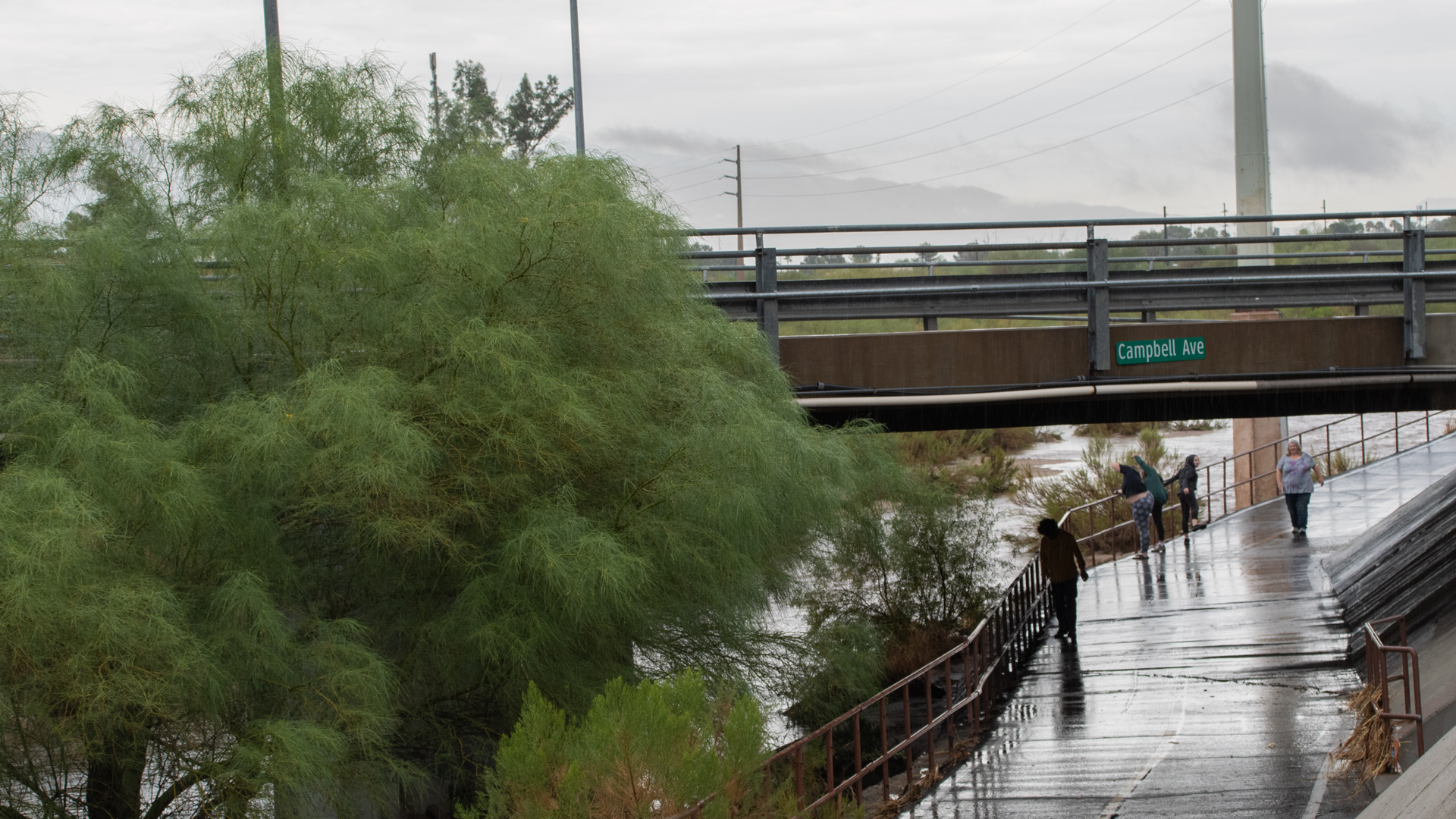 VIEW LARGER People stand under the Campbell Avenue bridge to watch the Rillito run after a monsoon storm, July 23, 2020. Rains cooled the city, and helped finish the job putting out the Bighorn Fire.

Christopher Conover/AZPM
---
Tucson wildfire fully contained; burned nearly 120,000 acres
AP
A lightning-caused wildfire that charred more than 187 square miles (485 square kilometers) near Tucson was declared fully contained Thursday. However, Coronado National Forest officials say several popular outdoor recreation areas will remain closed until Nov. 1 because of potential for causing flooding from monsoon rains and other hazards.
The Bighorn Fire started June 5 in and near the Santa Catalina Mountains. Areas remaining closed include the Sabino Canyon Recreation Area in the south side of the mountains, cabins on national forest land and all major hiking trails. Catalina State Park remains closed due to the fire, but is outside the national forest so it can reopen when state officials choose to do that.
---
Arizona court backs eviction ban for people hurt in pandemic
AP
PHOENIX — An Arizona judge has upheld Gov. Doug Ducey's moratorium on the evictions of people who have had trouble paying their rent after becoming ill or losing work because of the coronavirus.
The Maricopa County Superior Court judge disagreed Wednesday with a property management company's argument that the governor's action exceeded his authority or was unconstitutional. Gregory Real Estate Management sued Ducey this month, asking the court to allow it to evict a family from a rental home in Surprise over unpaid rent, which the firm says has now reached $8,000.
Ducey recently extended the moratorium until Oct. 31 for people adversely affected by the pandemic.
---
Arizona relocates 2 Confederate monuments on state land
AP
PHOENIX (AP) — Two Confederate monuments on Arizona state property, including one at the Capitol, have been removed.
A spokeswoman for the Arizona Department of Administration confirmed Thursday morning that the memorials were taken down overnight and returned to the United Daughters of the Confederacy. It was the organization that made the request to remove them. One was a monument honoring Arizonans who fought for the South and the other honored the Confederate president.
The monuments are the latest Confederate markers to fall since George Floyd was killed in Minneapolis police custody in May. The video of his death sparked protests globally and prompted a renewed focus on racism in the United States.

---
Probation for ex-Tucson man who voted twice in 2016 election
AP
A former Tucson resident has been sentenced to three years of probation for voting twice by mail in the 2016 general election. State prosecutors say 62-year-old Randy Allen Jumper of Incline Village, Nevada, had pleaded guilty last month to one felony count of attempted illegal voting. As a part of his sentencing Monday, Jumper's right to vote in Arizona has been revoked and he's prohibited from re-registering to vote while on probation.
A state grand jury indicted Jumper last July for voting once in Arizona's Pima County and again in Washoe County, Nevada, in the 2016 election. Jumper also was charged with making a false declaration by signing a statement that he had not voted more than once.

---
Monitor calls on US to stop detaining migrant kids in hotels
AP
HOUSTON — A court-appointed monitor for immigrant youth is calling on the U.S. government to stop detaining children as young as 1 in hotels before expelling them to their home countries.
Andrea Ordin says the practice could lead to emotional and physical harm. Ordin also says in a report filed late Wednesday that there appeared to be a "lack of formal oversight" over the contractors hired by U.S. Immigration and Customs Enforcement to detain children at Hampton Inn & Suites hotels in Phoenix and the Texas border cities of McAllen and El Paso.
ICE says it uses a contractor "to transport single minors to hotels and to ensure each minor remains safe and secure while in this temporary housing."
---
COVID-19 test result delays explained
Arizona Republic
Some Arizonans who go to get a COVID-19 diagnostic test have had to wait over a week for their results. The state's largest testing facility cited an increase in demand for testing as one of the causes behind the long wait times.
Delays in processing the tests make tracing and fighting the novel coronavirus difficult. The Department of Health Services recommends that results be conveyed to people within 48 hours.