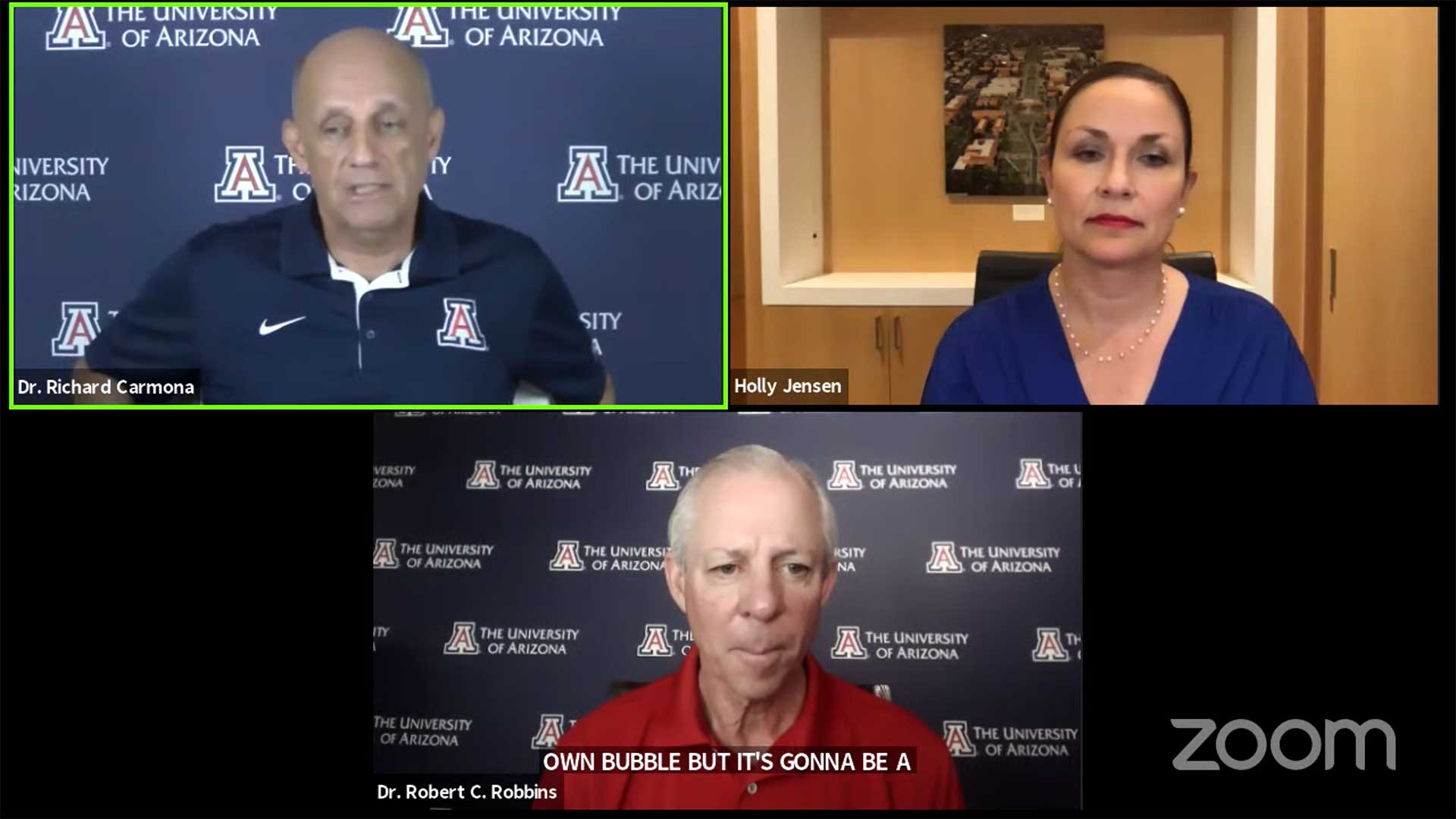 A University of Arizona briefing on plans for the fall semester, July 23.
UA/You
University of Arizona President Robert Robbins made official what he has hinted at for weeks, the university will have in-person classes for the fall semester beginning Aug. 24. Not all classes, though, will be taught in-person.
"In-person, flex in-person, live online, and our 'I-courses.' Students are choosing class schedules that best meet their needs. Currently more than 50% of our classes have some in-person component to them," Robbins explained during a briefing Thursday.
University officials said the downward trend in various COVID-19 indicators allowed them to make the decision to allow in-person classes for the fall semester.
Robbins said many students and faculty members have told him they want to come back to campus. But he does acknowledge not everyone feels that way. One group pushing for the university to stay away from in-person classes is the Coalition for Academic Justice.
"We find the most recent data on COVID19 cases dropping in Arizona encouraging, but we remain extremely concerned about the President's decision today to move ahead with the university's plan to open the campus in a month and invite as many as 20,000 people back to campus. If this is a 'life and death situation' as the Robbins stated in the press briefing, why is the university continuing with this re-entry plan? His decision forces us to think that this decision is based on the financial health of the institution rather the public health of the UA and Tucson community," the group said in a statement after Robbins' briefing.
Robbins and Richard Carmona, the head of the reopening task force, said students and faculty will have to comply with physical distancing requirements and mandatory mask-wearing in buildings.
"If they're not willing to change their behavior, if they're not will to incorporate the best public health practices in their behavior, we cannot be successful in keeping the university open," said Carmona.
Robbins and Carmona continually stressed that the actions of the university community will help determine if in-person classes will continue for the entire semester.
"If we can't control it, it becomes too much of an outbreak because people can't follow the rules, then we'll go back to remote only and we'll send people home," said Robbins.
Robbins also said he is willing to take action against individual students or groups like fraternities and sororities that don't follow the rules.
"We've got measures up to suspension from school, if you violate the rules that we are setting out," said Robbins.
The university plans to test each student before they are allowed to move onto campus and will check in daily with every person on campus regarding their health.
The university has more than 40,000 students. Robbins said he expects at least half to come to campus for classes.