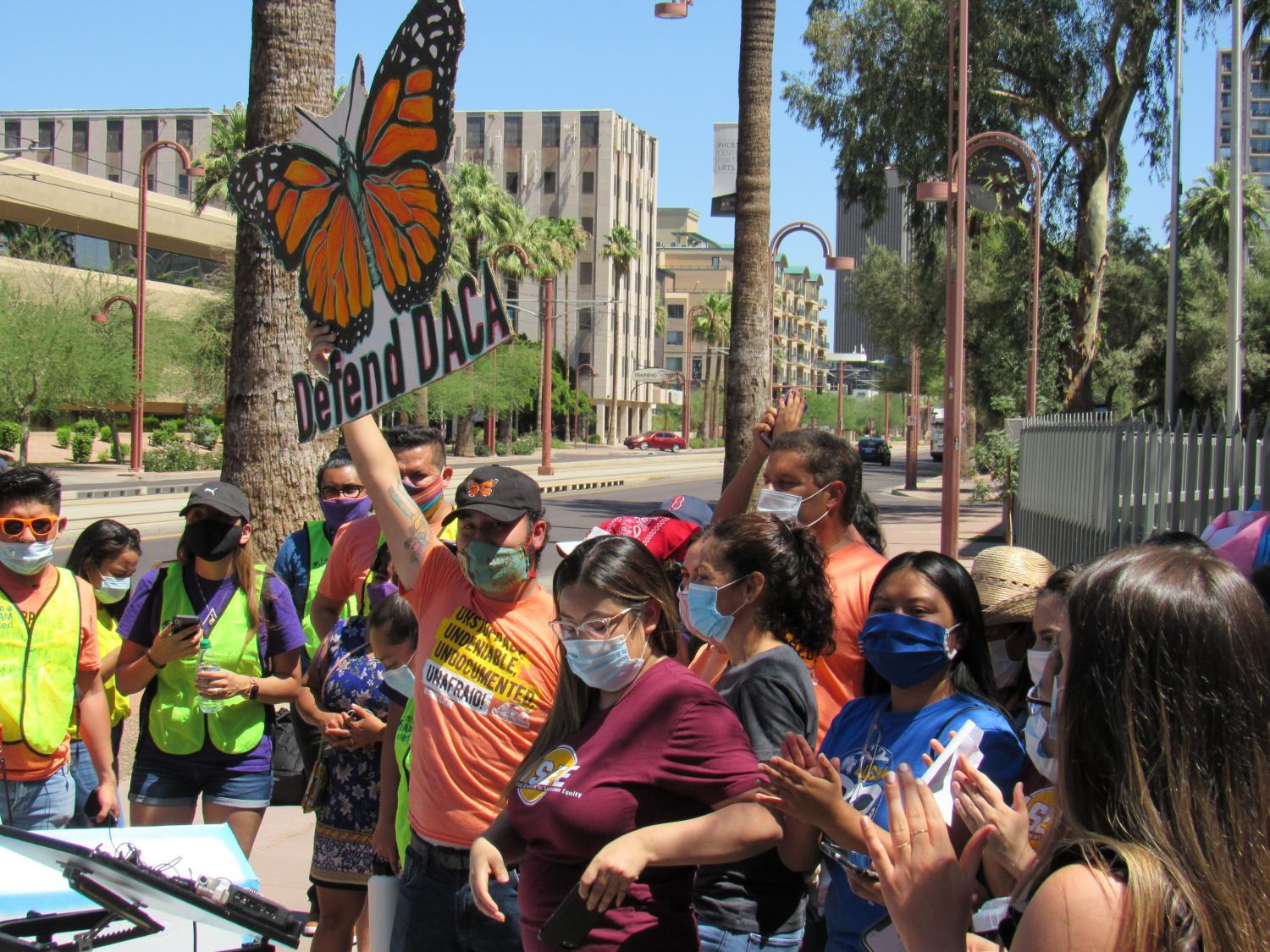 VIEW LARGER DACA supporters gathered outside ICE in Phoenix on June 18, 2020, to celebrate the Supreme Court's ruling to continue the DACA program for now.

Matthew Casey/Fronteras Desk
A U.S. District Court in Maryland has explicitly mandated the Trump administration to start processing new applications for the Deferred Action for Childhood Arrivals program, or DACA. The policy protects some undocumented immigrants brought to the U.S. as children, but new applicants have not been accepted since the administration tried to end it in 2017.
In June, the Supreme Court ruled to uphold the program and restore its full capacity. That ruling was supposed to go into effect last Monday, but as of late Friday, the Citizenship and Immigration Services website still said it was not accepting new applications.
The 2017 cancellation barred immigrants like Tucson resident Jesus Lucero from getting a work permit and legal status through DACA. The high court's June ruling seemed like an opportunity to try again.
"DACA is one of the things that could change my life forever," they said. "To be teetering on the edge of even being considered for an application, it's scary."
Lucero hasn't applied yet, but knows first-time applicants who have already been rejected in the last month. Policy experts say the administration's refusal to accept those applications is a rare and direct violation of the Supreme Court.
By Ali Noorani's count, a U.S. president has not defied a high court order for more than a century.
"Only a few cases have come close. One example is when the Supreme Court sided with Native Americans in Georgia during the time of Andrew Jackson," he said.
Noorani, who serves as president and CEO of policy think tank National Immigration Forum, said refusing to comply with the DACA ruling is a modern-day example.
"The overwhelming majority of presidents of the United States have abided by a ruling from the Supreme Court," he said. "At this moment it does not seem like President Trump is one of them."
Noorani said Congress could begin to put pressure on the administration and the Department of Homeland Security to comply. Especially in states with large DACA populations like Arizona, local leaders could pressure Trump to respect the ruling.
"Arizona is a state with a lot of DACA recipients, fast-changing demographics, and for the first time in a long time it is a legitimate swing state," he said. "It is to Gov. Doug Ducey's political benefit to be treating DACA recipients — current, potential and future — fairly."