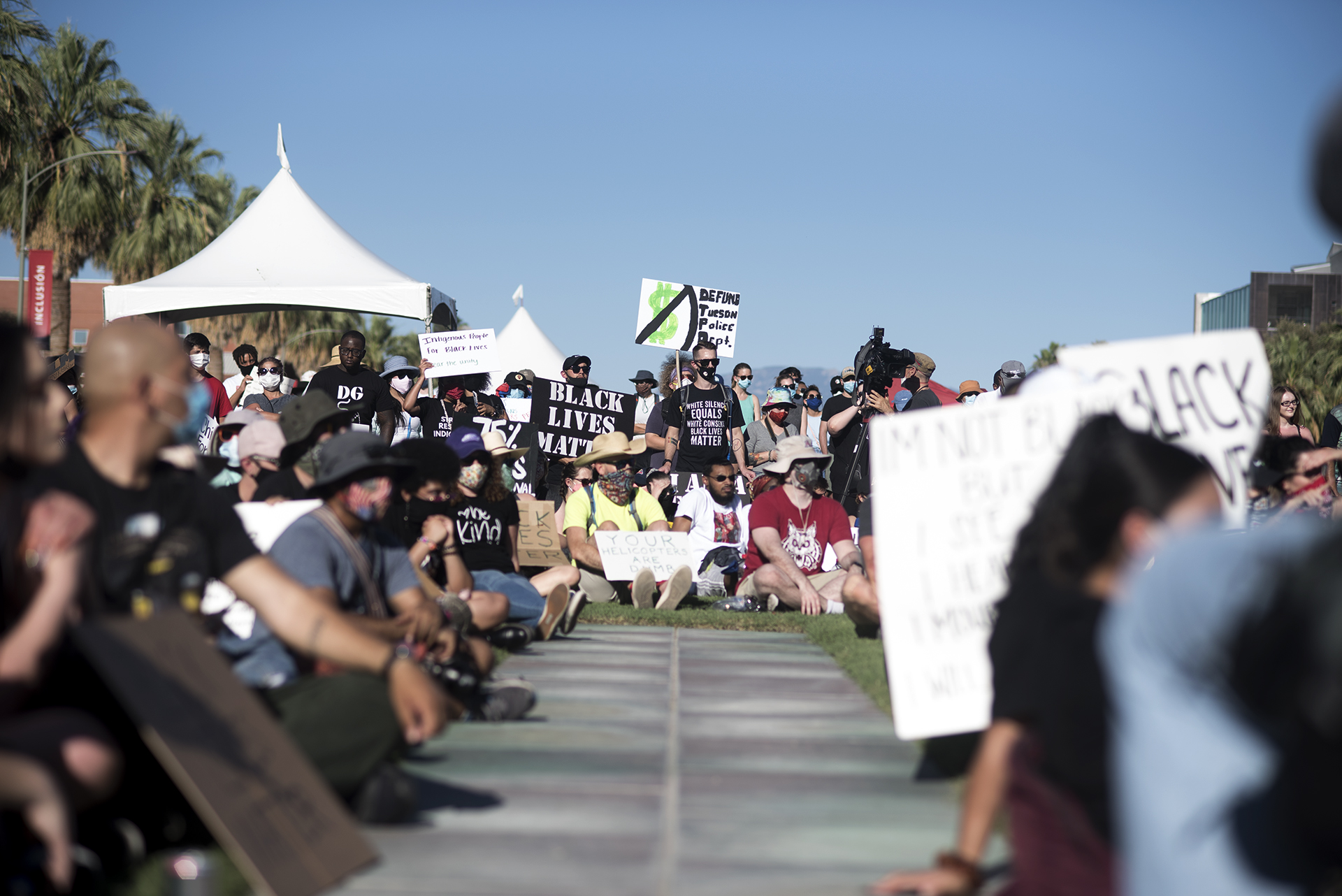 VIEW LARGER Demonstrators hold signs against police brutality and violence during the Black Lives Matter Tucson: Celebration of Black Lives on the University of Arizona campus.

Alisa Reznick / AZPM
This week the Tucson City Council is expected to finalize the city's 2021 budget, and some Tucsonans say they plan to voice their support for defunding the police in person at the meeting.

Every council member except Lane Santa Cruz voted to continue the city's contract with the Tucson Police Association in a meeting last week. They also voted on a preliminary city budget that includes $166 million for the department for the coming fiscal year — roughly $2 million more than what was allotted in 2020.
The vote was disappointing to local Defund activists. But Black Lives Matter Tucson organizer Tiera Rainey said that, contrary to what many assume, the council's vote still leaves room for debate.
"Yes, a tentative budget was passed but that is essentially saying that they have decided what the cap of the budget is going to be," she said. "It does not mean that the line items within the budget can't be moved."
That's why Rainey's group is urging community members to fill out the city's new participatory budget tool, which allows citizens to suggest how much of the city's money to spend on police, housing, community support and other items. Rainey and others have also applied to speak at the Tuesday, July 7 City Council session. Space is limited, but she she said seeing the number of people who plan to participate shows how far-reaching calls are to defund police.
"It says something about the fact that it is resonating and taking hold here in Tucson, and regardless of whatever happens, this is going to be an ongoing call from the public," she said.
Rainey says she expects speakers to talk about investment in the community in the wake of COVID-19 and specific investment for Black communities. She said she expects community members against defunding will also apply to speak.
Police budgets have been a fiercely debated topic in cities across the U.S. after the killing of George Floyd by police in Minneapolis. The subject came under further local scrutiny in June following the death of Carlos Adrian Ingram-Lopez in Tucson police custody.
In addition to last week's council vote to extend the city contract with the police force, a new community safety pilot program proposed by Mayor Regina Romero pledged to form a mental health support team, hire eight new social workers, and create a system to address non-emergency calls.