Tens of thousands of sandhill cranes are congregating in southern Arizona and they're a welcome sight for people in the area who depend on their presence for the annual Wings Over Willcox event which becomes a significant boost to the local economy each year. This will be the 19th anniversary of the event and it's being tied into Arizona's Centennial which is officially on Valentine's Day, 14 Feb 2012.
AZPM
Southern Arizona is a popular destination for humans--but for one particular bird, it's an absolute must-see.
Every winter, Willcox hosts one of the largest concentrations of sandhill cranes anywhere in the Southwest. These are some of the state's true snowbirds, since they travel thousands of miles from as far away as Canada and Alaska to spend their winters in Arizona's sunshine and relatively mild temperatures.
Since the 1990s, the sandhill crane has also been the star attraction at the Wings Over Willcox Birding and Nature Festival.

Festival chairman Homer Hansen says it's a great opportunity to see beautiful birds, not just sandhill cranes, and enjoy many other activities as well. He says the event has been growing by leaps and bounds since it was first started 19 years ago by the Arizona Game and Fish Department and the Willcox Chamber of Commerce and Agriculture.
"They had a one-day event to bring people in to see the sandhill cranes and they weren't really sure how it was all going to go," Hansen says. "And it was a snowy day and over 200 people showed up, and they were amazed at the interest that was in it. And so from there it really took off."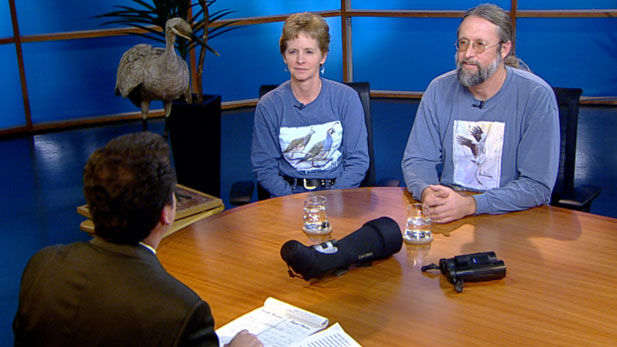 Connie Bonner (top center), accountant of the Willcox Chamber of Commerce and Agriculture, and Homer Hansen (top right), festival chairman, discuss the Wings Over Wilcox festival.

AZPM
Connie Bonner, an accountant at the Willcox Chamber of Commerce and Agriculture, says the festival provides a welcome economic boost to the region every year as large numbers of visitors flock to participate. The city has fewer than 4,000 permanent residents, so the annual tourist migration is important, she says.
"The hotels are usually full, that makes a big difference in our community. They buy gas. We do a survey and we estimate that between $60,000 to $80,000 are spent over the weekend in Willcox by visitors," Bonner says. "So it is a significant impact on our community."
The festival officially runs from January 11 until January 15, but those who can't attend will have a few more weeks to see the birds. They usually remain in the area until mid-February before heading north again.
This year's festival is an Arizona Centennial Official Event, part of the state's ongoing celebration of its admission to the U.S. on February 14, 1912.