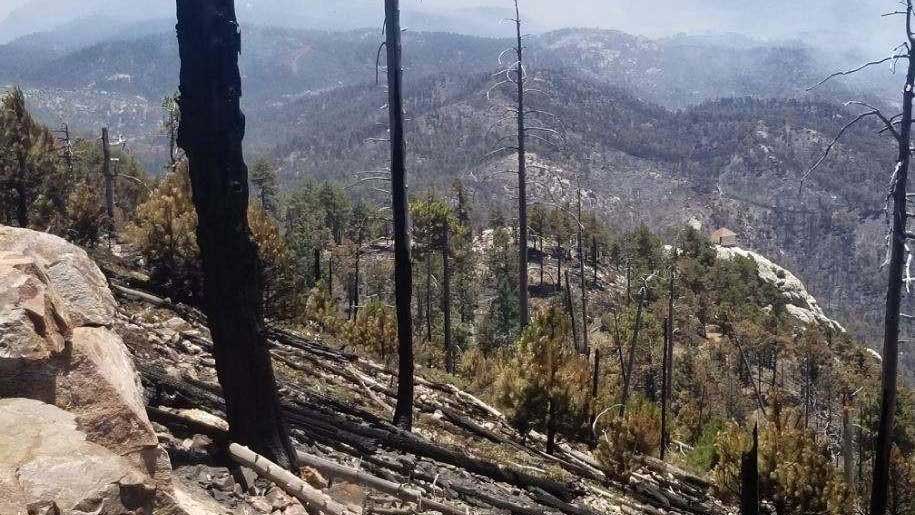 VIEW LARGER An area burned by the Bighorn Fire near Meadow Trail, June 29, according to the Inciweb tracking site.

Inciweb
The arrival of rain brings welcome relief for crews fighting the Bighorn Fire in the Santa Catalina mountains, but the precipitation would also bring danger in the form of flash floods.
The area burned by the fire, known as the burn scar, is more susceptible to flooding because the plants that usually stop that from happening are burned. A fire can also cause the soil to harden, essentially rendering it water resistant, so it sheds rainfall instead of absorbing it.
A flash flood warning was issued by the National Weather Service in Tucson until 8 p.m. Thursday night for the CDO Wash east of Oracle Road, the Catalina Foothills, and Sabino Canyon.
The warning says residents should be aware of "life-threatening" runoff and debris flows from the fire.
Thread:
A Flash Flood Watch is in effect from 1 PM this aftn into this evening for the #BighornFire burn scar in the Catalina Mtns and areas nearby.

Some areas of concern:
Catalina Foothills
Pima Canyon
Ventana Canyon
Finger Rock Canyon
CDO Wash E of Oracle Rd. #azwx

1/4 pic.twitter.com/kUiIjiIJnG

— NWS Tucson (@NWSTucson) July 2, 2020