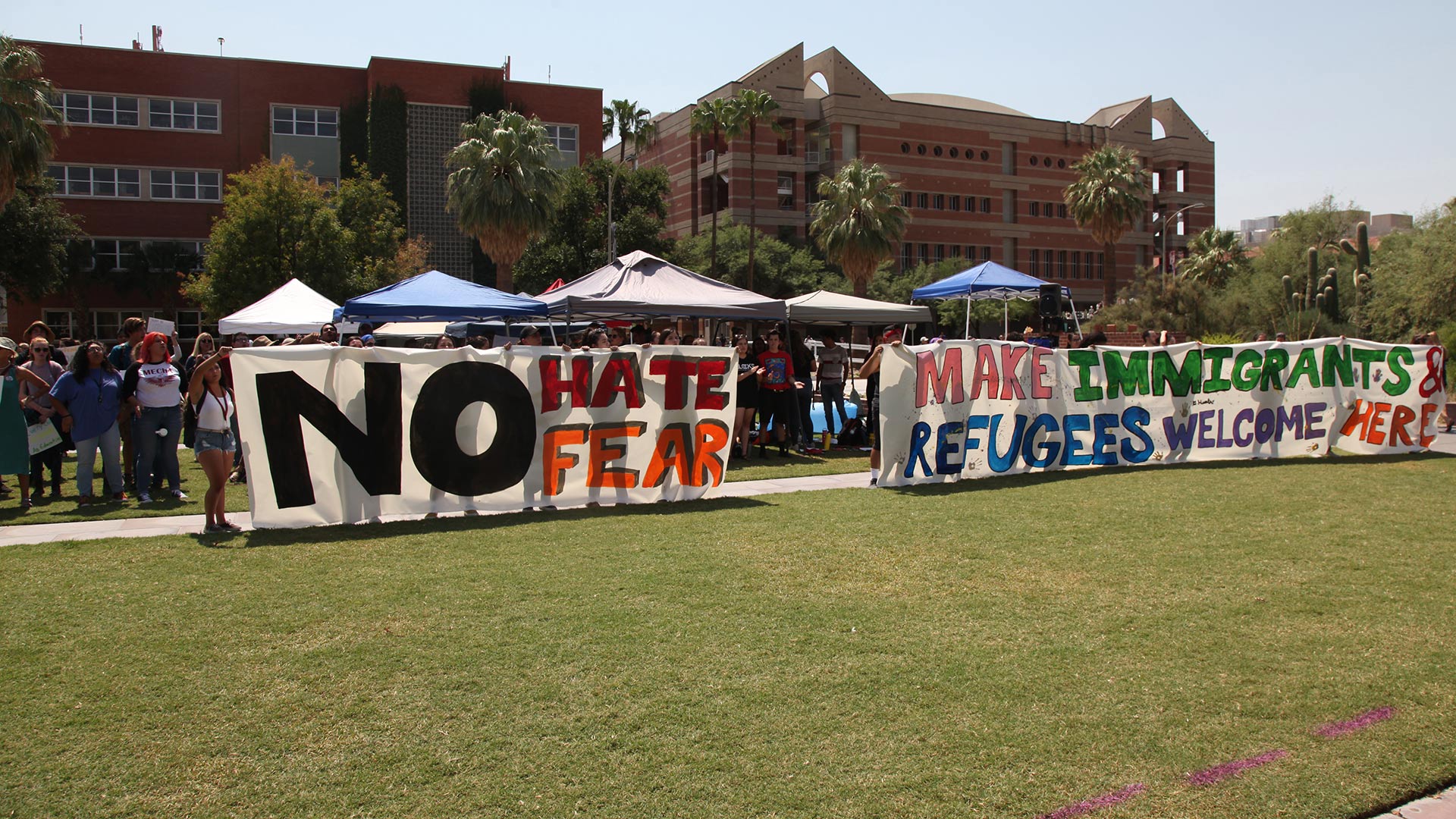 DACA students and supporters gather in 2017 after the president announced the end of the program that allowed "Dreamers" to stay in the country.
Zac Ziegler/AZPM
The Trump administration has said it's planning another court bid against the Deferred Action for Childhood Arrivals policy.
The Obama-era policy gives work permits and temporary protection from deportation to some 650,000 immigrants brought to the U.S. as children — including around 24,000 in Arizona. Last Thursday the Supreme Court ruled in favor of continuing the program, but left room for the government to try to dismantle it again.
Policy experts and DACA recipients have warned that without Congressional action, the program and those who rely on it could face challenges for years to come.
Jose Patiño, a DACA recipient in Phoenix, said that's a cycle he knows well. Now in his 30s, he's part of an early generation of so-called Dreamers now helping younger DACA recipients as an organizer with an immigrant advocacy group called Aliento.
He has spent more than a decade fighting for a legislative path to citizenship for Dreamers. And in Arizona, DACA recipients have also had to fight for things like driver's licenses and in-state tuition. Patiño said sometimes it can get hard to see progress.
"I wish we didn't have to do those things, again and again, every single year it gets harder and harder," he said. "It feels like every single year you have to prove your worth and that you belong here."
The Trump administration first moved to end DACA in 2017 and no new applicants have been accepted since then. Patiño said the court's ruling is an opportunity to expand the conversation to undocumented immigrants who didn't get the chance to be part of the policy.
Meanwhile, other Dreamers say the long-term limbo has forced them to consider other options.
Tucson Dreamer Jaime Tadeo hasn't lived in Guadalajara since he was 10 years old. But while the policy's fate was tied up in court, he started to think about moving back there to be with family. He said he's relieved that DACA is safe for now. But this is only the beginning.
"There's so much more voices to present out there, and I hope this inspires people to get out there," he said.
Tadeo said lasting change must come from a legislative solution. But because DACA recipients are barred from voting themselves, they must engage with voters and lawmakers to make a difference.