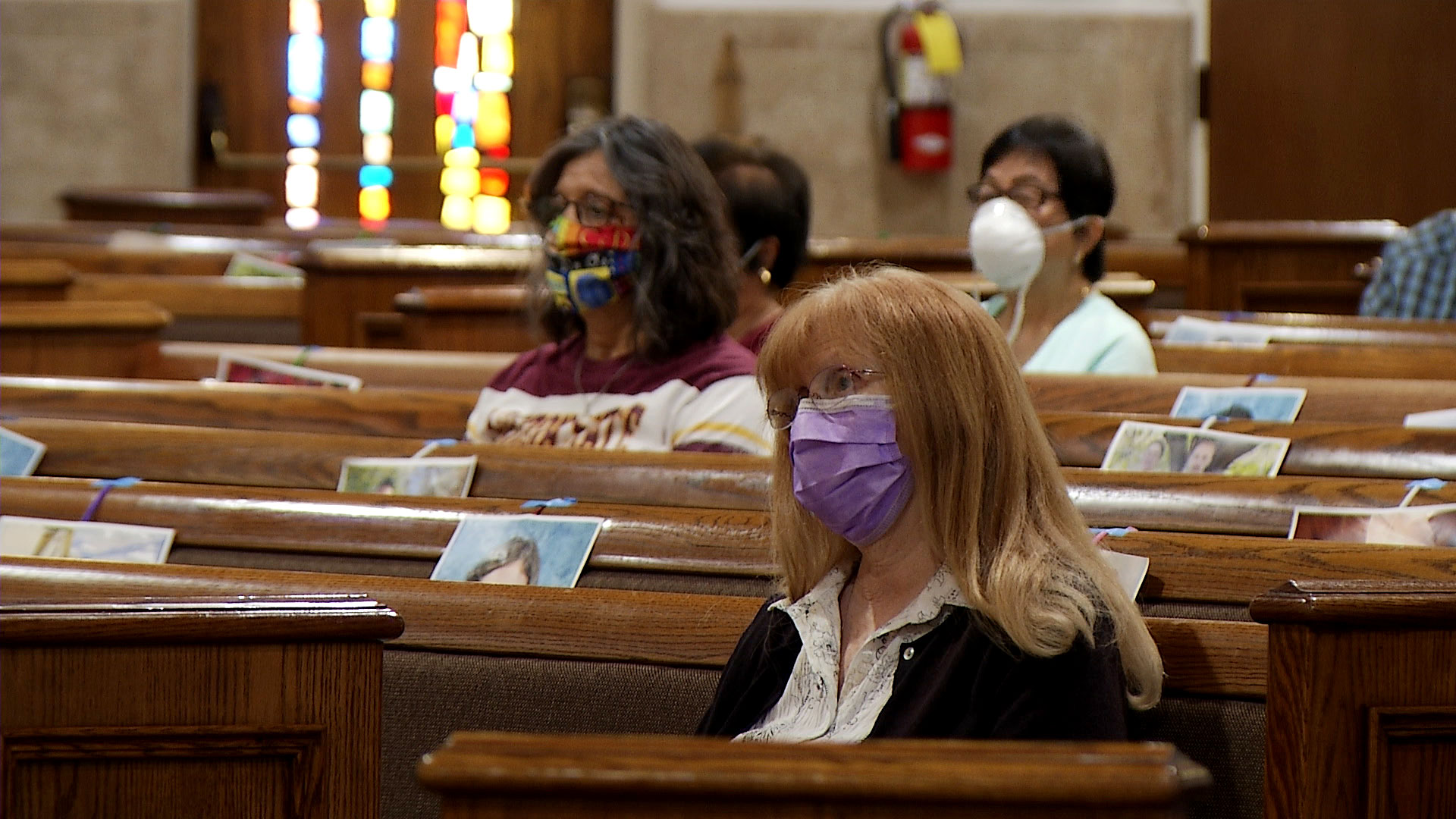 Parishioners attend mass at St. Mary's Church in Chandler on May 19, 2020. The Catholic Diocese of Phoenix gave pastors the option to resume public mass with limited capacity and face masks as added safety precautions. Photos of the congregation's members fastened to the pews indicate spaces where people cannot sit.
Martín Rubio/AZPM Staff
The Pima County Board of Supervisors made mask wearing in public places mandatory during a late afternoon vote Friday.
The ordinance, which passed on a 3-2 vote, requires anyone age five and up to wear a mask in public unless there is a medical reason why they cannot, or they are exercising.
The county ordinance comes with a $50 fine or five hours of community service, but the Board decided, for now, it will only be an educational campaign. The Board would have to vote again to impose the penalties which could be either civil or criminal.
The mask ordinance went into effect immediately and will stay in place until "the curve flattens" according to Pima County Administrator Chuck Huckelberry.
After the county meeting, the Tucson Mayor and Council met via Zoom for an emergency meeting.
On Thursday, Mayor Regina Romero issued a proclamation making mask wearing in public mandatory beginning on the weekend.
The Mayor and Council unanimously approved a measure mirroring the one passed by the county, including the provision making it go into effect immediately.
The Tucson officials will meet again on Tuesday to discuss some changes including allowing a fine within city limits.
The council also wants to make sure it is not giving away authority to the county.
On Wednesday, Governor Doug Ducey announced he would allow local governments to decide whether or not they wanted to make mask wearing mandatory. Previously he had resisted allowing local governments to make that type of pandemic related decision.
Tucson's ordinance also does not have an expiration date.