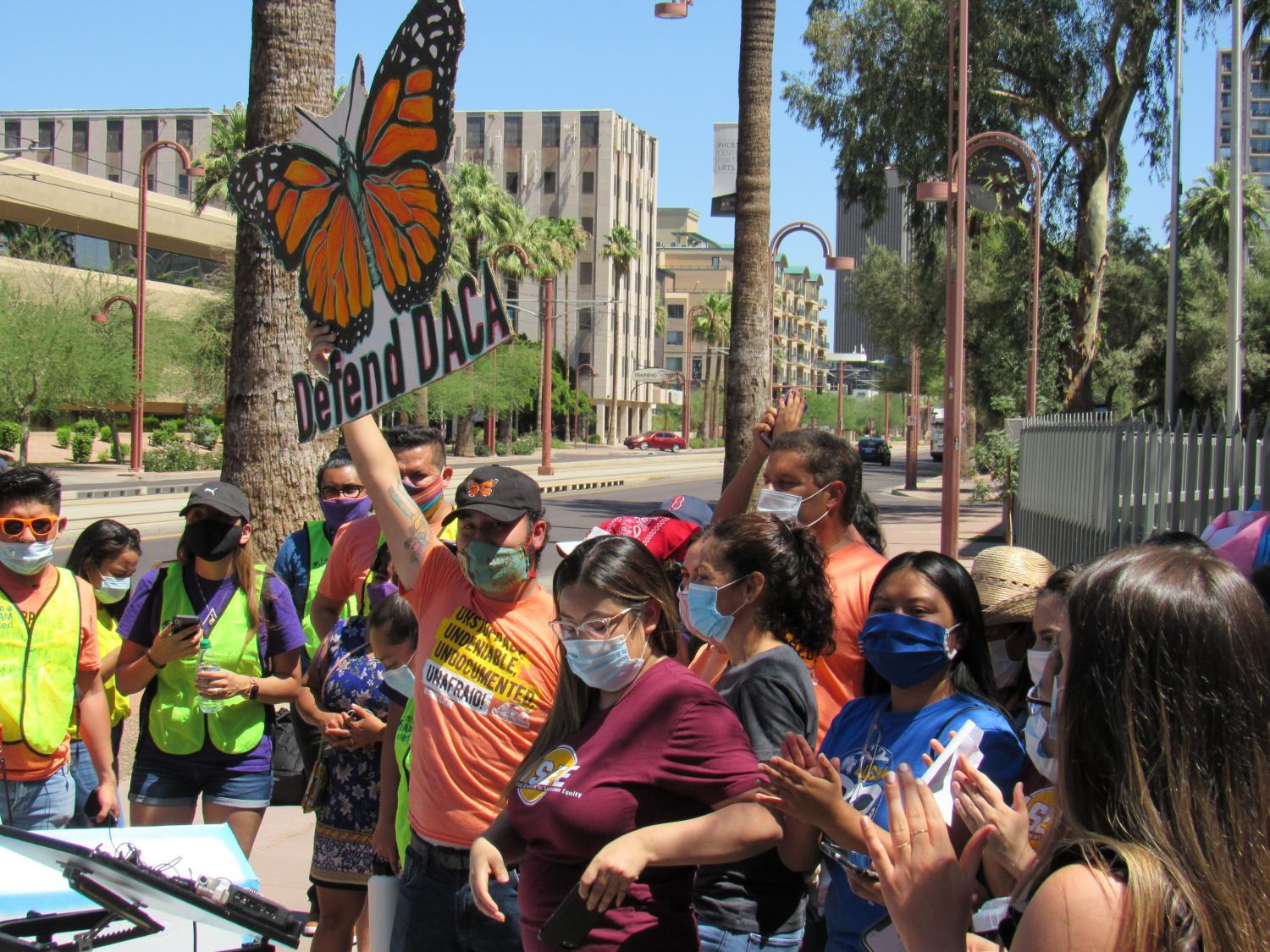 VIEW LARGER DACA supporters gathered outside ICE in Phoenix on June 18, 2020, to celebrate the Supreme Court's ruling to continue the DACA program for now.

Matthew Casey/Fronteras Desk
A Supreme Court ruling on Thursday means the Obama-era Deferred Action for Childhood Arrivals policy is protected for now, giving temporary relief to some 650,000 young immigrants who are part of the program nationwide. But justices left room for the Trump administration to try to end the program again.
The high court said that in 2017 the Trump administration failed to address how ending the program would impact so-called Dreamers across the country, and didn't specify whether alternative options would appear in its wake.
A day after that ruling, President Trump tweeted that his administration would be "submitting enhanced papers shortly" to challenge the policy again.
The Supreme Court asked us to resubmit on DACA, nothing was lost or won. They "punted", much like in a football game (where hopefully they would stand for our great American Flag). We will be submitting enhanced papers shortly in order to properly fulfil the Supreme Court's.....

— Donald J. Trump (@realDonaldTrump) June 19, 2020
Leon Rodriguez oversaw hundreds of thousands of DACA applications as U.S. Citizenship and Immigration Services director from 2014 to the beginning of 2017. He said he wouldn't be surprised if the administration tries to dismantle the program again.
"This will keep going until Congress does its job and comes up with a path to citizenship for 'Dreamers,'" he said. "If not, we're going to be running around in the court system for years to come."
Other challenges to the program still loom. A case brought by the state of Texas challenging the legality of the program is currently in front of a district court in Brownsville, Texas. The judge in that case has ordered all parties to file new paperwork next month.
Rodriguez said any new move to end DACA would be met with more lawsuits and would take months to end up back at the Supreme Court. But the process could begin as soon as the government re-files.