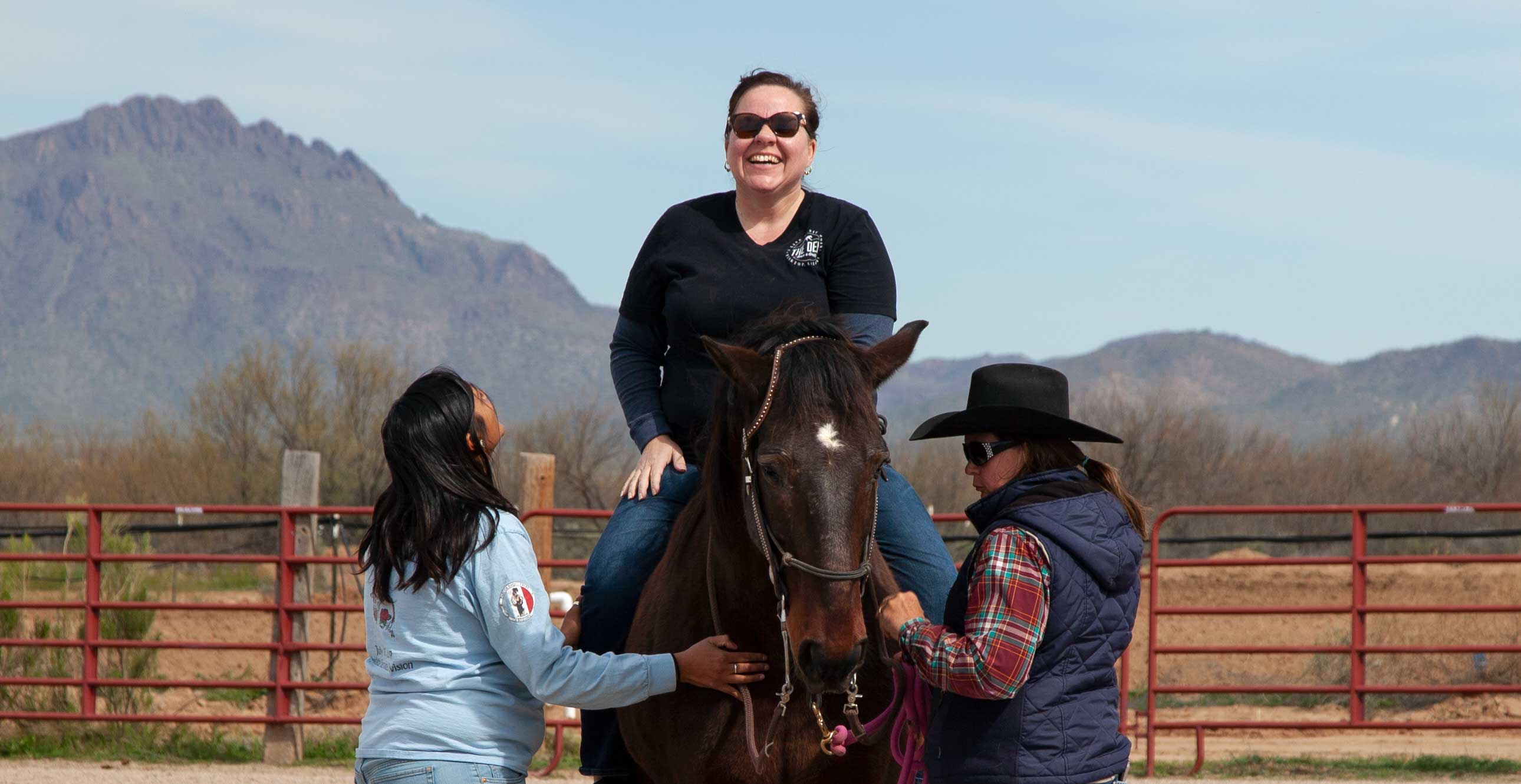 Leslie Cruz riding Shrek during a therapy session with Reena Patel and Mary Gardner via the Pascua Yaqui Tribe's Kava'i Hitevi program at Tortuga Ranch February 27, 2020.
Carolyn Yaussy/AZPM
Leslie Cruz's therapy partner has recently started licking her hands when she greets him. He isn't rude. He's a horse named Shrek.
Cruz and Shrek are a part of the Pascua Yaqui Tribe's equine therapy, or Kava'i Hitevi program, which means "horse healers" in Yaqui. Shrek is one of 17 horses, three donkeys, a mule, a herd of goats, a couple bunnies and an emu who call the Tortuga Ranch home. The clinical director of the program, T. Kay Estes, said the program got its start in 2005 when the tribe's former associate director of health, Raquel Aviles, wanted to start a therapy program for youth connected to the Tribe.
Cruz said she and her daughter started coming to Tortuga in 2018 after a referral from her daughter's therapist, who works for the tribe.
"I don't know that we would be where we're at right now, if it wasn't for coming out here to Tortuga," Cruz said. "It makes us really work and look at ourselves. I think it's made me a better parent, [and] a better person."
She said during their first session they met with Reena Patel, a clinical social worker, and Mary Gardner, an equine specialist and behavioral health technician. Cruz said while she and her daughter groomed a miniature horse, Patel got to know them by asking questions and watching how they worked together.
A session can include a lot of activities, from grooming, cleaning a horse's hooves or riding it around the arena.
Cruz said that and future sessions highlighted some of the reasons the pair was in therapy, like how Cruz took control of situations that her daughter could handle. She said equine therapy also revealed that when they do communicate, they are a good team and can accomplish things well.

Cruz said when her daughter doesn't want to have a family session, Cruz will work with another animal and Shrek is her therapy partner of choice.
Cruz's sessions focus on her daughter since the program is for youths, but she's learned a lot about herself, too, as she's worked with Shrek. She says riding and leading him was a big step for her.
"It meant trusting myself, listening to myself — knowing that I can do this, kinda letting go of any fear that I may have felt," said Cruz.
Patel, the clinical social worker, said these lessons translate outside of the area into Cruz's human relationships.
T. Kay Estes is the clinical director. He said the program has grown from 25 youths to seeing more than 80 kids and families each week, and through it people have a chance to develop a relationship they may have never had before.
"When words are not enough, sometimes when words are too much to even say. It allows them to still come out and do the work they need to do, and still find safety and comfort when they need to, when they have no other options,'" Estes said.
He explained that humans can often stay in a flight, fright or freeze response, whereas horses live in the present, and easily switch from being calm to responding to danger.
"They don't have to worry. They're not thinking about their past. They're not thinking about their future so much. They don't get stuck in that," Estes said. "Humans — we get stuck with that."
Cruz said Shrek can tell when she's not fully engaged and that's when he'll get distracted or pull on the rope she's using to lead him.
"The horse will tell you what kinda mood you're in," Cruz said. "If you're trying to tell the therapist that you're ok and deep down inside you're really not ok, the horse is going to reveal that."
Estes said by having a horse as a therapy partner, a person can more easily focus on the moment.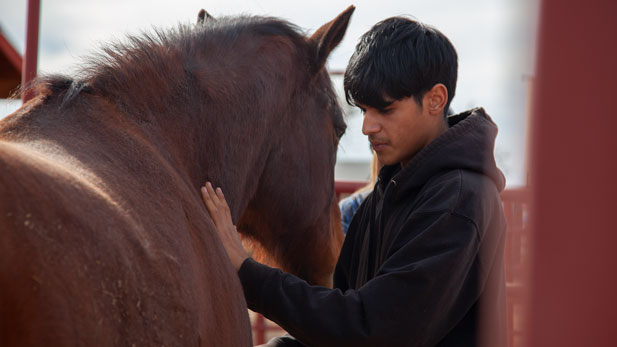 Israel Guerrero grooming Boomer at the Pascua Yaqui Tribe's Tortuga Ranch February 27, 2020.

Carolyn Yaussy/AZPM
Israel Guerrero, 20, followed his counselor to the ranch in 2017. He said he started equine therapy when he was a new father and a junior in high school.
He now works at the ranch in the ranch's greenhouse. He also said he's noticed how the horses "externalize your internal feelings."
"You may not realize that you're very grumpy today or very, like, irritable, but the horses — they kinda pick up on that a lot easier, and if you notice that the horses are acting differently with you then you kinda look at yourself and say, 'Oh, maybe I'm a little bit grumpy today or irritable,'" said Guerrero.

Guerrero and Cruz — the mother of one of the youths in the program — said they were thankful for the ranch and how it has positively impacted their families.
"I feel like the tribe purchasing the property out here and getting Tortuga together, I think is one of the best investments that they could do for the community, because it really is about healing and being able to move forward," Cruz said.
Note: Estes said the Kava'i Hitevi program will be serving a reduced number of clients during the COVID-19 pandemic at the ranch. The program's equine therapists are talking to a large number of their clients over the phone while sending the kids videos and pictures of the animals.