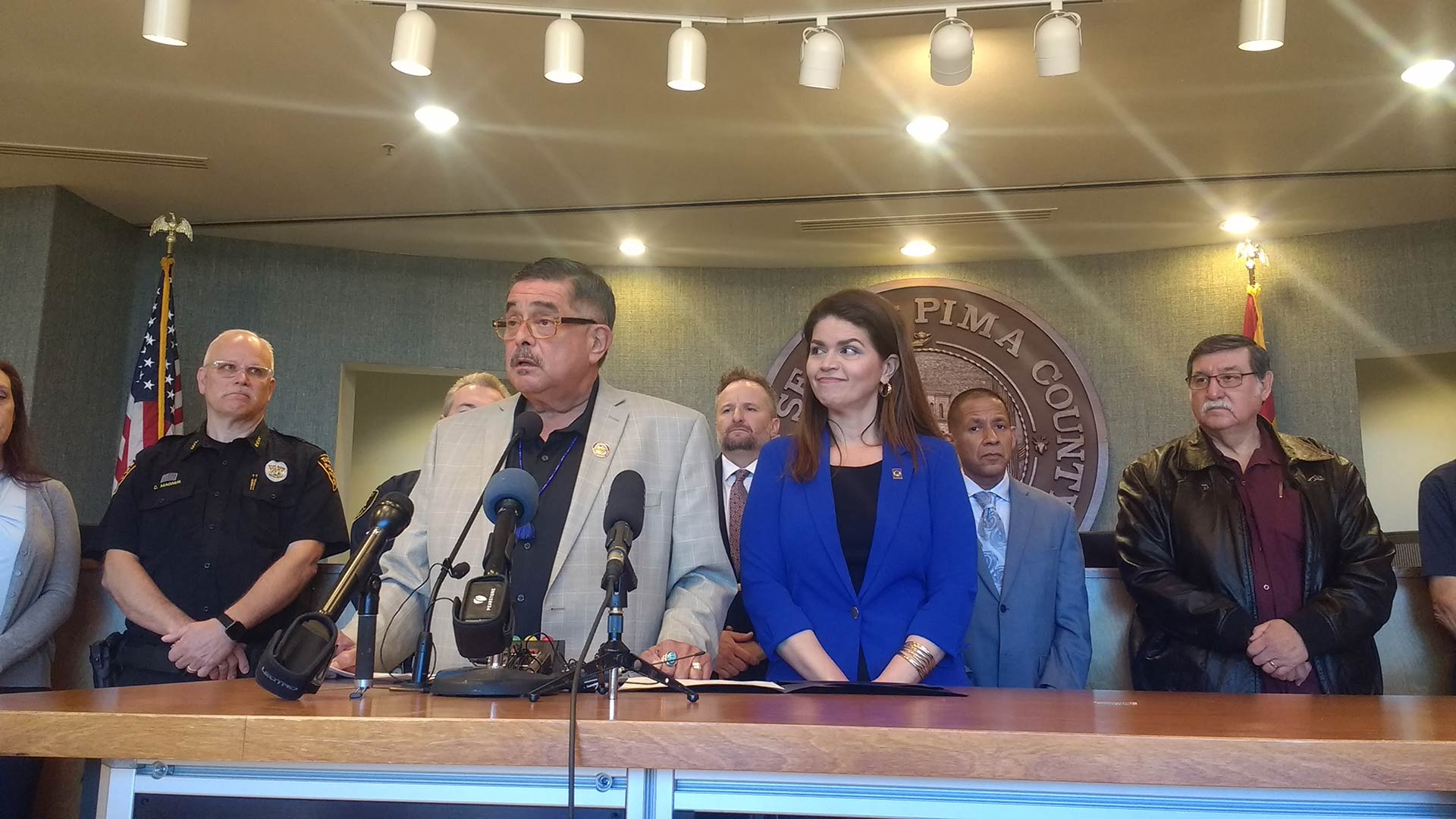 VIEW LARGER Surrounded by city and county officials, Pima County Supervisors Chairman Richard Elías and Tucson Mayor Regina Romero speak to reporters at a March 9, 2020 news conference about the local response to the spread of the novel coronavirus, which causes COVID-19.

Steve Jess/AZPM
Richard Elías, the chair of the Pima County Board of Supervisors, died overnight in his sleep. He was 61.
Elías represented District 5.

Tucson Mayor Regina Romero posted a note on Facebook Saturday afternoon saying she was "heartbroken by the sudden loss."
She wrote that Elías, "was a dear friend and mentor, and somebody who I looked up to and will always admire. He always stood up for what was right, and was the example of what a public servant should be; governing by a strong moral compass with values of compassion and empathy for the less fortunate."
A release from the county announcing his death called Elías, "a social-justice advocate, and a noted music aficionado who was loved by many of all walks of life. His friends ranged from homeless people and toiling workers to the wealthy and powerful."
Elías was first appointed to the board in 2002 when Raúl Grijalva left the seat to be sworn into the U.S. House. Elías had recently filed to run for another term in Pima County.
After learning of Elías' passing, Pima County Administrator Chuck Huckelberry called him "the people's champion on the Board."

Huckelberry wrote in a statement that Elías was "the champion of the rank and file County employees. He always thought of others first, especially the less fortunate, and he worked tirelessly to improve the incomes and living conditions of all Pima County residents, but especially the poor."
Sharon Bronson, Pima County Supervisor District 3, called Elías a friend. She wrote that they generally agreed, but not always.
"When we disagreed, he was always respectful, honest and open to compromise. For that and for his friendship I will never forget him," she remembered.
Elías was a fifth-generation Tucsonan. He is survived by his wife Emily and daughter Luz. Services will be announced later.