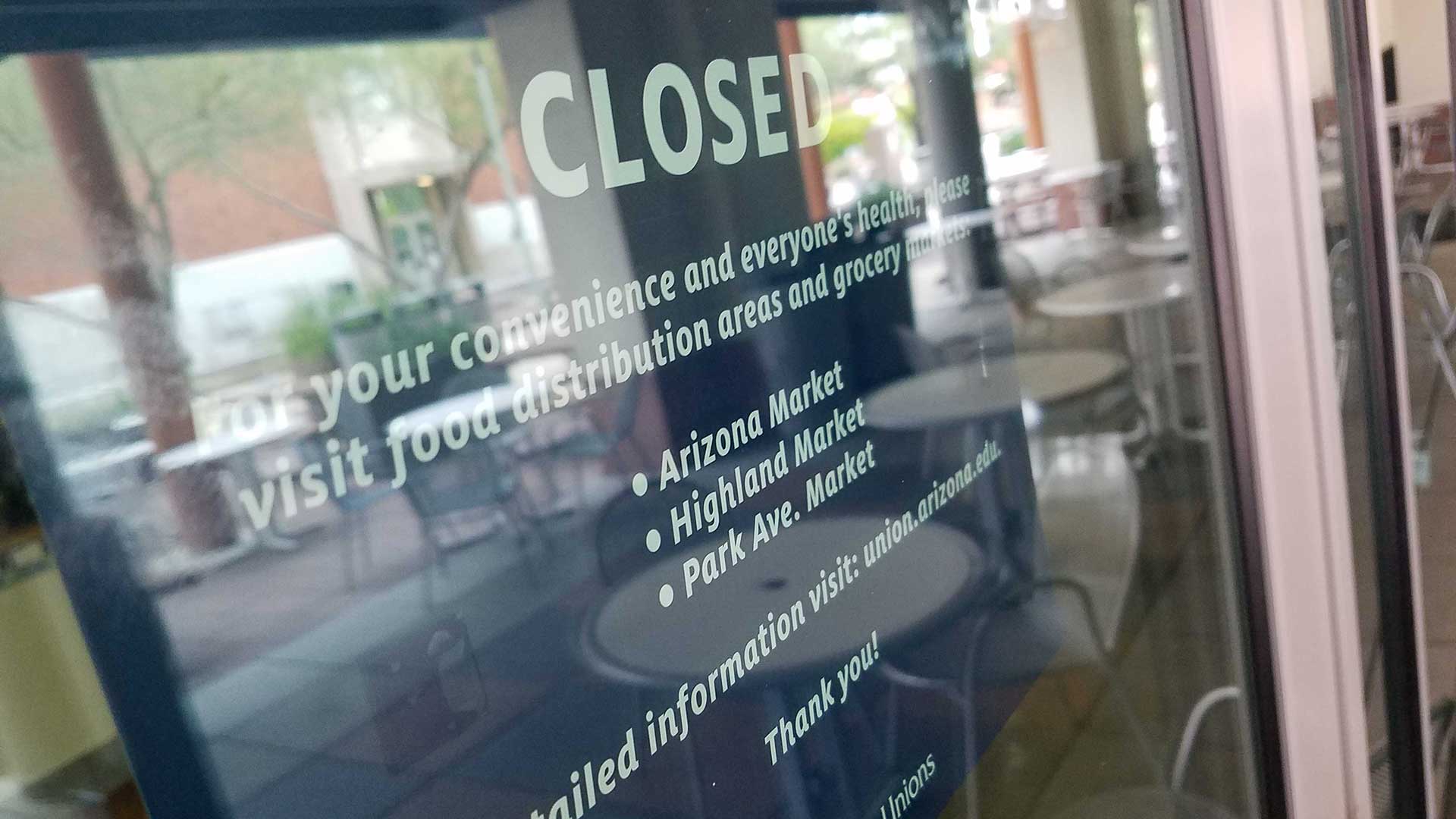 A closed sign at the University of Arizona student union. Classes have all moved online for the spring semester.
AZPM
Hello! My name is Vanessa Ontiveros and I'm a third-year student at the University of Arizona. I thought that by now I'd be knee-deep in the projects that tend to pile up in the second half of the semester.
But now that's all out the window. Now, I record and edit audio in a closet at my parents' house in Los Angeles. I really can't leave unless I'm going to get food or medicine. The whole state is on lockdown because of the Coronavirus.
I can't go back to campus. So, now all of my classes are online, which is not what I signed up for at the beginning of the semester.
In the past two weeks, professors have been scrambling to move classes online, which means students have been scrambling to catch up with all the changes. It does not help that there is no real consensus about how news is delivered to students. I have professors who use email, some who use the online learning system, some who use both and even one who's thinking of setting up a Facebook group for the class.
A lot of UA students are facing these academic challenges. Last week, Maritza Almanza, a UA sophomore, started a petition to have the university give students the option to have their classes graded on a pass/fail system. The UA has since announced it will implement such a system.
Almanza said that despite receiving some criticism for the petition, she was surprised at the amount of support it received. The number of signatures equalled about 20% of the UA student population.
"I remember, specifically, there were 5,000 signatures already in under eight hours," Almanza said. "There were students of color who [direct messaged] the Instagram or were [direct messaging] me with praise, love and appreciation, and that was great."
On top of school-related worries, students also have a lot of the same worries as everyone else right now. Students work, many of them in the restaurant and bar industries, so a lot of students do not know when they will get their next paycheck. The UA has announced partial refunds or credit for parking passes and housing, which may provide some relief. Students pay rent, and a lot of them don't know if they'll be able to make that this month. Students eat and now may face food insecurity. Students socialize, and now they face isolation.
Almanza said those feelings of isolation can be compounded for students like her who are part of several marginalized communities.
"Not being able to physically see people in my respective communities is definitely wearing down on me," Almanza said. "Like not getting to talk to all of my friends who are [people of color] or queer or trans like me, that's definitely wearing down on me. It makes me appreciate the internet a little bit more and the way it's been able to connect people."
Students are finding new ways to support each other during this time. Riley Conklin is co-founder of the Queers United Coalition, an advocacy group made up of LGBTQ+ students at UA.
Even though students can't meet on campus anymore, Conklin and other QUC members are coming up with new ways of supporting students and continuing their advocacy, like sharing resources on social media.
"Yeah I definitely want to organize some Zoom meetings, some virtual hangouts. We can definitely still do things like letter writing," Conklin said. "When we are allowed to organize in person, we'll already have a foundation."
And students, like everyone else, just want things to get back to normal.
The way I've been thinking about it is like this: Before Spring Break I was like a hamster on a wheel. Once that thing starts spinning, it's hard to stop. Yes, the wheel was spinning really fast and I was tired, but at least it kept me going.
And now my routine and that wheel are gone. I think I'm supposed to run laps around my cage, but honestly I'm not sure and I don't want to run as much because there isn't a clear path set before me.
And if any of this is inaccurate to hamsters, I do apologize. I don't have a hamster, just a cat who really enjoys yelling while I'm on Zoom calls.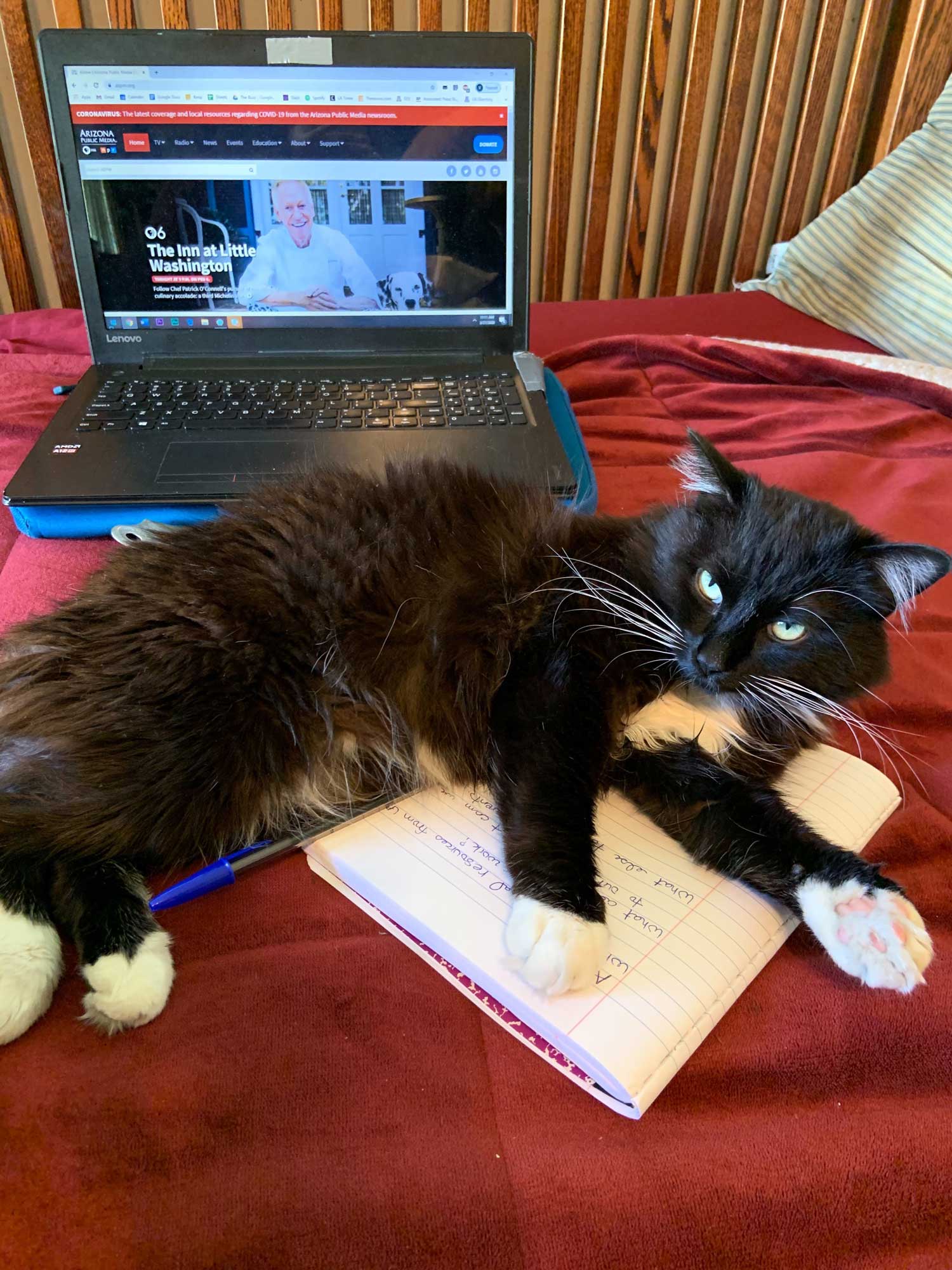 VIEW LARGER Tux Ontiveros offers to help UA student and AZPM production assistant Vanessa Ontiveros at home after classes were moved online and students asked to not return to campus.

Vanessa Ontiveros/AZPM