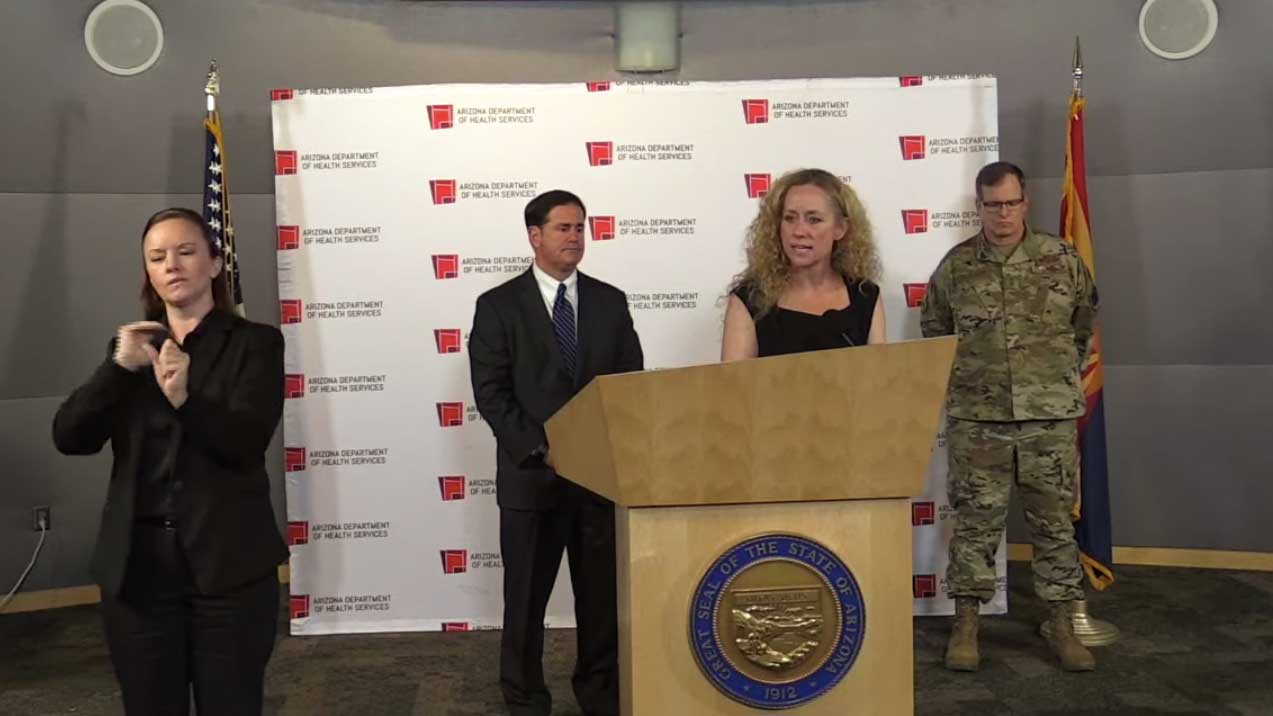 VIEW LARGER Arizona Department of Health Services Director Cara Christ gives COVID-19 updates with Gov. Doug Ducey, in this still image from a March 25 video.

Office of the Arizona Governor via YouTube
Nobody knows for sure when the novel coronavirus will abate but Cara Christ, head of the Arizona Department of Health Services, said available models do give officials some idea what is ahead for the state.
"We believe the peak of our illnesses will start mid to end of April with peak hospitalizations in May," she said during a Wednesday briefing.
The prediction from the state's top health officer does raise questions about Arizona's ability to treat all the patients.
"We anticipate we are somewhere around 1,000 ventilators statewide. What we are hoping is to get up to about 4,500 or 5,000. We've put in a federal request for an additional 5,000 on top of those that we have in this state. But that is something that we are continuing to assess, and we can continue to make resource requests for," said Christ.
When it comes to hospital beds, Arizona could need more of those also.
"When we look at the modeling based on the number of cases and the trajectory, we anticipate that we could need an additional 13,000 hospital beds and an additional 1,500 ICU beds. That's on top of the current 16,000 and 1,500 ICU beds," said Christ.
That works out to 20.6 ICU beds per 100,000 Arizona residents.
On Thursday, Gov. Ducey issued an executive order dealing with hospital capacity. He required hospitals to activate their emergency plans and develop a plan to increase capacity by 25% by April 10 and 50% by April 24. The executive order also requires pediatric hospitals to serve anyone up to age 21. Hospitals were also told to reroute noncritical patients to other facilities if possible.
Christ made her comments during a briefing with Gov. Doug Ducey. She later took to Twitter to clarify her statements. She said the numbers she cited for the needed beds and ventilators are based on an assumption that nothing is done to mitigate the spread of the virus. She continued that she hopes that steps citizens and the government are taking will reduced the impact of COVID-19 in the state.
Some people question why more testing is not available in Arizona. Christ said with private labs now administering tests, the numbers are climbing, but she said there is also a shortage of testing supplies.
"What we need is the supply chain to open up and give us nasal swabs, viral transport media and the reagents used to run the chemical reactions that the tests do. That's where our shortages are, and it is a national shortage," she said.
Christ again cautioned about the idea of everyone getting tested. She said she would like to see health care workers, first responders and the very sick prioritized when it comes to testing.