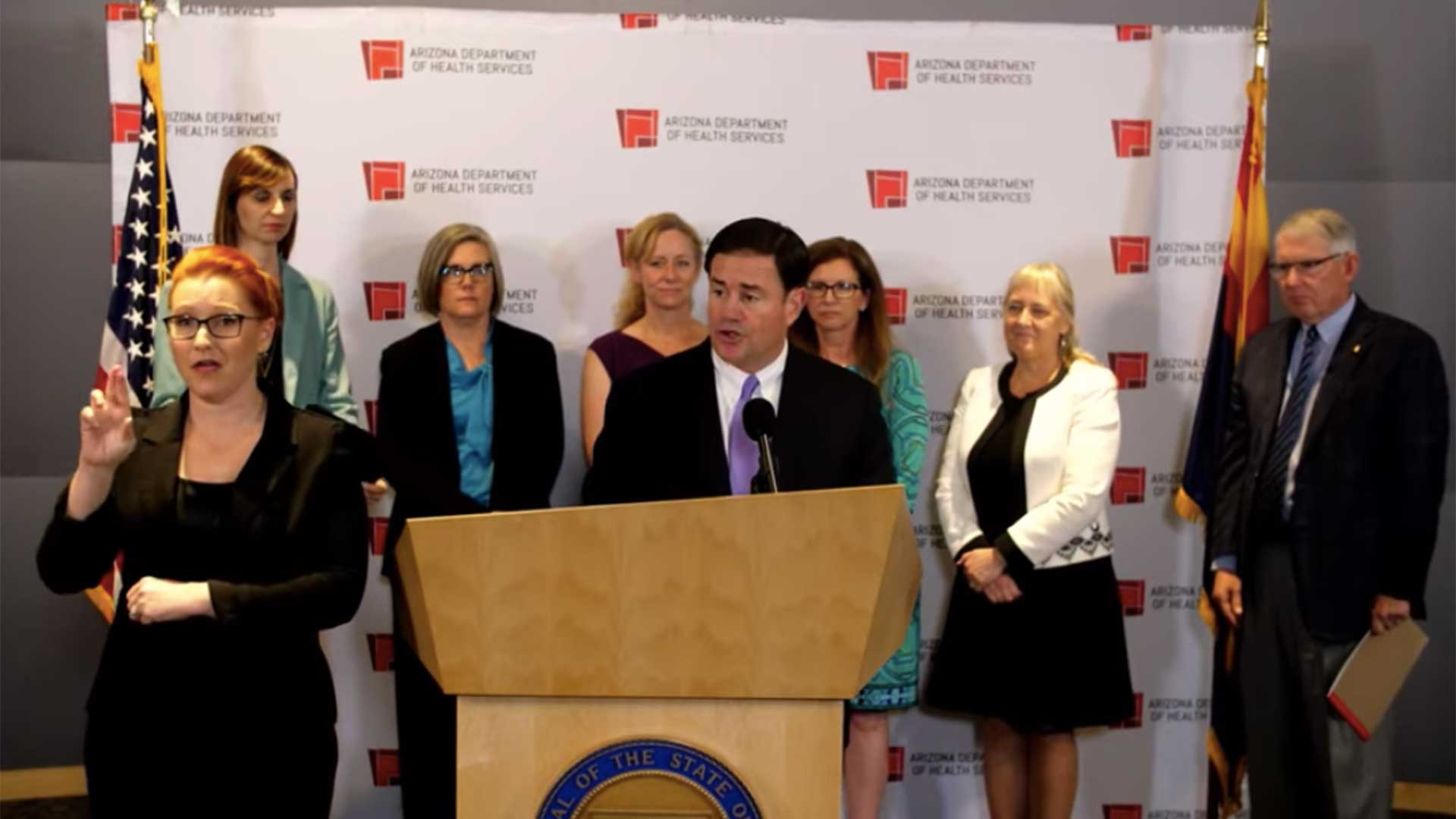 Gov. Doug Ducey gives a statement about COVID-19, March 16, 2020, in this still image from an ADHS video.
Arizona will comply with new federal guidance issued Monday on COVID-19. But it's not going as far as other states.
Gov. Doug Ducey announced in a press conference Monday that the state is adopting recommendations issued today by the Centers for Disease Control. They include avoiding gatherings of 10 or more, working remotely whenever possible, and quarantining an entire household if one person tests positive for the novel coronavirus.
"Tomorrow [Tuesday] is Saint Patrick's Day. If you're thinking of going out to a crowded bar to celebrate, our advice is don't," Ducey said.
The governor's advice comes as other states announced stricter measures to contain the spread of the virus. Governors in New York, Illinois and nearly 20 other states have ordered bars and restaurants in their states to close to the public.
On Sunday, Ducey followed other state leaders in announcing the closure of Arizona schools. But Monday, Ducey said that move would not be sufficient to stop the spread of COVID-19.
"The safest place for children at this time is at home. They should not be cared for by elderly adults or those with underlying health conditions," he said.
State officials acknowledged the new guidelines would not affect Arizonans equally.
Superintendent of Public Education Kathy Hoffman said schools will soon help provide lunches for kids stuck at home, similar to a summer food service program. Parents should contact their local school district for more information.
Hoffman said the Department of Education is communicating with the federal government in case the state needs a waiver for federal standardized testing.
Arizona has also committed to holding its presidential preference election Tuesday, March 17, along with Illinois and Florida. Georgia, Kentucky and Louisiana and Ohio have all postponed their primary elections.
"This decision was not made lightly. And what it all comes down to is that there is no guarantee that there will be a safer time to hold this election in the near future," said Secretary of State Katie Hobbs. "The longer we wait, the more difficult and dangerous this will become."
There were 18 cases of COVID-19 in Arizona as of Monday evening, and Cara Christ, director of the Arizona Department of Health Services said there will be more.
"There is a heightened level of risk of COVID-19 now that we have community spread," she said.
Christ said the state is working with Banner Health to set open collection sites where people with symptoms can be screened for testing. Until then, she said people should not show up at a hospital or care provider without calling due to the scarcity of testing kits.