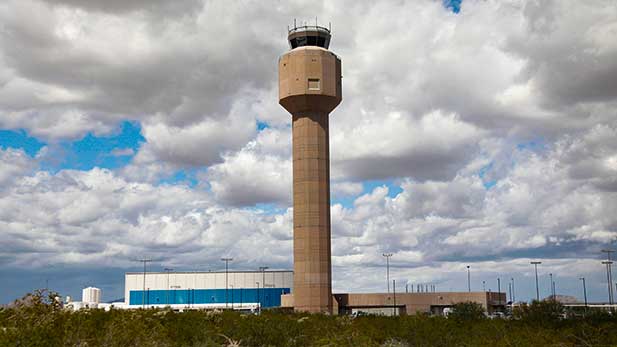 VIEW LARGER File photo of the tower at Tucson International Airport.

Zac Ziegler/AZPM
As of Monday, March 16, there hadn't been much fallout from the coronavirus for travel at the Tucson International Airport. If anything, the pandemic has meant even shorter lines than usual.
But Airport Authority spokesperson Dave Hatfield said that could change at any second.
"There's going to be a lot of cuts coming up. This is very hard on the airlines," he said.
In the meantime, Tucson International Airport is open for business and has stepped up the cleaning procedures, with high-touch areas being sanitized at least once an hour.
"We're here to take care of our customers and our employees," Hatfield said. "We've relaxed our own sick leave policy so even people who are short of sick leave, you can still take sick time and get paid."
And, he said, if you're flying and are lucky enough to have hand sanitizer, don't dump it because you're boarding a flight. TSA is now allowing passengers to board with hand sanitizer containers up to 12 ounces in their hand luggage instead of the normal 3.5 ounces.