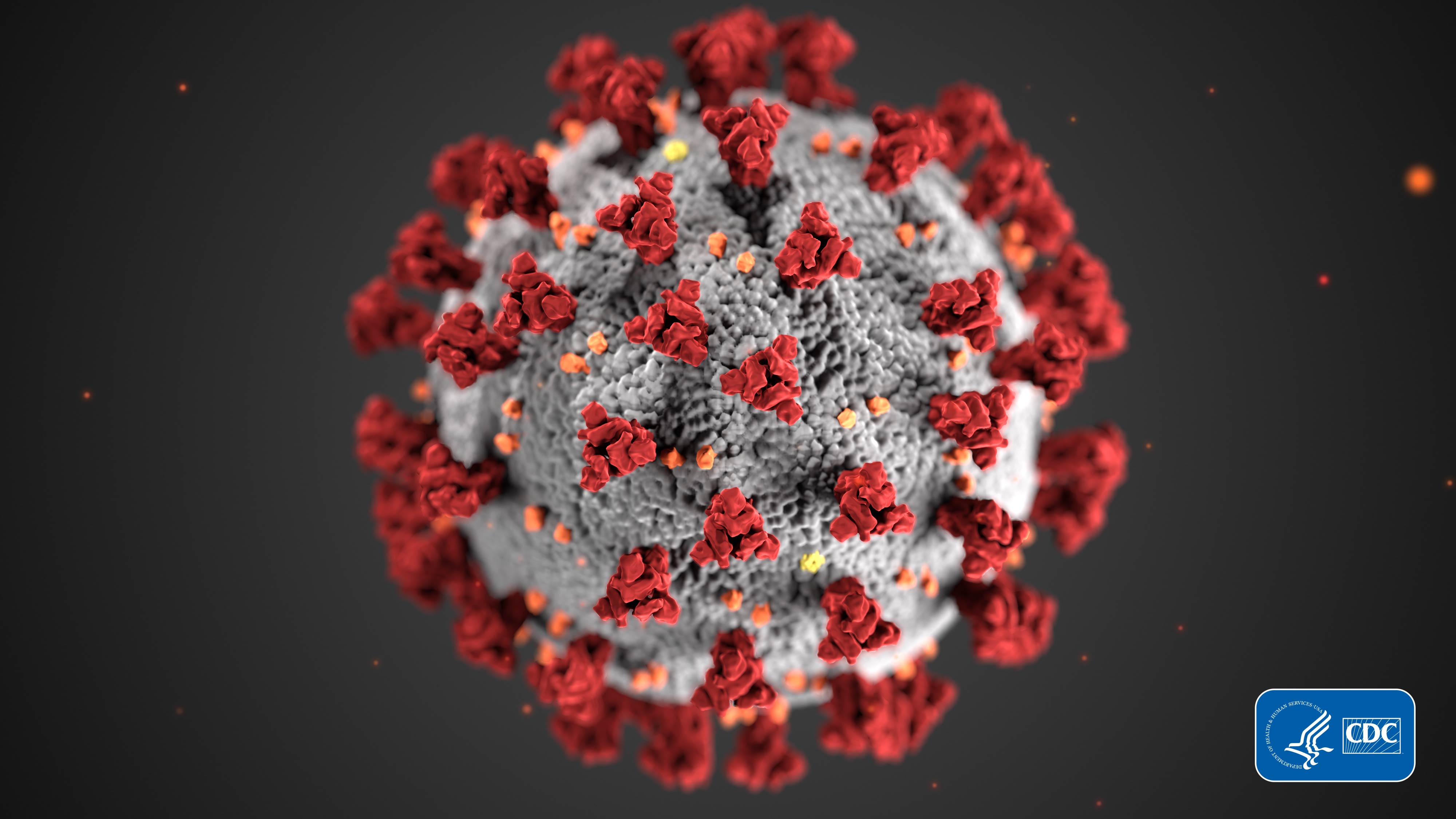 An illustration from the Centers for Disease Control and Prevention reveals ultrastructural morphology exhibited by coronaviruses.
Centers for Disease Control and Prevention
Pima County on Monday saw its first diagnosis of COVID-19, according to a county press release.
The joint statement from the Arizona Department of Health Services and the County Health Department said the "presumptive COVID-19 case" is a resident of unincorporated Pima County who traveled to an area with community spread of the coronavirus, adding that the person is at home in isolation and is not severely ill. The county said it will directly contact people if it is determined they have been exposed.
Earlier in the day — before the news of the county's first case of COVID-19, which is caused by the novel coronavirus — Tucson-area officials had a message: Don't panic, don't cancel your plans, but do practice good hygiene and common sense.
Leaders from the city and county governments along with several law enforcement agencies held a news conference Monday morning to urge people to practice good hygiene, including frequent hand-washing, and not to panic or cancel their plans.

Pima County Supervisors Chairman Richard Elias said it's important to keep the outbreak in perspective.
"We're going to be dealing with this illness for some time until it runs its course, so let's not panic about it or do things that are detrimental to our lives, our culture and our economy that won't help in the long run halt or slow the spread of this disease," Elias said.
Officials urged residents who are healthy not to cancel their plans because of the outbreak. The news conference was held before the Tucson Festival of Books announced it was canceling this year's event.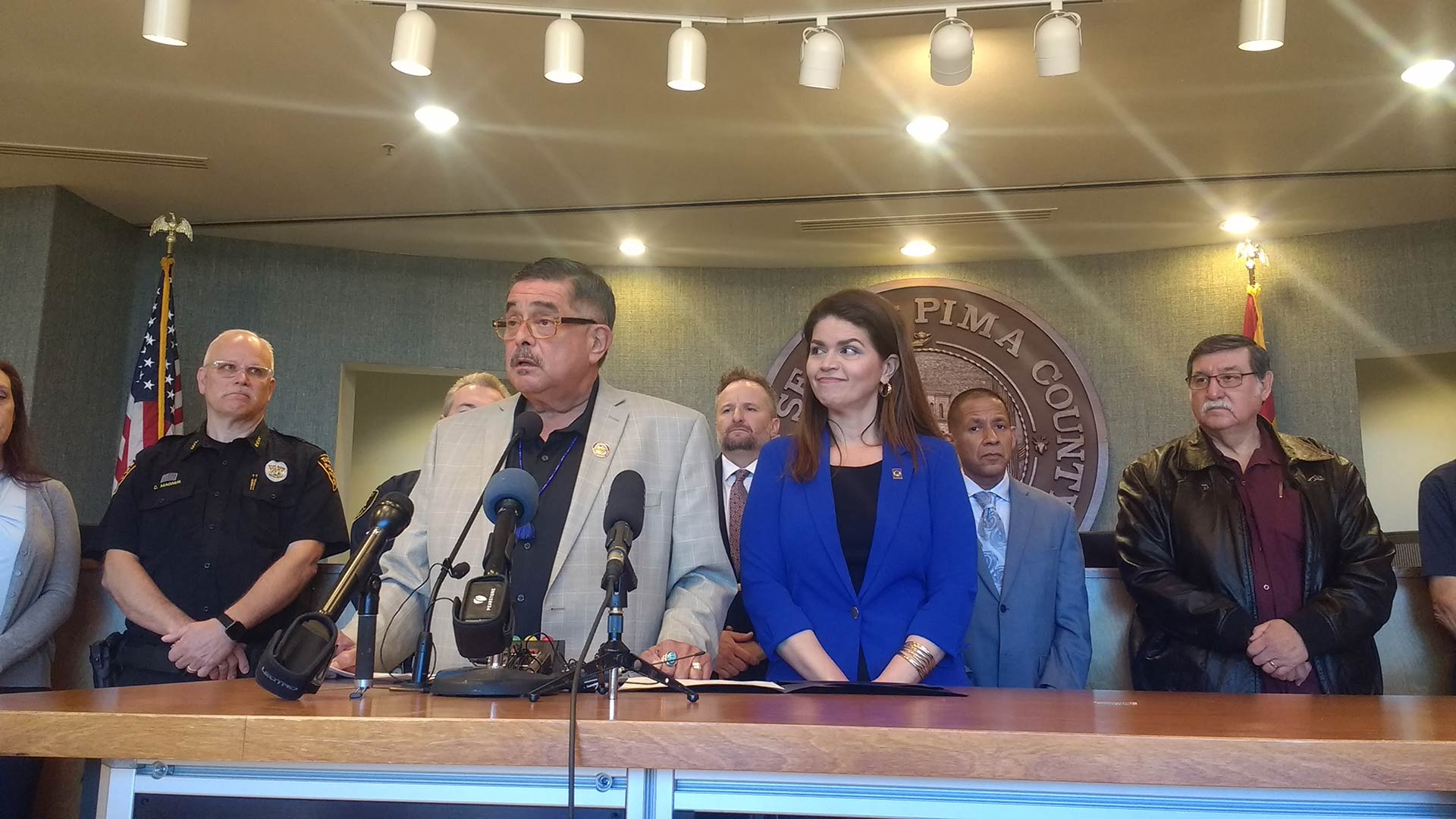 VIEW LARGER Surrounded by city and county officials, Pima County Supervisors Chairman Richard Elías and Tucson Mayor Regina Romero speak to reporters at a March 9, 2020 news conference about the local response to the spread of the novel coronavirus, which causes COVID-19.

Steve Jess/AZPM
Pima County Health Director Doctor Bob England says each location has to make its own decision about such events. "You're going to see different communities deal with this very differently and the judgment that's being made in some is that the data so far does not warrant major disruptions to our lives," England said.
Monday's announcement of the first case of COVID-19 "does not change Pima County's approach as discussed in the press conference earlier today. We have been preparing for this for several weeks. We are not recommending closing schools or cancelling events," England later was quoted as saying in the county's press release.
In Tucson, responses to the outbreak may include setting up more places for the general public, including the homeless community, to practice good hygiene, such as hand washing and disinfecting. Tucson mayor Regina Romero says those plans are already in motion here.
"We've also requested this morning as a matter of fact to consider to the city manager to consider hand washing stations and antibacterial stations" in public areas, Romero said.
As of Monday morning, the outbreak of the virus, known officially as COVID-19 has sickened more than 100,000 people around the world, including more than 600 in the United States.