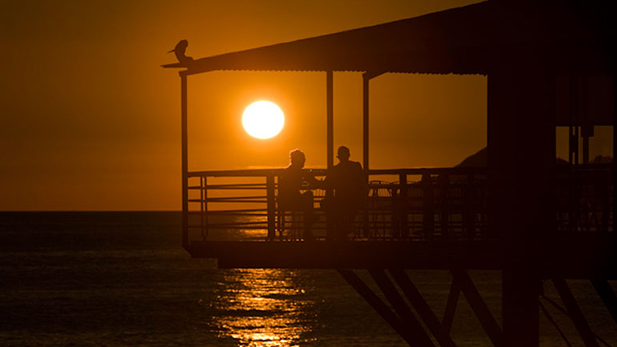 A sunset in Rocky Point, Mexico.

Courtesy of VisitMexico
The Las Conchas community in Rocky Point counts many affluent Arizonans among its roughly 2,000 residents. Tensions between the neighborhood and city government over development plans and other issues had been simmering for some time.
Then last May, the local government tore down the Las Conchas guard house. The HOA saw that as an act of retribution for their refusal to pay $250,000 to a local planning body.
"We had no idea where the [$250,000] came from," HOA President Ginger Beauchamp said. "It was not something that we owed."
But Rocky Point City Attorney Gabriel Elizondo said that sum was actually a small portion of hundreds of thousands of dollars Las Conchas was illegitimately charging those building new homes there.
"To compensate for the harm done to the city government," he said of the purpose of the requested $250,000 payment.
As to the guard house, he said it was razed not in retribution, but because it was on a public right of way without a proper permit, which Beauchamp concedes.
But she says the HOA can charge new builders to pay for critical services, like security, road maintenance and a new water system. She and other residents also just want a way back to the peace and quiet that brought them there in the first place.

Fronteras Desk
is a
KJZZ
project covering important stories in an expanse stretching from Northern Arizona deep into northwestern Mexico.