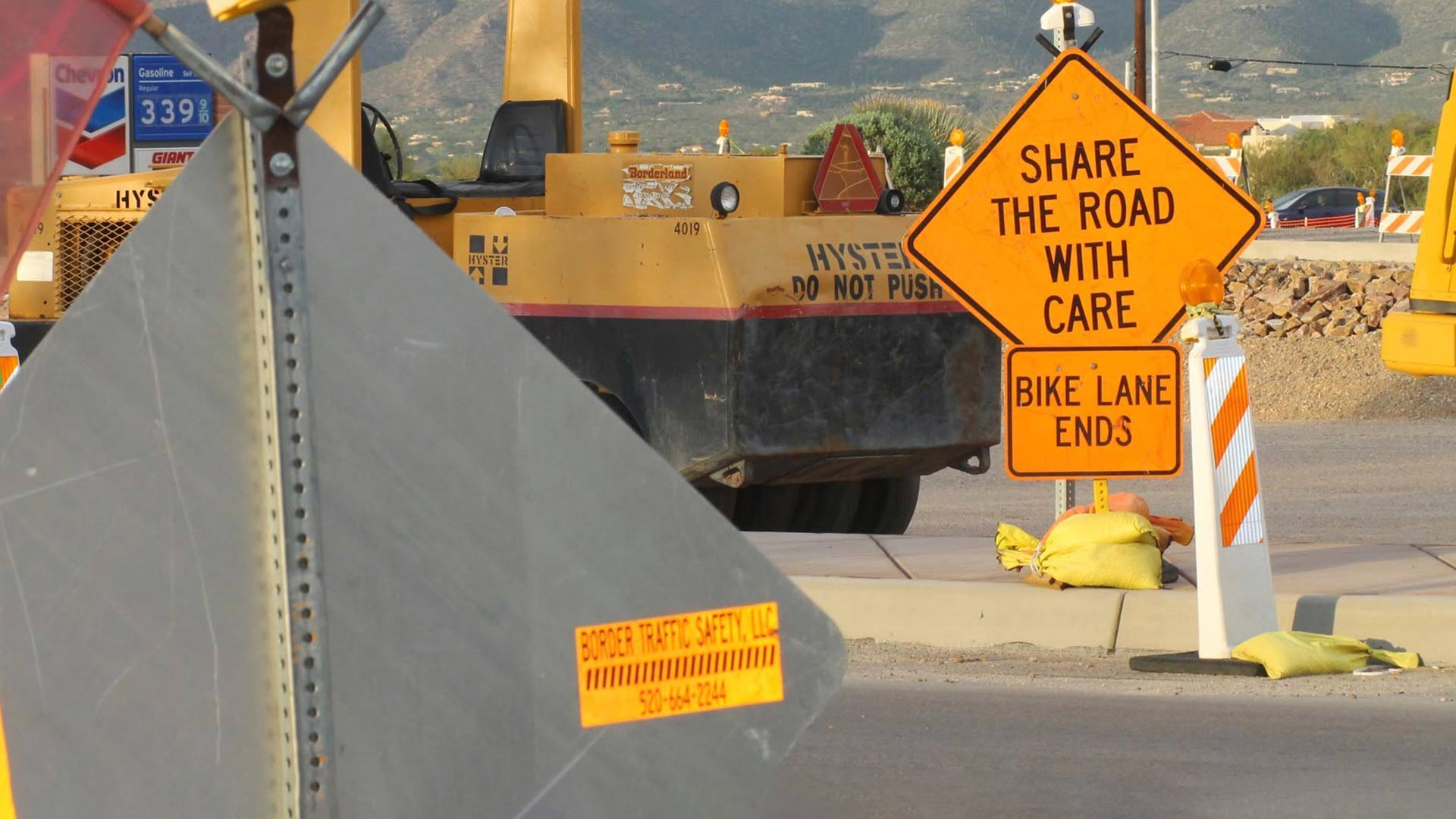 Road construction and repair signs in Pima County.
AZPM Staff
Two Tucson City Council members say city residents shouldn't have to pay to fix county roads.
Steve Kozachik and Paul Cunningham are calling on the Pima County Board of Supervisors to leave Tucson out of a road-repair funding plan. In a letter to constituents sent Thursday afternoon, they said the board should rescind the policy "as far as it uses City of Tucson property taxes to pay for road repair in unincorporated Pima County."
The so-called pay-as-you-go, or pay-go, funding plan passed in November would raise $387 million to repair county infrastructure through 2030. It would do that through secondary property taxes and additional funds that are no longer needed to pay off bond obligations.
The council members argue the county is raising taxes on Tucson residents without their approval, which could jeopardize future funding requests that will have to be approved by voters, such as the extension of the Regional Transportation Authority, which expires in 2026.
Deputy County Administrator Carmine DeBonis said planned repairs to heavily used roads like Ina and River will benefit city residents.
"Those roadways are used by residents from the other municipalities," he said. "City residents or other town residents are driving on arterial roadways that are in the county."
The Board of Supervisors passed the pay-go plan after voters rejected Proposition 463 in 2018, which would have put $430 million into road repairs countywide. The defeat left the county with few options to address over $700 million in unfunded infrastructure projects, most of which are related to roads.
"The county doesn't have another means for replacing the dollars for that portion of road repair that would be otherwise done through the pay-go program," said DeBonis.
The pay-go plan, which is similar to a plan used by Maricopa County, would put 60% of the money raised through property tax levies — about $225 million — into road repairs. The other 40% goes to paying back the county's debt obligations. DeBonis says that means the rate Pima County residents pay in other taxes could decrease in the county's next budget.
According to a November memo from Pima County Administrator Chuck Huckelberry, if road repairs are part of the next RTA plan, and that plan is approved by voters, the Board of Supervisors could reduce or eliminate the pay-go allocation.