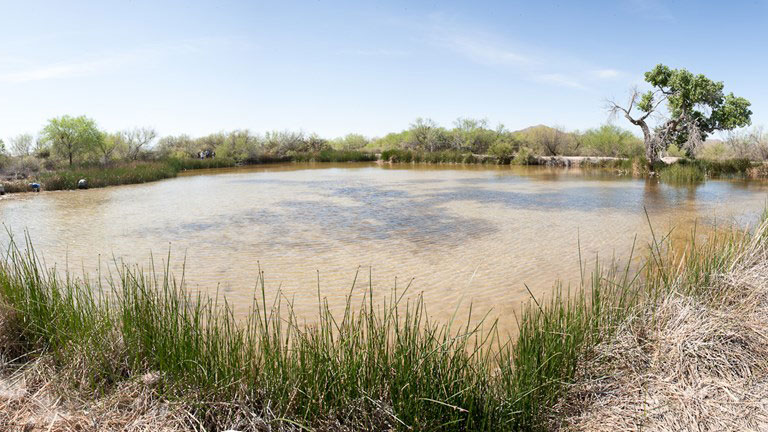 VIEW LARGER Quitobaquito pond is fed from the nearby Quitobaquito Springs. Recent construction activity near the site has drawn concern from environmental groups.

National Park Service
Environmental groups expressed outrage this week as they shared pictures of a 60-foot-long strip of border land scraped bare next to a critical desert spring called Quitobaquito.

"It's terrible. The desert isn't going to recover from this any time soon, and the archaeological sites, which may include Native American grave sites, are being destroyed forever," said Dan Millis, with the local Sierra Club chapter.
Millis says he wants to keep these concerns on the front burner even in the midst of the impeachment trial and other national news. Border wall construction is ongoing across environmentally sensitive lands, including Organ Pipe and the San Bernardino National Wildlife Refuge near Douglas.
BREAKING: today @DHSgov bulldozed a massive swath of desert near Quitobaquito Springs in Organ Pipe.

This comes just weeks after @RepRaulGrijalva & the O'odham Tribal Chairman called for a cessation of all "ground disturbing activities" near this sacred site. pic.twitter.com/j6j3ret0dI

— Laiken Jordahl (@LaikenJordahl) January 28, 2020
National Park Service officials said in a previous statement the agency has an ongoing relationship collaborating on and coordinating border enforcement with the Department of Homeland Security.
The Trump administration has waived the federal environmental review processes that would normally apply to these kinds of projects.
Customs and Border Protection was unable to comment before deadline, but in a previous statement said it "strives to ensure that impacts to biological, natural, cultural, and historical resources are identified and minimized to the greatest extent possible in all infrastructure projects."
The Sierra Club and the Center for Biological Diversity have ongoing lawsuits against the wall projects, but Millis says a Supreme Court decision is allowing construction to continue while those cases are decided.