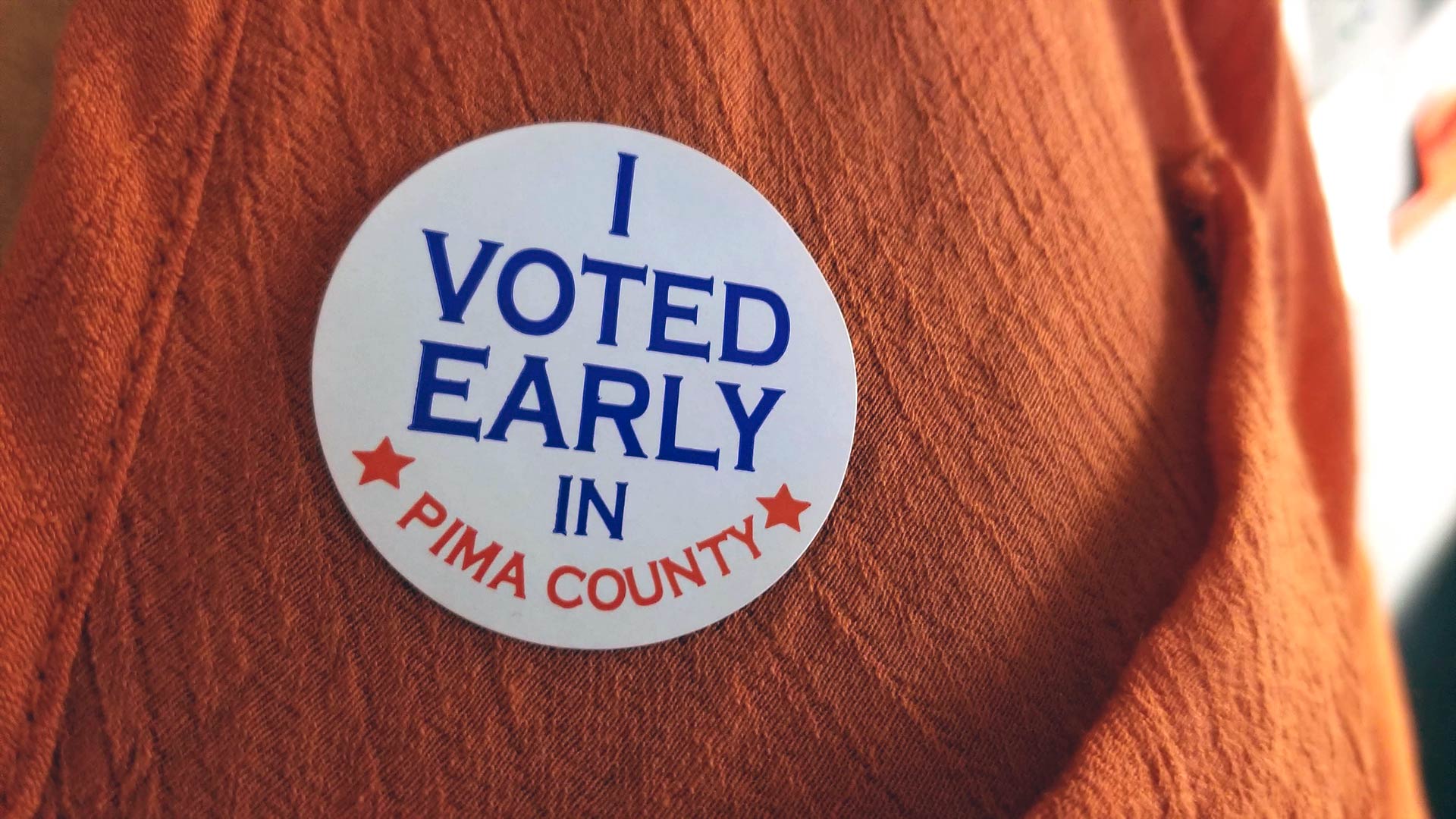 A voter displays their "I Voted Early in Pima County" sticker.
AZPM
Election Day may be a year away, but in Arizona the parties are getting ready for the first step, sending delegates to the national conventions.
The conventions, which will be held in July and August, are where the party faithful officially nominate their candidates for President.
On a recent night, a group of Democrats met at a library on Tucson's northwest side. They were there to get information about how a member of the party becomes a delegate to the national convention.
"Last year, last time, we had the most diverse delegation in the nation. So, we have goals to reach for people with disabilities, young people, equal male and female, various ethnicities, that sort of thing," said Barbara Tellman, trainer for the Democratic party.
The 79 members of the Arizona delegation at the national convention are elected by party members at conventions in each congressional district. Delegates can also be elected at the state convention.
The delegation is made up of not only rank-and-file Democrats but also elected officials.
"Our congressional people or Senators, if they are Democratic it would be automatic. The second level is other legislators, mayors, those kinds of people, and there it is competitive," said Tellman.
Republicans use a similar process as Democrats in Arizona to select delegates to their national convention.
"The president has made it very clear that he wants to have a diverse group of individuals serve as delegates — men and women, so genders are represented equally as much as possible, as well as people of color. It is very important that we show Arizona our commitment to diversity," said Bruce Ash, Republican national committeeman from Tucson.
To some watching the conventions on TV, they may seem like a pre-scripted circus, and something they just want to stay away from. But for some people, getting to the convention is something they have wanted to do for a long time.
"I understand it's like a 24-hour operation when you go to one of the national conventions, and I would just like to see it for myself and meet all the candidates face to face," said Larry Bowdine, Democratic delegate hopeful.
Others delegate hopefuls are more focused on federal issues.
"We have brothers and sisters and we have our kids, our children who are going hungry. We have a lack of housing here. How can you not do something?" questioned Alejandra Guzman.
Republican Bruce Ash has been to three conventions. At the last two, he ran the Rules Committee, a position nobody else in the history of the party has held for two conventions, according to Ash. He said he is hoping for a new job at the 2020 Republican National Convention.
"I would like to serve on the platform committee. I've been very active both when I was chair of the rules committee as well as on resolutions, you know, things that the party should stand for which ultimately, oftentimes, get into the platform for the party," said Ash.
Arizona Democrats will hold their Presidential Preference Election in March. It is not winner take all which means the delegation will vote the same way the candidate percentages break down.
Republicans are not holding a Presidential Preference Election in Arizona this year. That means all of their delegates will vote for Donald Trump at the convention