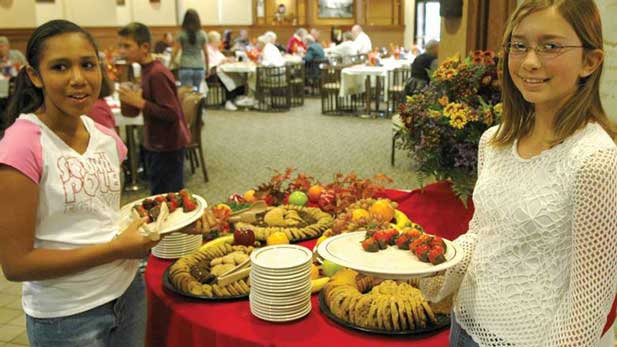 Friends enjoying a Thanksgiving meal.

Air Force photo by Kathy Paine
A few years ago, I asked my first-grade students what they knew about Thanksgiving. Not the holiday we now celebrate, but its origin — the story of the first Thanksgiving. My class of six- and seven-year-olds knew very little; there were mentions of Pilgrims and Native Americans and a feast, but that was about it in terms of real facts. There was also a lot of misinformation: references to Vikings, World War II, and Sacagawea. 

It's not surprising that young children, still learning about the world, wouldn't have the full picture. But what was striking, in contrast, was how important Thanksgiving was to the young kids I taught. Special traditions, family gatherings, and big meals are staples of the holiday, and students often speak fondly (and at length) about how special the holiday is. Kids love the food, festivities and time at home with loved ones; many families also have traditions of volunteering and giving back to the community.
But there's something lacking in these celebrations that omits critical details about the history we're actually celebrating. There is so much we can — and should — teach children about the real, unsanitized origins of Thanksgiving, and we can do so without losing our family traditions. In fact, honoring the true story can amplify and even uplift our celebrations: when we paint a fuller picture of history, we help our children build critical thinking skills, and give them a true understanding of all there is to be thankful for. In doing so we also pay our respects to those who suffered (and still do) from a terrible chapter of American history.
Here are a few things to consider this Thanksgiving season:
Learn the real story.
Teaching our children an accurate version of history can give them important context and information. Even very young kids deserve to know that the sanitized version of the first Thanksgiving is at best simplistic and at worst, harmful towards the groups who mourn during this time. The feast that Pilgrims and the Wampanoag enjoyed together did happen — but it was also during a time of suffering, death, and cruelty. Thanksgiving is a great opportunity to talk about how Native Americans had been living in what we now call America for generations before Europeans arrived, and that Native Americans have a vast array of cultures. Children can learn that the first feast included turkey and cranberries — and also likely eel, lobster and deer. No pies or potatoes, though!
Discuss whose story is being told.
If you visit a library or scroll through online search results for kids' Thanksgiving books, chances are you'll see a lot of books about turkeys, gratitude, and Pilgrims. Those that do mention Native Americans often do so in a simple stereotyped way. Talk about this with your kids, and ask: Whose story is being told here? Can we find out more? This is a great opportunity to start encouraging questions about voices and perspectives, and who are missing from our stories.
Consider the current context.
While some Native Americans enjoy the Thanksgiving traditions that are celebrated in America, for others this is a very difficult time of year. For many Native Americans today, Thanksgiving is a time of mourning. It's a reminder of what they and their families have lost and endured, rather than a celebration of gratitude. Teaching children that not everyone views the holiday, in the same way, can be the start of an important conversation about the many different histories of our country.
Practice giving thanks.
For so many of us, Thanksgiving is a time to focus on gratitude — after all, giving thanks is in the name of the holiday. When you do so, consider expressing gratitude for the land you live on, the farming methods that gave you your food and the family members who are gone from your lives.
Give back.
Many families already have traditions of giving around Thanksgiving and the holidays in general. Giving can be financial, but it doesn't have to be strictly so — you can also donate time, used goods and food to organizations that serve the needy. This is also a time to consider giving to Native American organizations that support education, elder care, veterans and other services that need support.
Extend the lessons.
Consider practicing gratitude as a more regular routine — you can ask "Who are you grateful for?" every night before bed or at the dinner table. Encouraging thankfulness builds empathy and encourages kids to think about all the people who help them every day. In addition, we diminish our history when we only talk about certain stories once a year. You can make a point of learning about Native American traditions during other times as well, through books, movies, and activities. Your family can get to know Alaska Native traditions by watching Molly of Denali or by reading "Talking With Children About Grandpa's Drum", an article that discusses the real experiences of Alaska Native peoples.
There is immense value in celebrating family time together and practicing rituals and traditions that bring us closer together. But doing so at the expense of history does a disservice not only to the holiday itself but also to a broader understanding of how the world our kids live in has changed since the Pilgrims and the Wampanoag feasted together for three days in 1621. When kids gain a fuller picture of a story — including some of the harsher realities — we find even more to be grateful for (and mindful of) as they learn to be critical thinkers.
---
Bret is a writer and musician who taught elementary school for eight years. He writes about education and parenting and lives with his wife, Jessica (a fellow elementary-school teacher), their two young kids, and their three-legged dog Wynette. You can read more of Bret's writing here, and read his teaching and parenting vignettes on Twitter.