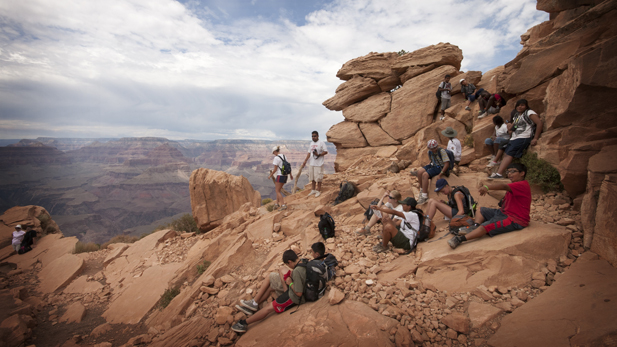 The Udall Foundation's Parks in Focus program uses photography to connect urban youth to the natural world.

Parks in Focus staff
When Ramona Hoyos was growing up in her native Mexico, visits to her father's ranch were a part of life. She spent time in open spaces, helping feed and water his cattle and even once attempting—unsuccessfully, she says—to milk the cows.
But her son, Jorge Barnett, is growing up in a very different world. His Tucson neighborhood is richer in concrete and asphalt than in wildlife.
For a long time, the 12-year-old admits, "I used to watch TV and play video games a lot," instead of playing outdoors.
Barnett wasn't alone. While "screen time" with media devices, like computers and cell phones, has increased to an average of 7.5 hours per day among 8- to 18-year-olds, according to a 2010 Kaiser Family Foundation study, outside play has become passé.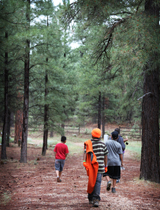 Time spent playing outdoors has declined over the past three decades. (PHOTO: Parks in Focus staff)
Over 60 percent of children between the ages of 9 and 13 don't participate in any organized physical activity outside of school, reports a 2003 Centers for Disease Control study. Nearly one-fourth get no free-time physical activity at all.
But the Tucson-based Udall Foundation's Parks in Focus program is working to lure kids into the natural world—and they're using a decidedly digital medium to do it.
Parks in Focus arms middle-schoolers from Boys & Girls Clubs in four different states—Arizona, California, Michigan, and Montana—with digital cameras and provides them with excursions to local parks, natural areas and an immersion trip to a national park.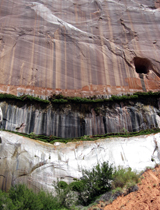 Parks in Focus participants learn the finer points of photographic composition while exploring local and national parks. (PHOTO: Jorge Barnett)
Each trip offers a new opportunity to strengthen their photography skills and their connection with nature.
"We use photography—something digital that the kids are excited about and familiar with—to get them to make a direct connection to what they're seeing in nature," says Ashley Pedersen, a former Udall Scholar who has led Parks in Focus trips in Arizona for the past three years. "And they say things like, 'I didn't know there was water in Tucson,' or 'this is the most beautiful place I've ever seen.'"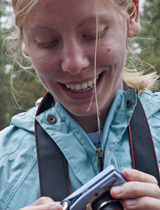 Ashley Pedersen teaches photo composition and plans and leads trips for Tucson's Parks in Focus program. (PHOTO: Parks in Focus staff)
Parks in Focus works primarily with kids from low-income and inner-city communities, where the disconnection from nature can be particularly pronounced. Parents are less likely to encourage their children to play outside when parks and other public spaces may be inaccessible or unsafe, and children are less likely to associate such places with enjoyment.
"The inner-city environment is very confining," says Shelton Johnson, a park ranger in California's Yosemite National Park. Johnson, who is African-American, grew up in inner-city Detroit and didn't discover his passion for the natural world until his 20s.
"My peers only had the experience of being inside," he recalls. Images of wilderness "on TV or in magazines were somewhere out there, somewhere else."
Johnson has made it his mission to educate the public about Buffalo Soldiers and other key Black figures of America's wild places, in hopes of luring African-American visitors to the nation's parks.
"There were Blacks who were homesteaders, who were cowboys," he says. "These are great places, and they belong to us."
Last year, he succeeded in drawing Oprah Winfrey out to Yosemite for her first camping trip. He says he's seen the number of African-American visitors rise in her visit's wake, but the rift between Black communities and parks and other natural spaces is deep and hard to redress.
"If experience in nature isn't part of your culture, you won't know it belongs to you," says Johnson. "You have to get people where they live. And you have to get them young."
"Getting them young" can have lifelong and measurable benefits, studies show. Proximity to nature has been linked to lower obesity rates, greater resiliency and ability to cope with stress, and improvement in symptoms of depression, anxiety and attention deficit hyperactivity disorder.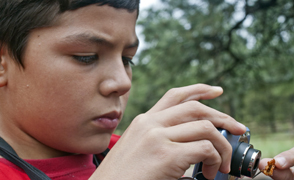 "I used to watch TV and play video games a lot, and now I don't," says 11-year-old Jorge Barnett, a Parks in Focus participant. "Now I'm more into outside stuff."

Parks in Focus staff
Ninety middle-schoolers from Tucson took part in Parks in Focus this year; over 250 have participated over the past decade. Many already attest to the program's benefits.
"I'm more into outside stuff now," says Barnett, who plans to remain in the program and continue his photography.
"I like the program very much because he isn't out on the streets or doing bad things," says his mother, Ramona Hoyos, in Spanish. "He's on an adventure."
"I got to go to places I've never been to," says 11-year-old Danielle Hitchings, another Parks in Focus participant. "When I went down the trail, I was scared and went really slow. But the next day, it was OK and I felt good about myself because I faced my fears."
Experiences like Barnett's and Hitchings' can also foster a sense of environmental stewardship that will affect how kids vote as adults, what occupations they pursue, or how actively they participate in their communities, says Pedersen.
Eleven-year-old Danielle Hitchings (right) says her Parks in Focus experiences have even inspired her family (her mother is pictured left) to reconsider outdoor recreation.

Gisela Telis
"It's a long path to where they're adults in city council meetings," she says. "But all the research points to this age group being important. I think even a small step now will make a big difference."
For now, making a big difference is resting on very few shoulders. Pedersen and Melissa Millage, senior program manager, are the program's only full-time staff members, and they're working with shrinking resources.
"We're not OK," says Millage. "We're doing a lot with very little. We need some substantial funding coming in" to sustain the program.
Millage and Pedersen are learning new skills and improvising where they can to keep Parks in Focus going. The effort is worth it, Millage says, for the impact they see in the kids who join.
"There's a confidence-building that can't be quantified," she says. "It's because of that that we think there has to be a way for the experience to live on. It sounds kind of cheesy, but it's amazing to see it."
--
Parks in Focus is exhibiting the photographs taken by 50 of its Tucson participants through the month of October at the Tucson Children's Museum. The exhibit is open to the public.

Arizona Public Media first spoke with members of Parks in Focus in 2009. Listen to that story here.