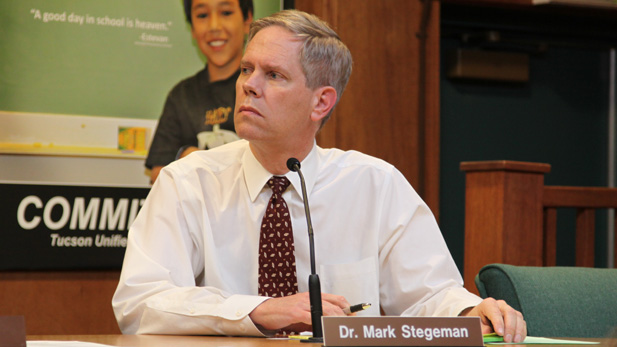 TUSD governing board member Mark Stegeman. (2013)

Fernanda Echavarri
Tucson Unified School District board member Mark Stegeman resigned Thursday. Stegeman said he was not confident TUSD could make the reforms it needs, and that it struggles with an entrenched status quo.
He said success will require more will from the board and from Superintendent Gabriel Trujillo, though he added that Trujillo has done a good job in many ways. Stegeman announced his resignation on KVOI's Buckmaster Show.
"I have a dream for TUSD and the radical reform it needs to compete head-to-head with charters like BASIS and districts like Flowing Wells and Vail. I think the change is too radical and it's not going to happen," he said.
Stegeman said without a clear path to the kind of fundamental change needed, he feels his time is better spent elsewhere. A replacement will be appointed to fill what remains of Stegeman's 4-year term, which is set to expire at the end of 2020.