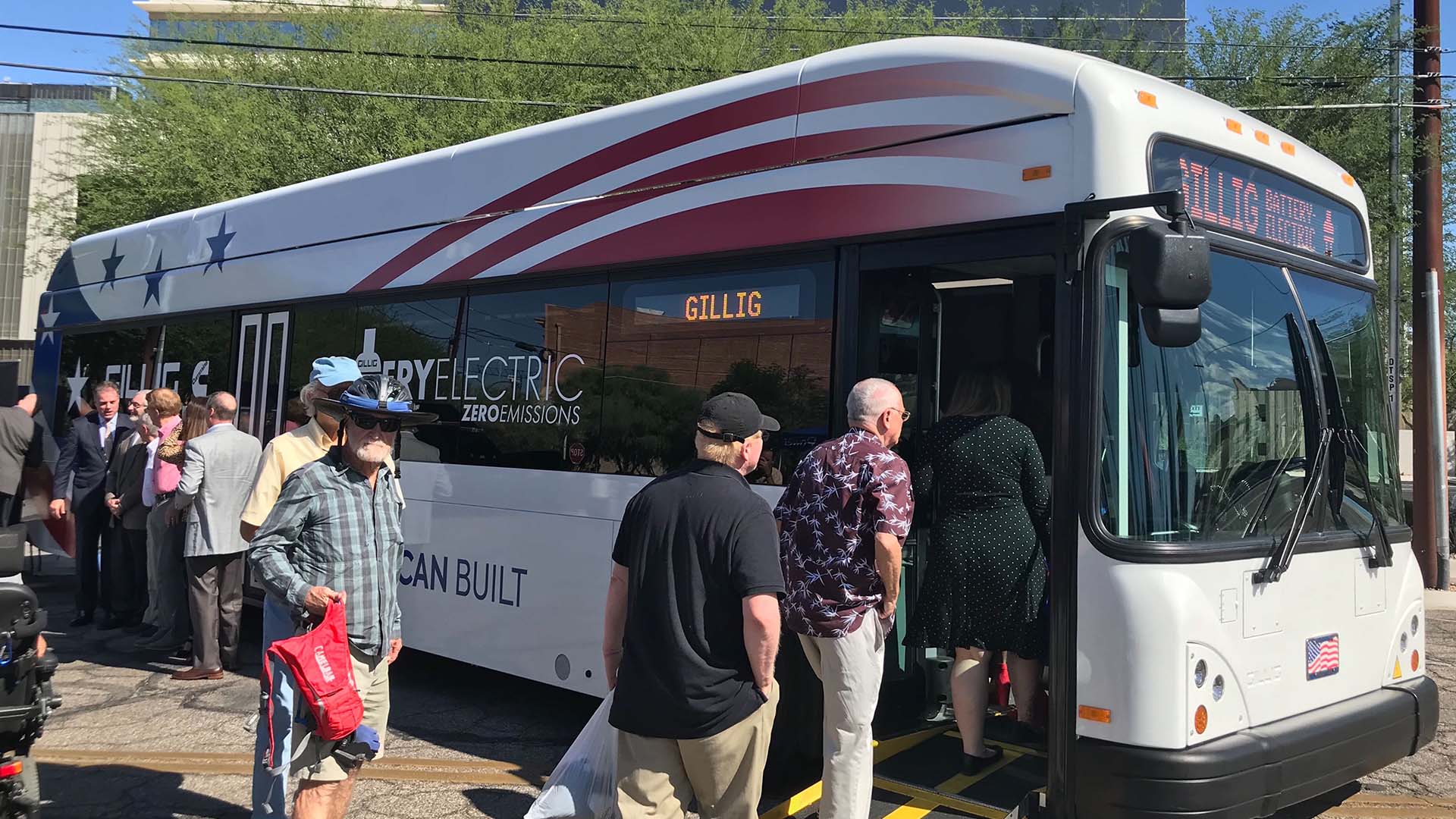 An electric bus being showcased in front of the Tucson Electric Power headquarters on Sept. 18, 2019. The city of Tucson plans to lease a bus from the California-based Gillig for a pilot program beginning next spring.
Jake Steinberg/AZPM
City leaders say adding electric buses to Sun Tran's fleet is key to reducing Tucson's greenhouse gas emissions. The city plans to acquire five electric buses, but they won't make a difference unless people ride them.
"We cannot reduce greenhouse gas emissions without electrifying transportation. And this bus is part of it," said City Council member Paul Durham at an event last week.
Attendees were offered the chance to ride an electric bus around the block.
Malcolm Oliphant said the experience didn't feel that different from a normal bus.
"It feels like a bus. It's a bus. It's just that it doesn't make any noise," he said.
Paul Pederson said he loved how quiet the bus was. He doesn't usually ride the bus.
Many of the attendees at last Wednesday's electric bus event professed to not being regular transit riders. They aren't alone. Sun Tran's ridership is at a 10-year low, and it keeps declining.
With fewer people taking the bus, that means there are more cars on the road. David King, a professor of transportation planning at Arizona State University, said fewer riders and more drivers cancels out the benefit of going electric.
"A full bus that's running on diesel is better than an empty bus on electricity," he said.
About a third of Tucson's greenhouse gas emissions come from transportation. Most of that is coming from the tailpipes of personal vehicles, according to the Pima Association of Governments. All the city's buses emit just 1% of the city's transportation emissions.
Transit ridership is going down all over the country, not just in Tucson. A report released last year by the Congressional Research Service named a number of factors, including low gas prices, cheap car loans and the rise of Lyft and Uber.
King said that doesn't mean the city is off the hook.
"If you want people to use transit, it has to be something that they know is reliable. It has to be something convenient, something that's easy, because it's very difficult to compete with how easy it is to drive," he said.
It's not just a matter of putting more buses on the road. Things like bus pullouts and stops where riders can pay their fare before boarding make the system more reliable. King said if Tucson wants more people to use transit, it has to invest in transit infrastructure.
"It is a matter of money," he said. "[That] is certainly the case in Phoenix, where the voters approved some additional money specifically so that there would be service increases."
Phoenix's Valley Metro has also lost riders, but far fewer than other cities.
"If you want people to use transit, it has to be something that they know is reliable. It has to be something convenient, something that's easy, because it's very difficult to compete with how easy it is to drive."
The next opportunity to increase funding for transit could come in 2026. That's when the Regional Transportation Authority's current plan and a half cent sales tax to fund it will expire. Funding from the that tax led to transit improvements like the Sun Link streetcar. The RTA plans to ask voters to renew the funding and add new projects.
The Pima Association of Governments is helping the city develop a plan to improve its transit service. The planning group has spent the past year surveying Tucsonans. James McGinnis, PAG's transit services manager, said he's hopeful voters will support extending the RTA.
"We asked them a series of questions. The first one that we thought was really heartening was 'would you be willing to support fees or local taxes for additional transit service?' We heard pretty much overwhelmingly that the community would be willing to support more transit service.
McGinnis says transit ridership is cyclical, and he sees people returning to the bus eventually. King, the transportation expert at ASU, said new technology can make a big difference when it comes to getting people to use transit.
"I suspect that electric buses, by being quieter, will actually help improve the perception of buses," he said.