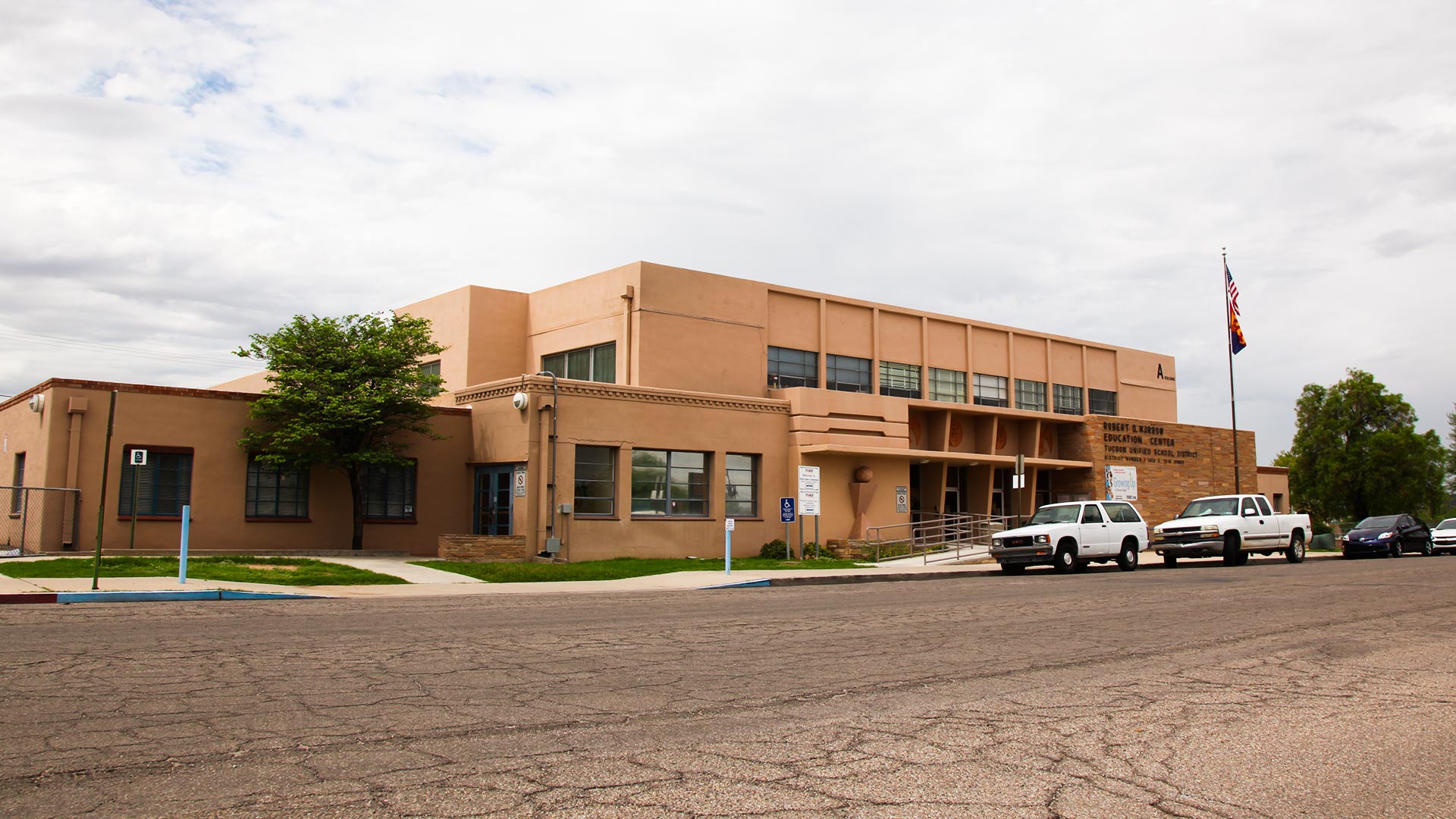 The Tucson Unified School District office, 1010 E. 10th St., Tucson.
Nick O'Gara, AZPM
The Tucson Unified School District has spent nearly four years refining its sexual education curriculum, and on Tuesday night, the governing board decided one additional year of revisions is appropriate before the proposed material might be introduced in classrooms.
The boardroom was packed with many arguing forcefully against the proposed curriculum, and a raucous crowd outside the meeting that almost broke into a fight.
In the end, the board chose to take up an offer by TUSD Superintendent Gabriel Trujillo to rework and refine the curriculum over the next few months.
"There will be no vote tonight. We're going to take more time with the curriculum. We've heard you; we've heard the feedback. Several points have been made that have been very valid on both sides and we're going to take that necessary time," Trujillo said.
The board is expected to revist a vote on the proposed curriculum later this year. Trujillo said the district would use that time to focus on providing professional development to ensure teachers are fully trained on the curriculum.
He plans to schedule a district-wide "teach in" so parents and students could see how the curriculum would be taught. He also plans to develop an alternative curriculum for those who choose to opt out of the classes. Trujillo promised to raise the number of lessons on abstinence, and provide counselors and social workers to help any student who struggles with the curriculum.
For the first time, the proposed curriculum moved beyond sexual abstinence as the only way of preventing unwanted pregnancies and sexually transmitted diseases. It is based heavily on research and medically-approved content.

The district held two public hearings about the curriculum changes, because it was last updated in 2006. The proposed new curriculum met loud support and opposition during those sessions last month.
Tucson Unified's Superintendent Gabriel Trujillo said the explosion of sexual material on the Internet since 2006, especially on social media such as YouTube, leaves no other choice but to revisit the policy. Now, he says the goal is making sure students have accurate information.

"We need to make sure that are putting in the hands of our students medically accurate information – information that is given to them by the teaching professionals that are charged with their care," Trujillo said. "That way we make sure they are armed with the information necessary to make educated choices."
Given the controversial nature of the subject, the committee charged with the task decided to take a far-reaching approach, analyzing the research and looking at other programs from around the country.
And for the first time, they asked for student input. The goal was to bring forward a comprehensive curriculum able to survive deep scrutiny.

Then they put it out for all to see and respond to.
Many Mexican Americans spoke against the curriculum, calling it culturally insensitive.
"I am here as a concerned citizen from my Latino-Hispanic community," said Jorge Apolaca. "This curriculum is offensive to my culture. We believe that this curriculum is confusing and immoral. We have learned to take care of our own kids and we don't need such as curriculum to direct our childrens."
But not all the Latino or Hispanic speakers agreed.

Emmanuel Martinez said at one of the public hearings that no one In his family ever spoke about sex - avoiding all discussion of the subject. He said he spent many years in confusion and ignorance, which he called uncomfortable and unhealthy.

"That's why this is necessary," Martinez said.
Andrew Cronin, a pediatrician also spoke in favor of the curriculum. He said 70 percent of his patients are children in TUSD. With teen pregnancies in Tucson, Pima County, and the state all above the national average, he told the district it's time to act.
"I wanted to address first of all whether there is controversy in the medical profession about age-appropriate, medically accurate sex education. And in fact, there is not," Cronin said.
"The American Academy of Pediatrics includes 67,000 pediatricians. The American Academy of Family Practitioners represents 134,000 family doctors. The American Academy of OBGYNs represents 58,000 OBGYNs. That is a total of 259,000 doctors and organizations that believe this type of sex ed," he said.
Julie Fry said the curriculum was an overreach – that students do not need the government to tell them how to handle sex.
"Why doesn't TUSD teach a comprehensive class in anatomy and physiology? Kids would not only learn about their body parts, but they could understand what their doctor tells them when they need treatment," she suggested.
In addition to updating what the district can teach about sex education, the proposed curriculum also would take a more inclusive approach to LGBTQ and transgender issues, and uses gender neutral language.
The curriculum will be opt-in, meaning not only that it is not required, but that students must sign up if they want to participate.