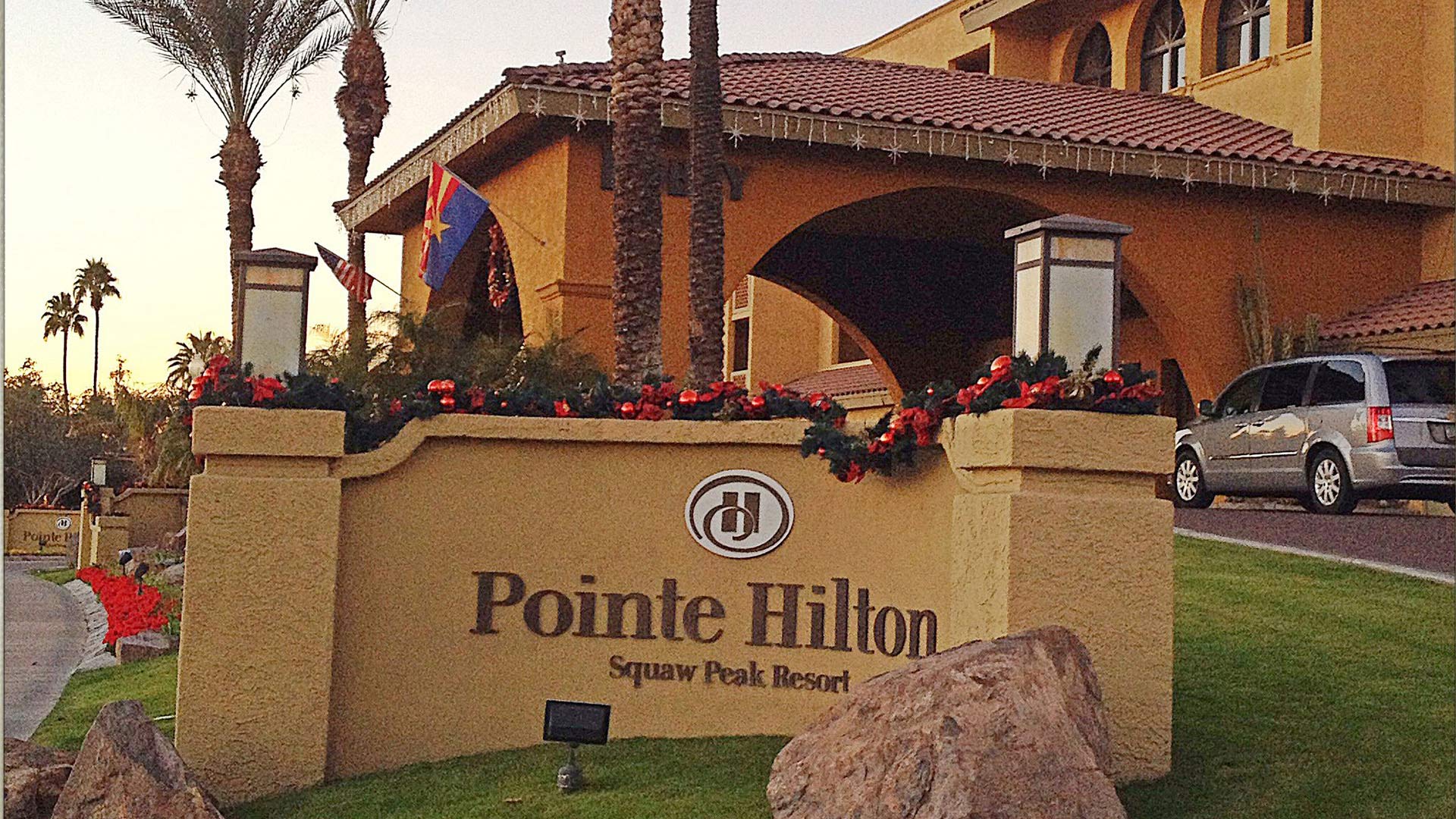 Pointe Hilton Squaw Peak Resort.
Courtesy of Kate Ware via Flickr https://www.flickr.com/photos/katewares/13983155198/
The owner of Pointe Hilton Squaw Peak Resort will be changing the name of the hotel.
This proclamation came during an event held by the Arizona chapter of the AFL-CIO Aug. 30, in which the co-founder of Indivisible Tohono called on the resort to drop the name that she said includes a racist slur that demeans Indigenous women.
At the event, Gabriella Cázares-Kelly, who is Tohono O'odham, accepted an award as the union's community activist of the year. She said that in her speech she defined "squaw" and addressed the power of language. She re-read her speech in an interview.
"Yes, I'm an Indigenous woman being honored in a hotel that is named after a slur used to describe Native American women as sex objects," said Cázares-Kelly. "It was painful to bring my Native sisters here to celebrate here with me. I had to apologize to each of them while sharing my wonderful news of being honored."
She also emphasized in her speech that people's choice of words can dehumanize their neighbors. Cázares-Kelly said that before she could finish the speech, the audience was on its feet and applauding.
"This is one of the openly racist, anti-Native American terms that people still justify the use of," said Cázares-Kelly.
Arizona AFL-CIO Executive Director Fred Yamashita said Jevin Hodge, the master of ceremonies for the event, came on stage when the celebration was ending and announced hotel management had already started the process to change the name.
Yamashita said one of the reasons the Arizona AFL-CIO decided to hold the event at Pointe Hilton Squaw Peak Resort is it's one of five unionized hotels in Arizona. He said it's also the only one that has a worker-led union.
"The labor unions were there in support" said Cázares-Kelly. "It was very wonderful because they are going to stand behind us as we continue to pressure, not only that hotel, but if you drive around in that neighborhood you'll Squaw Peak Plaza and things like that, all over the place. A lot needs to change in that area."
The owner for the resort is Fortress Investment Group LLC. Managing Director Gordon Runté said changing the name of the hotel has been one of its goals since it bought the property in February. At this time, Arizona Public Media does not know when the change will take place.