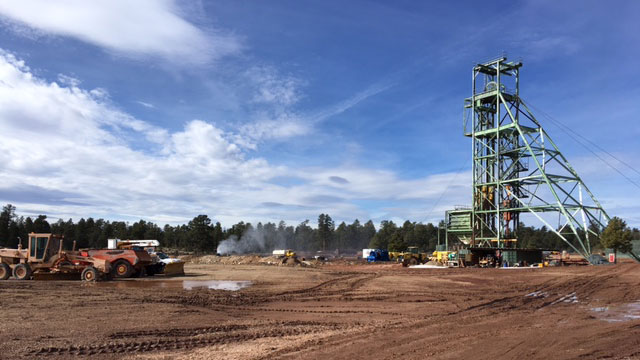 In 2016, mine-shaft drilling pierced shallow aquifers, causing water pumped from the mine to spike.

Laurel Morales/Fronteras Desk
Environmentalists have called for the state to shut down a uranium mine outside Grand Canyon National Park. They cite severe flooding that threatens to pollute drinking water.
The Sierra Club and other conservation groups sent a letter to the Arizona Department of Environmental Quality asking it to require Energy Fuels to plug aquifers flooding the mine and shut down operations.
They cite Energy Fuels' own reports that show a 2016 drilling that pierced aquifers, causing a surge of water that's contaminated. The Grand Canyon Trust's Roger Clark said once you disturb the ore, it oxidizes and becomes soluble. While the company has not mined any uranium out of the site yet, it has sunk a 1,470 foot shaft and drilled test holes in the uranium ore.
In 2017, miners sprayed the contaminated water into the air on the forest adjacent to the mine because the water exceeded the facility's wastewater-storage capacity.
The company's groundwater permit is up for renewal at the end of the month.