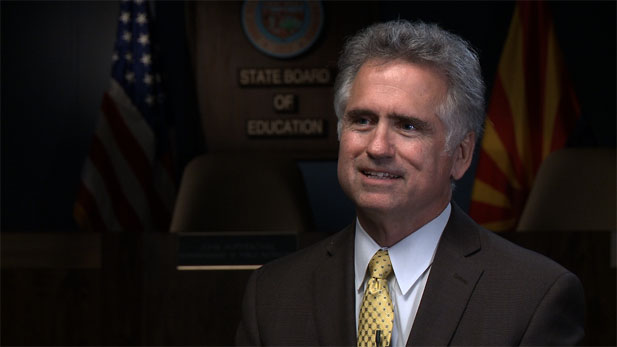 State Superintendent of Public Instruction John Huppenthal wants increased funding for Arizona schools.

AZPM
Nearly 1.1 million Arizona children returned to classrooms in the last two weeks, for a school year filled with anticipation and uncertainty.
The anticipation is for a chance to build on the modest gains that the state's K-12 students made overall in standardized test scores for reading and math last school year.
The uncertainty comes in how they will be able to improve, given that they will receive the lowest level of state general fund support per student in more than a decade.
Accountability and public school credibility are at stake, along with the economic futures of nearly every school child.
A broad range of educators say they are ready to meet the challenges.
"The school year is off to a great start. We're getting a lot of feedback that students are enthusiastic and parents are fully engaged," state Superintendent of Public Instruction John Huppenthal said in an interview for Friday's Arizona Week broadcast. "We have some enormous challenges. We have funding challenges ... While the resources we have have gone down, the needs of our students have not. So, that's our challenge: to step up to the plate and do more with less."
Huppenthal, a Republican who was elected to the superintendent's job last year, noted that schools withstood cuts last school year, too, and students on average managed to raise their AIMS test scores in reading and mathematics even with reduced resources.
Others said they see the funding as a major challenge.
"We've had to reduce services. We've had to increase class sizes, cut counselors from elementary schools, cut librarians," said Nicholas I. Clement, superintendent of the Flowing Wells Unified School District in Tucson. "We cut services. We reduced the number of services that we can provide our customers. It's been very difficult to make decisions about which service is more important than another."
Clement, also interviewed for Arizona Week, said spending has gone down about 20 percent for his district in the last three years. His district has an enrollment of about 6,000 students and a $32 million budget.
Lupita Cavazos-Garcia, assistant superintendent of the Tucson Unified School District, said in an Arizona Week interview that class sizes in her district have also grown, and services have been cut.
Class size is one of the bigger issues, for teachers and parents.
"It's very difficult when you have class sizes of 30, reaching 40," Clement said. "In my opinion, it's a no-brainer that lower class sizes equate to higher achievement. If you're going to put your kid in a school ... you're going to go with the class sizes that are the lowest.
"We hear all the time that class size doesn't matter," he said. "It does matter."
Principals of three schools, two high schools in Phoenix and one charter school with grades 3-12 in Tucson, told Arizona Week that they invite accountability. High school principals Kate McDonald and Gabriel Trujillo from the Phoenix Union High School District, said they like the new A-F letter-grading system for schools that the state has adopted.
Principal and CEO Paul Felix of Nosotros Academy, a charter school in Tucson, said he is worried because his graduation rate fell a bit last year from its high two years ago, as did his students' standardized math test scores. As a result, Felix said, Nosotros could have a letter grade of D.
At the same time, charter schools overall will benefit from imposition of more rigorous standards by the state's charter board, something that Huppenthal said is coming.
Reporter Michael Chihak explores the challenges of the new school year in greater depth on Arizona Week. Watch here:
Michael Chihak talks with John Huppenthal the Arizona Superintendent of Public Instruction. he also sits down with two Phoenix Principals. Then an interview with Principals Paul Felix of Nosotros Academy. (VIDEO: AZPM)