While libraries still remain a place of books, gatherings and solitude, the delivery method of books, journals and magazines is changing at a rapid pace. The Pima County Public Library even has a special name for its online delivery...the Virtual Library.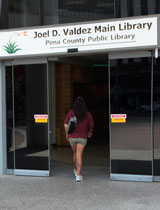 (PHOTO: Robert Rappaport)
"Your reference collection is probably half the size, maybe even less, than it was ten years ago, because you can get that digitally. Instead of buying...we have 27 branches...27 sets of an encyclopedia, we can buy the encyclopedia online and everyone can access it from the computer," says Jen Maney, Manager of the Virtual Library. Maney oversees 5 ½ employees of the Virtual Library, which circulated 35,000 items in 2010, but already is ahead of that number so far this year, with 43,000 checkouts since January.
The library supports most major smartphones and e-readers, with the last big holdout, the Amazon Kindle, promising to offer library loans of its titles by the end of this year.
Debate over what the library of the future will look like rages on, even among librarians. While Maney says paper books won't go away in the near future, PCPL's Electronic Resources Librarian, Shawn Flecken, disagrees. "I will start with magazines and journals, as it already has. Popular fiction will probably follow. Actually, I suppose academic nonfiction will be the next big thing to go, followed by the popular titles," says Flecken.
The library also is big on social media, with accounts on Twitter and Facebook. Those accounts are managed by Lisa Bunker, Social Media Librarian. "Every day I have conversations with people and have a chance to tell stories about the library and what we do," she says.
The advancing technology also means the library is looking for employees with varied experience, such as still photographers, videographers and editors, says Bunker.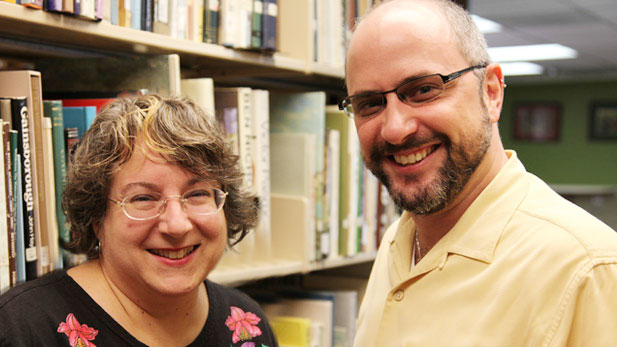 PCPL Librarians Lisa Bunker (left) and Shawn Flecken weigh in on the future of books.

Robert Rappaport