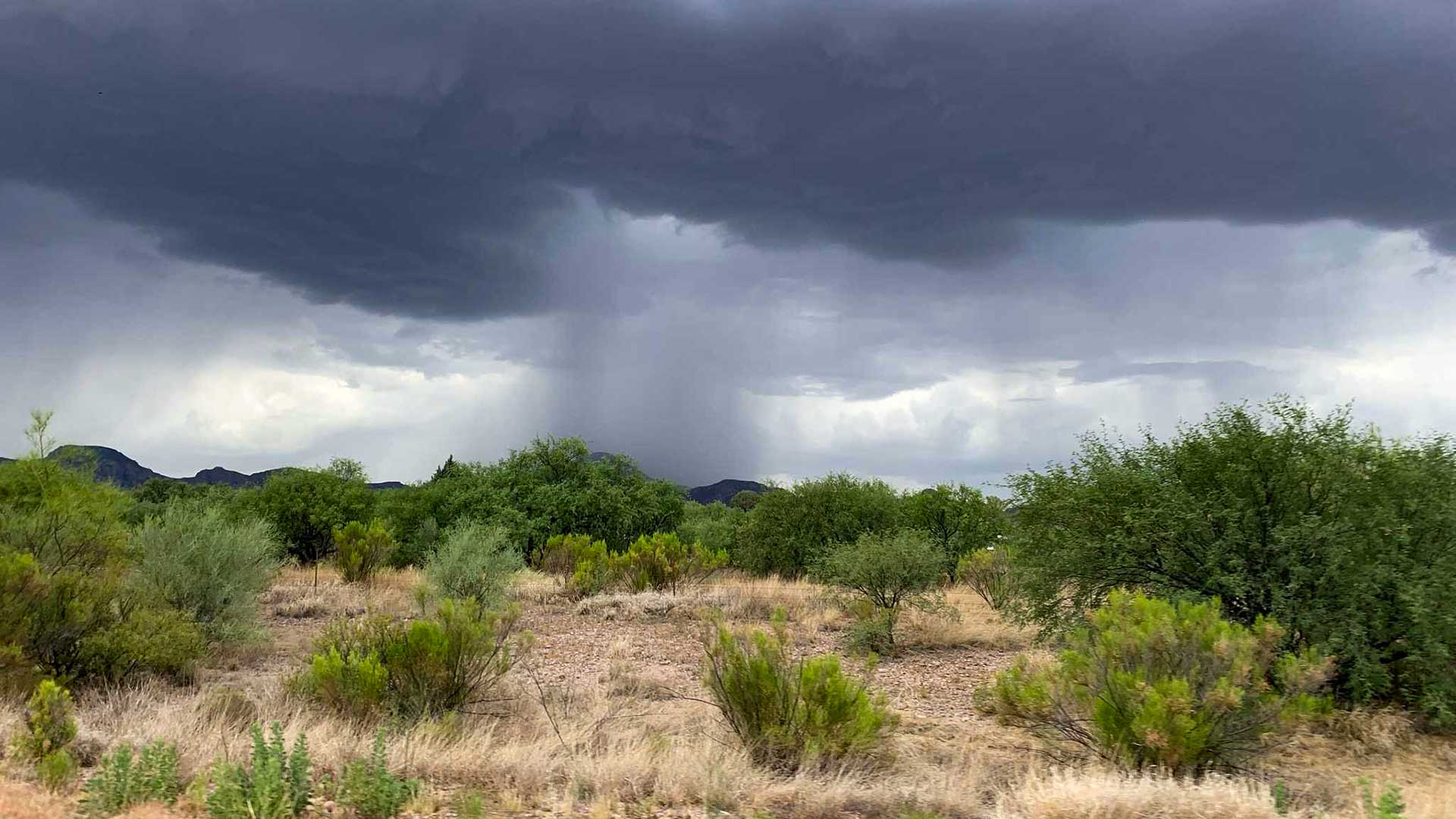 Rain clouds near Tubac, July 2019.
Mitchell Riley/AZPM
Some parts of the Tucson metro area have already smelled the sweet scent of creosote after a rain storm as specific weather conditions for monsoon season are finally starting to align.
Monsoon season runs from June 15 until Sept. 30, said National Weather Service meteorologist, Aaron Hardin.
This year, the high pressure "ridge" that creates moisture was delayed in making its way over the Four Corners region, which is where it needs to be to bring in the moisture that creates the storm.
"Typically, that happens late June, early July … [but this year] we had some upper-level lows kind of force it back down into Mexico. And so that's the main reason why it's starting late," he said.
As of the end of last week, the monsoon ridge was migrating over the Four Corners region, inciting monsoon activity in parts of Pima County.

Over the weekend, the Tucson metro area experienced rain storms, with some parts being drenched with more than 2 inches.
"We're expecting storms to creep further westward, into central Pima County and into the Tucson metro [area]," said Hardin.
The Weather Service has forecast a chance of rain for each day of this week.

Monsoon is when Arizona receives the bulk of its rainfall. The rains are often a welcomed relief from the summer heat, but those native to the desert know that the season also brings severe weather conditions, including floods, damaging winds, lightning and even dust storms.
In these upcoming weeks, as the season brews, Hardin advises the community to be prepared and learn how to stay safe during a monsoon.
"If you're driving and you come across a flooded wash or flooded underpass, don't try and drive through it, drive around, and don't just ignore barricades already there," said Hardin.
The National Weather Service provides a monsoon safety page on their website.
---
Monika Damron is a University of Arizona journalism student and Arizona Public Media intern.