Arizona's economy is showing signs of positive movement, but it will be mid-decade before it is fully restored, a leading state economist says.
Additionally, a professor who specializes in entrepreneurship says the debt-ceiling crisis increased uncertainty among people who might otherwise move forward with new businesses.
"Some economists who forecast the nation's economy are indicating that perhaps the probability of another recession in the next 12 months is as high as 40 percent," University of Arizona economist Marshall J. Vest said in an interview for Friday's Arizona Week. "Certainly if the nation's economy were to lapse back into recession, it would derail the recovery we have going on here in Arizona."
Vest, who is director of the UA Economic and Business Research Center, said job growth in Arizona so far this year is about 2 percent annualized, after a couple of years of decline. But he said it will take several years for housing stock to be absorbed, and the way that will occur is if the stagnation in mobility ends.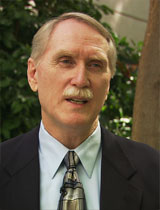 Economist Marshall Vest says Arizona's economy, like the nation's, faces a fitful recovery.
That has come about, he said, because low home values mean people cannot move, because they cannot sell.
Steven Stralser, professor of entrepreneurship at Thunderbird School of Global Management in Phoenix, said people who want to start new businesses could change or delay their plans because of the debt-ceiling crisis.
"I think what's happened with the debt-ceiling fight is that it's created an era of uncertainty," Stralser told Arizona Week. "It's created uncertainty, some pause on the part of entrepreneurs to bet their savings, to bet the savings of their friends and family in starting new ventures."
Vest agreed that the debt-ceiling scare was potentially harmful to the economy, but he said it was only the latest in a long list of economy-altering factors, including the Japanese earthquake, U.S. drought and other weather issues, and the European financial crisis.
He said that although employment is growing in Arizona, it will take a while to return to the employment levels of 2007. In the recession, the state shed 300,000 jobs.
Despite the continuing sluggish economy, Vest said state government is collecting more tax revenues, including an 18.5 percent increase in income-tax revenues. He said it's due to special factors that likely will be one-time effects. Yet it will help the state's financial picture, adding $300 million in unexpected cash, he said.
Reporter Michael Chihak further explores the state's economy and political dynamic in the August 5 issue of Arizona Week. Watch now:
We speak with Steven Stralser a Ph.D. Assistant Professor of Entrepreneurship, at Thunderbird School of Global Management. Also Terrence L. Bracy the Chairman of Morris K. Udall Foundation. Finally talk with Marshall Vest Director of UA Economic & Business Research. (VIDEO: AZPM)